If you're looking for a cheap, no-frills dual USB car charger, the Maxboost is a great option. With two ports, you'll be able to charge multiple devices at the regular charging speed. This dual USB car charger has a smart port to regulate the power output to ensure that your devices stop charging once they are full. The Maxboost USB charger made our best car charger list because of its simplicity. To learn more about Maxboost and other handy car accessories continue reading the article below.
Sale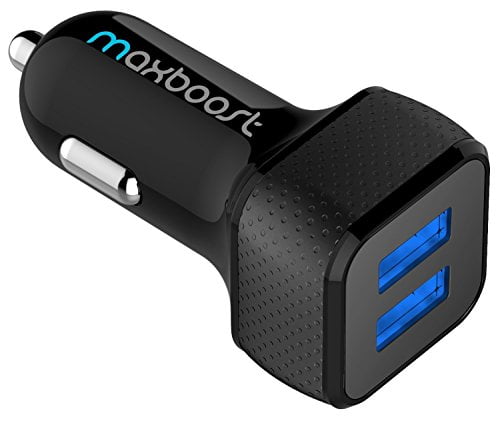 Related: Review the Mann-Filter CUK 2939 Cabin Filter to find out if it is the best air filter for your vehicle.
Why We Like It – Maxboost Car Charger
The Maxboost car charger has a long list of compatible devices and can work on most tablets and mobile phones. Unlike many other car chargers, it has dual USB ports and an LED light for easier use in the dark.
Two USB ports
LED notification lights
Compact design
Needs to be pushed into socket firmly
No quick charge technology
Ports have a different orientation
Performance
The Maxboost USB car charger does exactly what it's supposed to do. Charge your devices efficiently. It may earn some scorn for lacking Qualcomm quick charge capabilities, but the dual USB ports have SmartUSB functionality. This means they can adjust power output to charge your devices in the most efficient way possible. For a high-performance USB car charger Anker, Maxboost, and Hussell Car Charger are trusted names and won't damage your devices.
Design
Many USB car chargers are flimsy and don't last more than one year. If you want a more durable car charger Maxboost's SmartUSB has a sturdy and compact design that should stand up well to hard use. It has a very simple design with two USB ports to charge multiple devices at the same time. To make things easier at night, each USB port comes with its own LED light. If you're looking for a solid car charger Anker, Maxboost, and RAVPower Mini Dual USB Car Adapter are some of the best on the market.
Value
The Maxboost USB car charger is a compact durable charger that should be able to handle some knocks and drops. It can also charge multiple devices simultaneously thanks to its two LED-lit USB ports. Apart from just charging, the SmartUSB functionality protects your devices from over-heating, short circuits, and overcharging. This means your device stops charging once it's full and the battery is protected. Despite the lack of fast charging capability, the Maxboost still offers incredible value for money because of its low price. If you need a charger for Apple devices, the AmazonBasics Coiled Cable is a better option.
Related: You may also be interested in Moshi Car Charger Duo for your Apple devices.
Maxboost Car Charger Wrap Up
The Maxboost car charger has nearly everything you could want in a car charger. It's compact and durable and can support up to two devices at a time. It may lack the quick charge functionality, but it still has a SmartUSB to regulate the power to your device. This car charger is a brilliant choice thanks to its durability and affordable price.