The best mouse and scanner in one. I have not owned a printer or a scanner for an embarrassing number of years. Honestly, it's getting rarer for someone to automatically have the best scanner on hand. You would think a guy who works in the tech and multimedia industries would at least borrow a clue. Nope! Instead, I do things the obscure way, like emailing files to the wife's job for her to graciously print, using digital signage tools to digitally sign documents on my iPad or PC, and using the Genius Scan iPhone app, which utilizes an iPhone's camera as a scanner. Resourceful? Yes! More practical than buying an all-in-one wifi scanner/printer/copier/faxer/hot Panini prepper? God NO!
If you're interested in more wired mice, check out our PICTEK wired gaming mouse review.
Yet just when I resign myself to normalcy–reaching for the wallet to do what reasonable people do–LG hits us up with this thing. A mouse scanner, no less! I bring you, the LG LSM-100 Mouse Scanner. It's a fully functional mouse by day. But with the click of a button, the LG Mouse Scanner becomes…well, a mouse that can scan documents and images up to A3 size–and not just at night. But you probably figured that part out. It works as advertised and is a handy tool for many situations, albeit a bit pricey. And with this mouse scanner, consider buying the Giant Battle Mat mousepad that covers your whole desk. Honestly, who'd have thought that one day we'd be using a computer mouse to scan documents? But, is it a good mouse for Excel? That remains to be seen.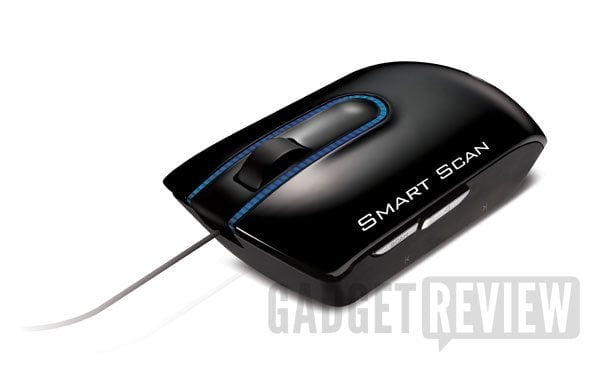 The LG LSM-100 Mouse Scanner packs in two of my favorite concepts for any cool tech toy: power and simplicity. Pluck the unit from the box and find two software install discs (one for Mac and one for PC), a smaller laptop-sized mouse pad, Quick Start guide, warranty, and antistatic cloth used for cleaning the dust and lint off the underside where such can occlude the image when scanned. Not much to write home about there.
Related:  If you're looking for a regular mouse and not a mouse scanner hybrid, read our detailed Apple Magic Mouse 2 review.
As I mentioned, general use is as simple as using a mouse. Really! After installing the LG Smart Scan software suite, simply tap the scan button. This button is typically the forward browsing button on any standard mouse with two side buttons (the back button works like other standard mice). This activates the Smart Scan utilities. The screen goes black, and a rectangle appears to represent the scannable area. Now just move the mouse up and down or in a zig-zag motion. Be sure to overlap and cover all surface areas of your document or image. Like magic, your image begins to appear on the screen immediately as you scan up and down with the mouse. Definitely cool!
The mouse pad comes with a transparent plastic sheet that acts almost like a front cover to the mouse pad. Slip a small document, business card, or picture under the sheet, and it's held in place while you move the scanner over the mouse pad, for more stable use. Click the Scan button, and you are presented with a familiar-looking preview page, where you can select the true area of the document you want for the final scan. It's that simple.
[nggallery id=219]
The utilities have a few more magic rabbits in their proverbial top hat. Before you select "OK" for the final scan, you can play with color, brightness, and saturation options, select from a few general background types and zoom in or out. Once you have finalized your scan, drag it over to Photoshop, WordPress, PowerPoint, or whatever document you have running at the time. You can also save the file from attending to later. I was impressed at how simple and easy the whole process could be. LG has even tossed in the option to share your scanned documents directly to Twitter, Flikr, Facebook, or email.  But they're not done! You also get full OCR (Optical Character Recognition) capabilities, so you can edit text from an image after scanning, or pass the text elsewhere. I feel like  I still need to get an honest man's traditional scanner. However, for on-the-go use and quick scans of smaller files, the LG Mouse Scanner does quite a lot.
See also: Read our Logitech Cube review for another intriguing mouse creation that you can take practically anywhere.
It should be said, there is a bit of a learning curve. Reading the Quick Start guide helps too, with some great tips. It's easy to accidentally cancel a scan if you're scanning pages of a book. But there's a tip for that. Sometimes edges of images can be difficult where part of the mouse's underside optical camera is off the page, which can cancel a scan. There's a tip for that too. So, practice makes perfect, and the guide is a must. Without it, I would have a bundle of unscannable nerves.
That's the whole kit and kaboodle! Not too many reasons to kick dust on the umpire's cleats, with this one.  It's even a solid, fully functioning mouse, although the shape is not too comfortable for long-term general use. To be forthright… The LG LSM is more of a stopgap solution for scanning than a replacement for your trusted garden variety scanner. Ultimate image quality is good, but not stellar, and you will want to play with those color options. What works for documents will unlikely work for pictures or images. Finally, we have the price tag, which is a bit on the high end when you think about the cost of scanners these days, albeit most are not completely portable or as fun to use.
Editor Rating:
[Rating: 3/5]
Good
Bottom Line: The LG LSM-100 Mouse Scanner is a great first step. There are endless amount ways to make use of the features. It won't replace a mid-range vanilla scanner. But it's great on the go and a fabulous way for businesses to scan biz cards at trade shows and the like.
Pros
Simple and useful
Handy software suite
Social sharing feature
OCR works great
Cons
Pricey
Color is not stellar
Not a good mouse replacement
You can buy the LG Mouse Scanner at Amazon for $129.99.
And, if you want to learn more about computer mice, check out our guides to how much do computer mice cost and when was the computer mouse invented.