Video and audio issues are a part of our everyday lives sadly, but what can you do? Most people think it's just an annoying thing that you have to deal with. Well, it turns out that there is something that you can do to cure this. HELLO 2 is designed to address some of the most frustrating video and audio communication issues that we deal with daily.
HELLO 2 Has It All
The second generation HELLO 2 has improved hardware and software. The company has learned what worked and what didn't in the original HELLO and are back with a super impressive offering. HELLO 2 transforms your TV into the world's most powerful communication device for video conferencing yet. It offers digital whiteboarding, wireless screen sharing, TV streaming, gaming, live broadcasting, a camera feed with motion and voice detection + infrared night vision, Alexa and Google Voice Assistant and much more. That's an impressive list, but one that it delivers on.
As for an OS, the device uses the HELLO Solaborate Messenger platform, a platform that took 6 years to develop, but only because they wanted to make sure that collaboration is seamless across all of your devices and PC platforms. You can access it via your Android, iOS, Web and Desktop Clients.
It supports all of your favorite platforms that you use daily, being compatible with Microsoft Teams, Skype for Business, Google Hangouts Meet, Zoom, Cisco WebEx, Facebook Messenger, WeChat and more. HELLO2 works with 3 other new products that make it the only communication device you'll ever need.
HELLO Touch is a real-time Video Conferencing & Whiteboarding solution that is essentially an affordable 4K Touch TV. That's right, you get 4k resolution and it's also a touch TV. It has 10 multi-touch points for real-time collaboration, digital whiteboarding, video conferencing and more. It mostly serves as a digital whiteboard, but you certainly have a lot of options.
HELLO Creator Edition has a transparent shell, so you can see the inner workings. It's designed to reflect the company's open source ideology since they are opening the platform for developers.
HELLO Controller lets you play games using your HELLO device when you are taking some time away from work. You can install any Android game on HELLO 2 that you like. It is compatible with all of them. There will also be a software version of the HELLO Controller to play games on your mobile phone.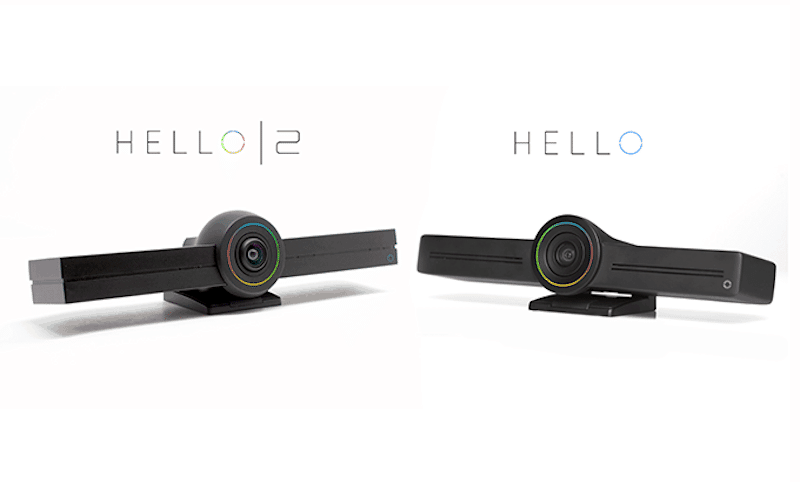 Packed With Features
This new and improved, End-to-End Encrypted HELLO 2 has a lot to offer. Other features of the HELLO 2 include 4 far-field beamforming microphones, a 4K HDR video sensor and state of the art 6-element lens. These features all work together to make video and audio the highest quality.
HELLO 2 really is an all-in-one solution. You can play games, stream Netflix or other 4k content with amazing picture quality, take care of your business meetings, use the whiteboard and so much more. Your 4k TV doesn't do half as much. It is a truly impressive setup and to be honest, I wish I had it in my house right now so I could play with it. This truly shows how far tv technology has come and how far home automation has come as well.