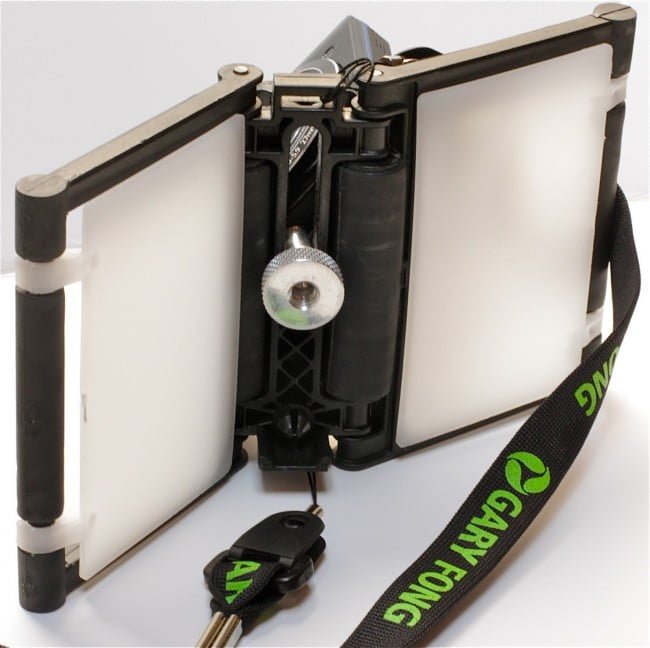 [rating:4.5/5]
There are plenty of times throughout the years that I've wished I had a small mount for my point-and-shoot cameras. While there are a lot of small tripods, they weren't exactly what I needed. Thankfully, Gary Fong (makers of lots of interesting camera devices) has come through with just what I wanted – and some neat accessories for it as well! If you're looking for the best place to view your photos, take a look at the best digital picture frame too. To compare Gary Fong to other tripods, check out our intriguing digital camera reviews.
At first glance, the Gary Fong Flip Cage is fairly simple in design; there is a black rectangular "leg" on each side of the mounting screw. They're pretty much the size of a normal point-and-shoot camera, and they're loose enough to move with a small amount of force, but tight enough to ensure they won't throw off that perfect shot. Moreover, if this is your first time handling a camera, you might want to check out our info article discussing how to use a point-and-shoot camera.
Another really neat feature of the Flip Cage, is that two opaque plastic pieces can clip onto the middle of the legs, which can then be used to block extra light for a macro shot. When I was using the Pentax WG-1, this was really useful since it has special lights to illuminate a macro subject. Speaking of illumination, should you need more light, you might want to pick up an Auxiwa Clip-On selfie ring light to enhance your pictures.
Related: Boost your selfie light with the rechargeable GLOUE Selfie Light, which comes equipped with 36 LED bulbs for a clearer shot.
The Gary Fong Flip Cage is also meant to protect your camera against small falls and such – you can fold the legs up towards your camera, and you'll see where they called it a cage. While it's not a perfect fit for all cameras, relatively thin and flat cameras – such as a Sony CyberShot or a Sony RX100 – fit perfectly. With a larger camera like most any bridge camera, you'll see that it doesn't close all the way, and isn't useful for other than a tripod.
Related: You can shoot high-definition images up to 50M underwater with the all-new Garmin Virb Xe camera, which features a built-in GPS and gyro-enhancer too.
Something Gary Fong realized, was how popular just using your iPhone to take pictures has become – and let's face it, there's a lot of cameras out there today that don't have the clarity of an iPhone 4's camera. So what they were able to do, was make an adapter that will comfortably hold either your iPhone 4, or your iPhone 3/3GS. It's such a simple concept that I'm surprised that no one else had thought of it. Combine an iPhone 4 with the holder and the Gary Fong Flip Cage (they sell the adapter and the cage together as a package if you'd like), and then add one of the myriads of iPhone 4 macro lenses that there are out there, and you have an instant microscope studio. Though the Flip Cage works well with phones and compact cameras, if you own a larger camera, you should definitely check out the Gary Fong Flip-Cage Pro, which is a larger tripod mount that also comes in the Midnight Black color.
Even if you're not using it for iPhone pictures though, the Gary Fong Flip Cage is a really useful addition to every camera bag. I have a few mini tripods that I use, but for macro photography, this really can't be beaten – and for the price, you may end up just using this as your primary mini camera mount.
Final review score is four and a half stars out of five.
Pros:
Makes taking good and steady macro pictures an absolute breeze
Protects smaller cameras from bumps and falls
With the addition of the iPhone mount, a good number of people might never need anything else
Cons:
Any medium to large camera won't fit in the storage position (but it will still hold them for snapping shots) – there is a "pro" version for that though
Light-blocking panels come off way too easily
Would have preferred if the bottoms of the legs (the feet if you will) were more "grippy"
You can pick up a Flip Cage of your own from Gary Fong's site for $21.95.