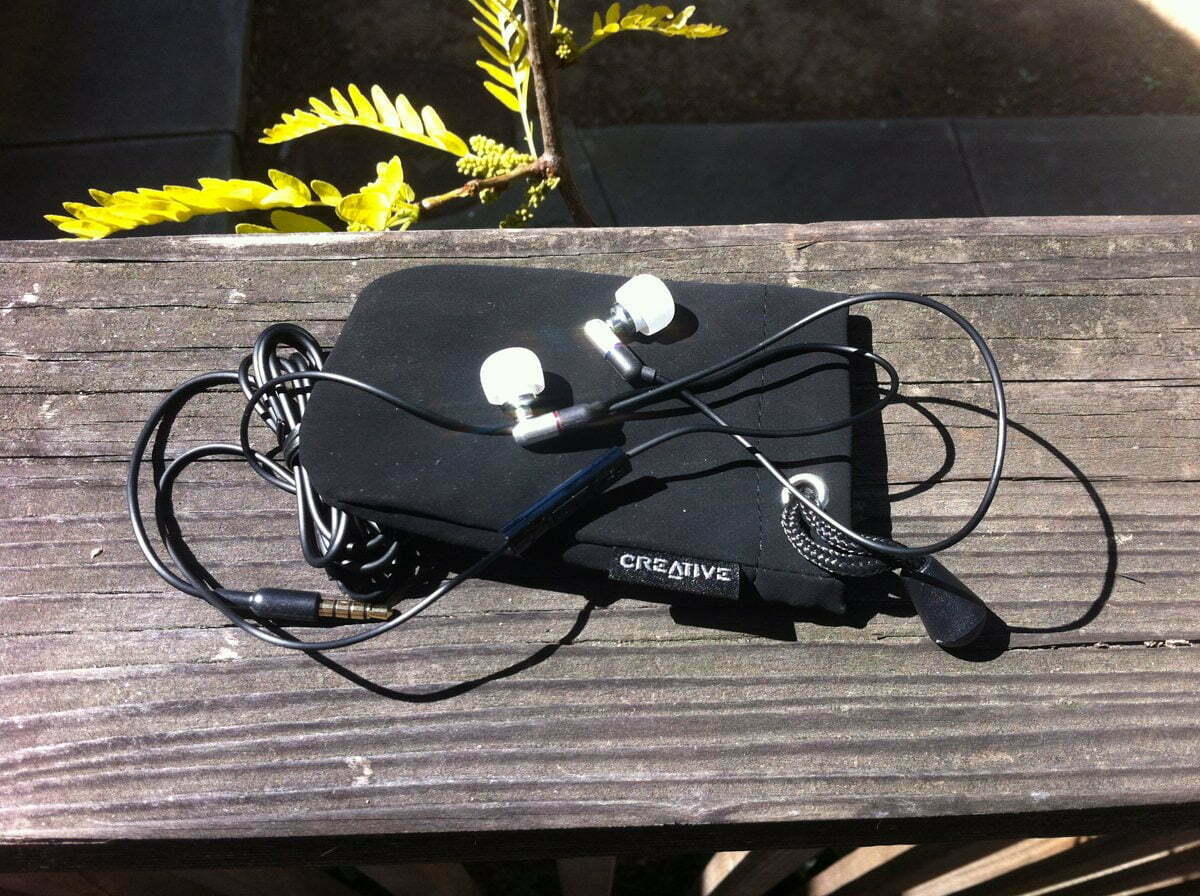 I have officially settled on a manner for which to wear those all-too-familiar earbud headsets. After fitting a pair into my ears I take the cord and wrap it once or twice around the upper back of my ears. This helps with support and keeps the darn things from slipping out if jostled from rigorous bike rides or the bouncing that comes with jogging. In this fashion, I always appreciate a set that not only sounds good but also supports the said method for wearing the things. The V-Moda's Vibrato headset springs to mind.
Creative Labs has something a bit similar. The HS-930i2 earbud headset is a comfortable mobile solution for phone calls, music listening and features earpieces that swivel at the base. This makes it easy to wear them in-ear with the wires hanging, which is the most common method. Or you can turn the cap ends so the headset can be worn comfortably while the cord easily slips up, over, and behind your ears for that added support I mentioned.
The HS-930i2 uses 6mm Neodynium drivers for 20-20,000 frequency response. Impedance is 16 ohms and the entire set is as weightless as you would expect for earbuds at 13 grams, just like the Harmon/Kardon Beautiful Sound NI in-ear headphones. The package includes the earbuds on an all-black cord with silver end-caps where they swivel. You get two extra silicone ear tips for size comfort, and a soft black velvet carrying case for easy toting.  Nothing major missing here. Although I would have appreciated a more tangle-free cord like that used on the A-Jays.
General use is a slightly mixed bag, similar to the Ultimate Ears 350. The comfort is great. I really like that the swivel end-caps make it so the HS-930i2 can be worn in a couple of different ways. They are lightweight and the default silicone tips fit in my ears just fine. Plus you get two extra pairs. Not many other earbud solutions offer 4 and 5-sets of silicone ear tips to choose from. So Creative is falling behind on that end. With that said, buttons are responsive on the inline controls where you can adjust volume with the rocker-style volume control. There is also a single button that is used to answer calls, skip tracks forward and back, and a mute sound function. Calls are crystal clear with no distortion and the microphone picks up your voice without issue, where those on the receiving end can hear you sufficiently.
The HS-930i2 is an interesting little earbud set. For music, this one is not for everyone. The clarity in call quality comes from incredible mid and high ranges. Yet the bass is sorely lacking. These almost seem more suited for live performance recording or music created from primarily stringed instruments. Pop, hip-hop, dancehall, and any other bass-heavy audio suffer greatly when using the HS-930i2. The highs and mid ranges drown out the lows. But if music such as country, jazz, reggae, folk, and other sounds that are less reliant on bass, are more to your taste, then these earbuds are for you.
The Creative HS-930i2 is great for calls and music that are rich in high and midrange tones. The price is about $40 and is perfect for the level of performance. You can do much worse and if used properly the HS-930i2 is not bad at all.
Editor Rating:
[Rating: 3/5]
Very Good
Bottom Line: The Creative HS-930i2 earbuds are priced just right for their performance. If used for calls and the right suggested styles of music then more deep-pocketed users will be fine.
Pros
·  Great call quality
·  Great audio for mid and low ranges
·  Two ways to wear w/ swivel end-caps
·  Incredibly affordable
Cons
·  Lows are drowned out and bass is lacking
The Creative Labs HS-930i2 Earbuds are available on Amazon for $33.42.