Fixed lens digital cameras sometimes don't excite photographers, as they have a stigma of including basic features and boring designs. As my Canon PowerShot G7 X review shows though, this model is anything but your average fixed lens camera … other than in its look. But is it the best digital camera?
Overview
Summary: Advanced fixed lens camera that creates high-quality images, while providing desirable add-on features like WiFi, a touch screen LCD, a tiltable LCD, and a fast image processor. Some of the finest digital cameras come with WiFi for more convenient image uploading.
WHY IT'S A TOP PICK: Easy-to-use camera with image capture that can compete with some entry-level DSLRs.
Price: $599 from Amazon
Available: December 2014
What We Liked
Image quality is near top of the list for a fixed lens camera
Can shoot in RAW and JPEG image formats at the same time
Lens can achieve a fast aperture of f/1.8, which works well for portraits
Selfies available through 180-degree tilt of LCD screen
G7 X has a sturdy build quality
What We Didn't
Price point is higher than some entry-level DSLR cameras
Limited optical zoom lens measurement of 4.2X
No option of adding a viewfinder
Battery life span is poor
Camera's performance level slows when shooting in RAW
Canon PowerShot G7 X Key Specs
| | |
| --- | --- |
| Image Sensor Type | 1-inch |
| Megapixels | 20.2 |
| Optical Zoom Lens | 4.2X |
| Articulating Screen | |
| HD Video | |
| ISO | 125-12,800 |
| Auto Focus Points | 31 |
| Avg Battery Life | 210 photos |
| Weight | 10.7 oz |
| Size | 4.06 x 2.38 x 1.59 inches |
| Price | $599 |
| | Buy Now |
Design and Build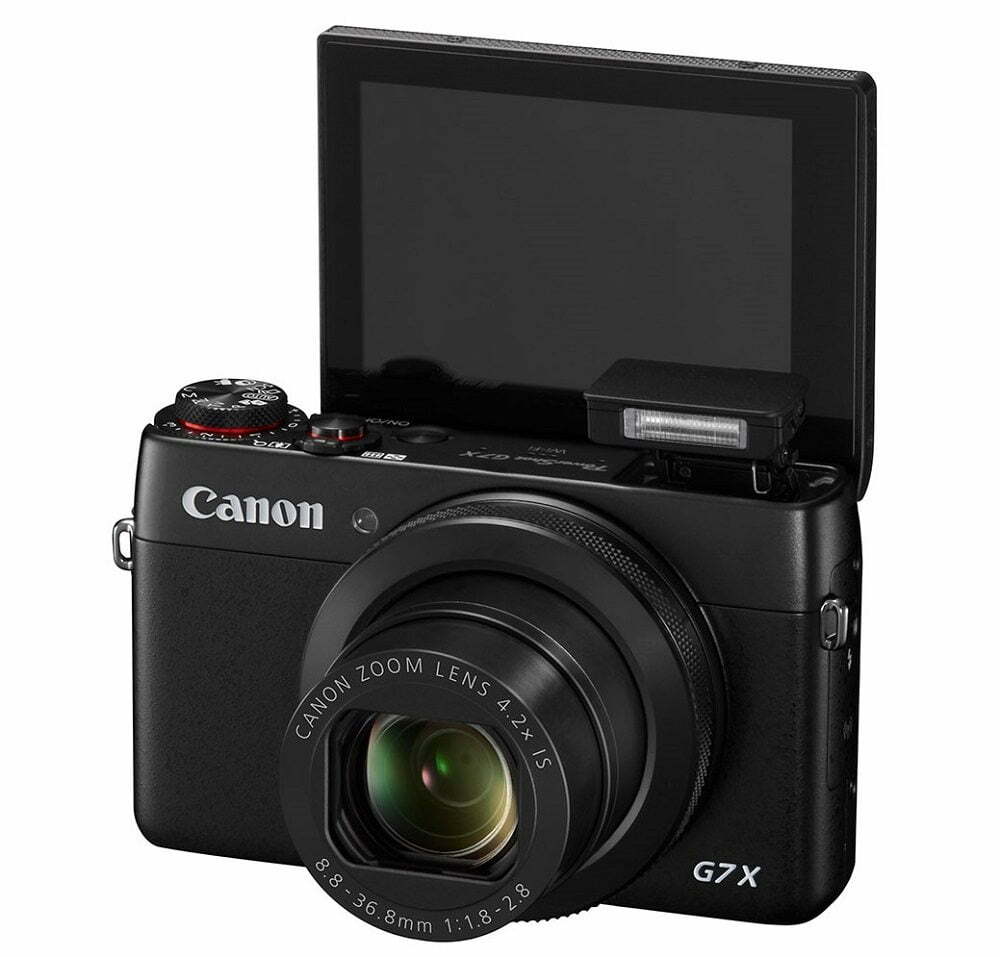 Similar to the Canon PowerShot D30 waterproof camera, the PowerShot G7 X has a full range of control options, ranging from fully automatic to full manual control, which allows this camera to work well for photographers with a variety of experience levels. A mode dial on the top of the camera provides access to the many shooting modes, which is handy.
One of the most impressive features of the Canon PowerShot G7 X is its ability to work fast, like the Canon EOS 90D. The G7 X can record up to 6.5 JPEG photos per second in burst mode, which is faster than some DSLR cameras, such as our Canon Rebel T6i DSLR review shows. The G7 X includes a DIGIC 6 image processor, which provides better performance levels than most fixed lens cameras too. For an Ultra HD 4K shooting experience, read the Crosstour action camera review.
As shown in our digital camera buying guide, a fixed lens camera is one where the lens is embedded into the camera body. With a DSLR camera or a mirrorless interchangeable lens camera, you can swap out the lens to provide different features. Sometimes, a fixed lens camera is called a point-and-shoot camera.
A fixed lens camera typically is going to offer a zoom range in the lens, which means you can shoot at a range of focal lengths, as explained in our article: What is a digital camera? The optical zoom range is one area where the Canon G7 X disappoints a bit, offering only a 4.2X optical zoom lens, which is below average in today's market. But the lens has a maximum aperture setting of f/1.8, which is well above average for a fixed lens model, making the G7 X strong for portrait photography where you want the subject sharply focused but the background blurred.
Canon provided a 31-point autofocus system for the PowerShot G7 X, which allows the camera to work fast and accurately in terms of achieving a sharp focus. You also could choose to use the manual focus option Canon provides, but it involves awkward spinning a small dial and watching an on-screen graph. The autofocus works well enough that you won't need manual focus very often.
Unlike the Canon 90D, the Canon PowerShot G7 X does not have a viewfinder (and no option for adding one, because it doesn't have a hot shoe), it needs a high-quality LCD screen to help you frame the scene. The G7 X has a rotating LCD that can swing 180 degrees vertically, allowing for selfies. It does not rotate horizontally. The LCD measures 3.0 inches diagonally, and it offers touch capabilities.
Admittedly, the G7 X has a boxy, all black, perhaps even boring design. But the look of the Canon PowerShot G7 X camera doesn't do this model justice. It has a fast image processor, a 1-inch image sensor, and plenty of desirable features that will excite intermediate photographers looking for a strong-performing alternative to the best DSLR cameras for beginners and explains why it made our list of best digital cameras for 2018.
Battery Life
The battery capacity for the PowerShot G7 X is a bit of a disappointment, as you'll only be able to capture about 200 shots per charge, and that's under perfect shooting conditions. The G7 X does include a separate battery charger, so you could choose to purchase a second battery and charge one while shooting photos with the other.
Canon provided built-in WiFi and NFC wireless communication options with the G7 X, which provides an ability to share photos as soon as you shoot them. Unfortunately, battery life is poor with this model, and making use of either wireless connectivity option will drain the battery even more quickly.
Image Quality
Canon provided a 1-inch image sensor with 20.2 megapixels with the PowerShot G7 X, which yields far above average image quality versus other fixed lens cameras. It can't quite match the images you can record with a DSLR camera, but it blows away most fixed lens cameras, especially sub-$200 cameras and smartphone cameras. For a 26.2MP full frame mirrorless camera for your blogging needs, read our Canon EOS RP review.
You can shoot in either the RAW image format or JPEG (or both at the same time) with this camera, which will appeal to more experienced photographers. Only those photographers looking to perform image editing work after shooting photos will receive much benefit from shooting in RAW, though.
When considering the Canon PowerShot G7 X low light performance, you'll find that the unit's pop-up flash gives you well-exposed photos. You cannot add an external flash unit, because of the lack of a hot shoe as mentioned earlier.
If you choose to shoot without using the flash in low light, you can increase the G7 X's ISO setting up to 12,800, which is a good performance for a compact camera. Noise won't really start to become noticeable in your photos until you increase the ISO setting to 6400, which again is well above average low light performance.
When compared to the Sony Cyber-Shot DSC-RX100 III, the PowerShot G7 X is a very similar camera. Both models have a 1-inch image sensor, both feature an f/1.8 lens, and both can record in the RAW image format. The G7 X's optical zoom lens has a little larger range than the Sony RX100 III.
Newer models include the Powershot G9 X Mark II, and the Powershot G7 X Mark III. The G7 X was introduced to the market in September 2014, and the G7 X Mark II was launched in February 2016. There is a 17-month difference between the G7 X and the G7 X Mark II. Similar to the G7, the G7 X Mark II has a 24-100 mm F1.8-2.8 Zoom Lens and features an ISO setting of 123 – 12,800.
However, the Mark II's ISO setting is increasable up to 25,600. Plus, the Mark II offers 8.0 fps continuous shooting. Alternatively, the even newer G7X Mark III has a built-in tiltable touchscreen, Live Youtube streaming support, and a vertical video capture option. Plus, the G7 Mark III offers 4K/30p and 1080/60p video recording, Wi-Fi + Bluetooth wireless connectivity, and USB 3.1 (with USB-C connector) for data transfer and charging. For another camera to use for vlogging, check out the Panasonic Lumix ZS50.
Wrap Up
The Canon PowerShot G7 X camera has a few features that some intermediate and advanced photographers might consider gimmicks, such as an LCD screen that can rotate 180 degrees for selfies. But deep down, this is a strong-performing digital camera that will appeal to beginner and intermediate photographers. Its price point is a little high versus the other models on the best point-and-shoot digital camera list, but it's an easy-to-use model that provides high levels of performance and image quality.
Related Articles: