To find the best webcams available for your next conference call or streaming event, we took a look at the essential factors, including each cameras' video resolution, audio quality, lighting control, and focus. If you're looking to chat with friends and family, or jump on a business call, you might want an option that offers high-resolution video and superior audio quality. On the other hand, if you are a streamer, you might also desire advanced lighting, such as a built-in light ring. No matter your need, we'll point you to the best webcams you can purchase.
In our research, our top pick for the best webcam goes to the Logitech C930e — no surprise as Logitech has been making top-rated computer peripherals for almost forty years. The C930e features a high-resolution 1080p video feed with high-grade stereo audio. Even better, this 'e' edition features an extended camera view of up to 90-degrees, ensuring you capture everything in the frame. The built-in autofocus also ensures your video stays sharp. Keep reading to learn more about the Logitech C930e and other great webcams.
Top 5 Best Webcams
#1 Logitech C930e 1080p HD Webcam
Award: TOP PICK
WHY WE LIKE IT: If you're seeking the ultimate webcam, look no further. Logitech offers a superb webcam with high-quality 1080p video and a wide 90-degree view so that you always stay in frame. Plus, it features an adjustable stand for perfect placement.
Read Full Review: Logitech C930e Review
Pros
Best for Zoom meetings; crisp, 1080p full-HD video
Wide 90-degree field of view
Highly adjustable webcam stand
Cons
Benefits from external microphone
The C930e Logitech webcam is our top pick if you're looking for the ultimate option for online video conferencing. The C930e starts with a camera sensor capable of handling 1080p recording Full-HD video and H.264 video compression, ensuring that your video is always smooth; the integrated auto-focus system also keeps your image quality sharp even if you move around the frame. You aren't likely to get cut-off either, as the C930s features an ultra-wide-angle 90-degree field of view, tilt, and 4X digital zoom. The Logitech webcam software can be used with this in order to access all camera settings such as white balance.
We also appreciate the highly adjustable webcam stand that Logitech mounts the C930e upon; it fits nearly every monitor and can even mount onto a standard tripod mount. The built-in audio quality is acceptable with two omnidirectional microphones, but if you are looking to take things to the next level, you may want to pick up a separate external microphone. It also has an external privacy shutter. Overall, the C930e is still the best webcam for Google Hangouts and Zoom meetings and a great webcam for PCs. If you like this Logitech web camera, then you'll enjoy reading our best Logitech webcam guide.
#2 Anivia 1080p HD Webcam
Award: HONORABLE MENTION
WHY WE LIKE IT: Anivia provides an affordable webcam with superb 1080p HD video performance and built-in dual noise reducing microphones for superior stereo audio quality; it also includes an intelligent automatic lighting correction feature.
Read Full Review: Anivia 1080p HD Webcam Review
Pros
Automatic low-light correction
Easy to set up with your PC
Includes beauty effect option
Cons
Customer support could be improved
If you're looking for a high-quality webcam that won't break the bank, you'll want to check out the Anivia HD 1080p webcam. You may not be familiar with Anivia, but you'll wonder why after using their extremely easy to set up webcam, compatible with Windows, macOS, Linux, ChromeOS, and Android — just plug in and enjoy. Or, you can buy a new computer with a camera built-in after reading our best webcams for Chromebook guide.
This sharp camera even includes an intelligent automatic low-light correction feature for perfect video quality and a built-in beauty effects option for those who wish to touch-up their appearance during a video call. The only less-than-stellar point to mention is that the Anivia's customer support seems to be non-more existent, as we couldn't find a company website. Another great camera option is the best instant film camera.
#3 AUKEY PC-LM1 1080p HD Webcam
We're sorry, this product is temporarily out of stock
Award: BEST AUDIO QUALITY
WHY WE LIKE IT: AUKEY strikes the market again, this time offering a 1080p webcam with excellent built-in dual stereo mics that allows you to leave your external microphone behind; it also features a portable design that's easy to slip into laptop bags.
Read Full Review: AUKEY PC-LM1 Webcam Review
Pros
Great for travel; portable folding design
Easy to set up with your PC
No drivers to extra software required
Cons
Lens doesn't feature auto-focus
AUKEY is a company that has quickly become known for a wide range of peripherals, and its PC-LM1 webcam shows precisely why — a dedication to quality. This 1080p Full-HD webcam offers crisp video at a smooth 30 frames per second, in addition to excellent stereo sound. The AUKEY built-in dual stereo microphones work well on video calls, and may even allow you to keep your larger external microphone behind at times. It comes with a 1.8m USB cable for connections, and setting up this webcam is fairly simple. You just connect the webcam's USB cable to your PCs USB port and open your video calling software (Skype/YouTube). A blue LED indicator will let you know that the webcam is connected.
If you're always on the move, the PC-LM1 also features a portable folding design that allows it to slip easily into your favorite laptop bag without issue. We do wish that AUKEY included an autofocus lens, but still, the included option keeps everything within 5-meters crystal sharp, so the image quality isn't all that bad. It works well with the best photo box.
#4 Vitade 960 1080p HD Webcam
Award: BEST FOR STREAMING
WHY WE LIKE IT: If you stream content online, or simply want great video quality with stellar lighting, then Vitade has the best option for you; this fantastic webcam includes a built-in adjustable ring light and facial-enhancement technology.
Read Full Review: Vitade 960 1080p Review
Pros
Built-in adjustable ring light
Facial-enhancement technology
Advanced encoding for compact video
Cons
Relatively high price-tag
There is nothing worse than watching a webcam feed with someone who is too dark to see properly. Vitade comes to the rescue with its 960 webcam, a 1080p HD option that sports a built-in adjustable ring light. Illuminate yourself correctly with the Vitade's three different brightness options, easily changeable using the built-in hardware button. The included software then goes to the next level with facial-enhancement technology, so the light is always spot-on. Setup is easy because webcam is plug & play, all you need to do is connect it to your PC, laptop, Mac, via USB.
The Vitade 960 also features an advanced encoding algorithm, H.264 compression, that allows for smaller video file sizes — a great feature for online streaming. If you're a podcaster, we also found the Vitade 960 to be the best webcam for podcasts. Just be ready to pay for the Vitade 960, it's an excellent webcam, but it isn't the cheapest option on our list. If you want to look your best while recording videos, then you need to read about our best selfie light.
#5 HZQDLN 1080p HD Webcam
Award: BEST WITH TRIPOD
WHY WE LIKE IT: This great webcam from HZQDLN provides a sharp 1080p video stream and an ultra-wide 110-degree field of view. Add on the included tripod and you've got a webcam option that is perfect for business video conferencing.
Read Full Review: HZQDLN 1080p HD Webcam Review
Pros
Ultra-wide 110-degree lens
Long 6-foot USB cable
Included tripod in box
We know that you won't be able to pronounce the company's name, but we do know that HZQDLN produces an excellent webcam; it's the best webcam for video conferencing. Featuring an ultra-wide 110-degree lens and a long 6-foot USB cable, this webcam is ideal for mounting at the front of a boardroom or other meeting space. HZQDLN even includes a tripod in the package, great for perfect placement on a desk or table.
HZQDLN's webcam works across Windows, macOS, Android, and ChromeOS, and we are thrilled with the broad compatibility. The only feature we aren't thrilled about is the lack of zoom control; for a conference webcam, this would be a highly desired feature. Overall, still an excellent webcam for large groups. For outdoor activities, look at the best action camera.
Note: Other WebCams worth mentioning that we haven't included in our list are the Razer Kiyo that features a ring light with a resolution 1080p video/picture quality. The light ring on the Razer kiyo is for illumination while streaming, for video brightness. There's also the Logitech C920S with 1080p resolution at 30 frames per second, 78 degree field of view, and a privacy shutter, the Logitech C922 Pro Stream supporting 60 frames per second, and Logitech StreamCam ideal for video calls and video chat, and the Logitech Brio Webcam that features Windows Hello and a field of view of 90 degrees. The StreamCam is also perfect for content creation on YouTube, Twitch or Facebook, as it can switch instantly between portrait and landscape by tilting the camera. Also, there's the Microsoft LifeCam Studio that uses Truecolor technology for a better image, although it is an older webcam, top of the line when it came out. Microsoft LifeCam HD-3000 and 5000 are the latest. The Genious webcam is another interesting one with an ultra-wide-angle lens of up to 150-degrees. All are available at any of our recommended retailers.
Beginner's Guide To Webcams
What Exactly Is A Webcam?
A webcam is a digital video camera that is either integrated into a computer or connected via USB. Nowadays, webcams are built into almost every laptop and come standard on most desktop computers. Webcams have been known to be used as security cameras, baby monitors, and even as nanny cams.
How was the first webcam used? It may surprise you, but the first webcam wasn't created for anything particularly spectacular. Instead, it was prompted by a simple cup of coffee! In 1991, two scientists working at Cambridge University, Drs. Quentin Stafford-Fraser and Paul Jardetzky, got tired of going to grab a cup of coffee from the main lab only to find it had been drained by their colleagues from other floors. So, they rigged up a camera system to keep an eye on the pot. That way, if they wanted a cup, they knew ahead of time whether there would be any left when they got there.
What Does It Mean For A Webcam To Be "Integrated"?
The term "integrated" simply means that the webcam is built into the computer. This is the most common type of webcam, as most laptops now come with a built-in webcam. An integrated webcam cannot be unplugged or removed from the computer as a USB webcam can.
Understanding How Webcams Function
A webcam's main function is to take pictures or video and transmit that data over the internet. This could take the form of video conference calls or still images. To understand more about how webcams function, it's important to know what frame rate a webcam runs at. This is the number of images (or frames) that the webcam can capture and send to your computer per second. The higher the frame rate, the smoother the video will appear. You should also know how a kill switch works for a webcam and what other features are available.
STAT: More than 15,000 webcams were found to be vulnerable to hacking, and many of them were in people's homes! (source)
Choosing A Webcam
When choosing the right webcam for you, consider whether you want a standalone or integrated webcam. Evaluate the resolution options, lenses, frame rates, extra features, budget, and any alternatives that may work better for you.
Step 1. Do You Need A Dedicated Standalone Webcam?
The first thing you need to decide is whether you need a dedicated, standalone webcam or if your computer already has a built-in webcam that will suffice. Compare integrated laptop webcams and external webcams to see which is better for you. You can even compare webcams and phone cameras. If you plan on using your webcam for things like video conferencing or live streaming, then you'll want a dedicated webcam with good resolution and frame rate. However, if you just need a basic webcam for occasional use, then an integrated webcam will suffice.
Step 2. What Resolution Do I Need For A Webcam?
Compare 720P and 1080P webcam resolutions while shopping to see which is best for you. If you don't need a high-definition feed, then a 720p webcam will work just fine. Most webcams have a native resolution of 1280×720 (720p), but some offer Full HD 1920×1080 (1080p) resolution. It's also important to compare 4K and 1080p webcam resolutions because 4K offers four times the number of pixels as 1080p. That means a 4K webcam can capture more detail and offer better image quality. If you're looking for the best possible image quality, then a 4K webcam is the way to go.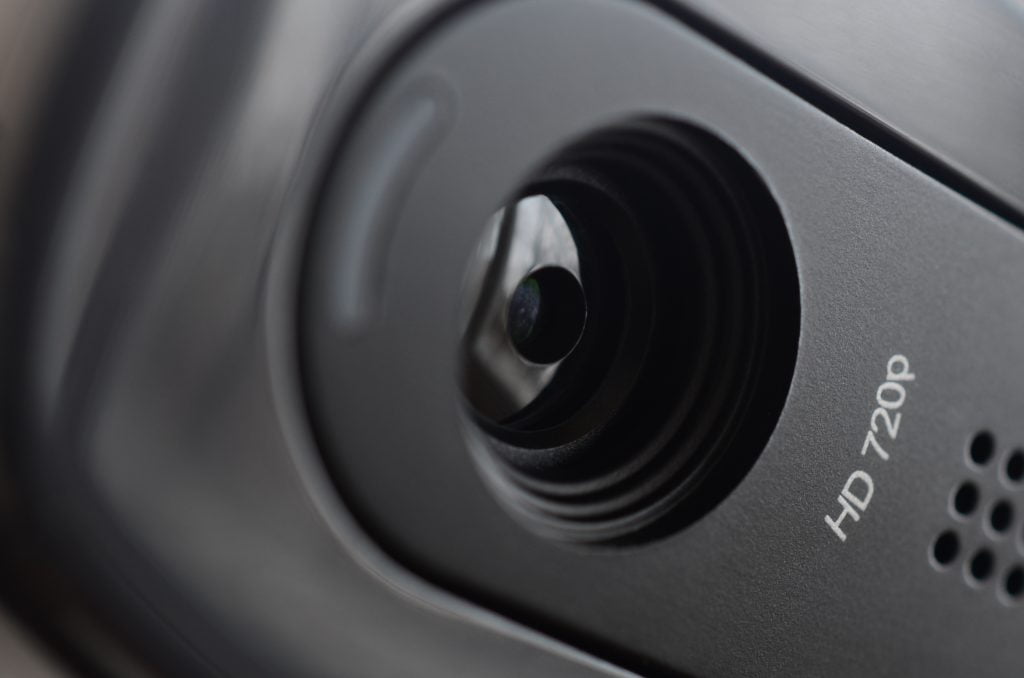 Step 3. What Kind Of Lens Does Your Webcam Need?
The next thing to consider is the lens. Most webcams come with a fixed focus lens, which means they can't be adjusted. This is fine for most uses, but if you need a webcam with autofocus, you'll have to pay a little extra. Autofocus lenses are great for things like live streaming because they can automatically adjust the focus to keep you in sharp relief. Make sure to compare autofocus and manual focus on webcams, as well as looking at wide-angle vs normal webcam lenses.
Step 4. What Frame Rate Do You Want Your Webcam To Run At?
The frame rate is the number of images that the webcam can capture and send to your computer per second. The higher the frame rate, the smoother the video will appear. Most webcams have a native frame rate of 30 frames per second (fps), but some offer 60 fps or even higher. If you're looking for a smooth, high-quality video, then you'll want a webcam with a high frame rate.
Step 5. Do You Want Any Specific Features On Your Webcam?
It's important to determine what megapixel count a webcam needs for your specific purposes. However, in addition, you also need to evaluate gain, brightness, and light correction on webcams because all three of these contribute to the quality and performance of your webcam. Many webcams also come with a built-in microphone, but you may want to consider an external microphone if you're looking for the best possible audio quality.
Step 6. How Much Should You Expect To Spend On A Webcam?
When it comes to budget, you can find a decent-quality webcam for under $50. However, if you're looking for a high-end webcam with all the bells and whistles, then you can expect to pay upwards of $100. If you need a 4K webcam, then you'll have to pay even more.
Step 7. Are There Alternatives To A Webcam?
You may think you need a webcam, but there are other options. Comparing IP cameras and webcams will help you decide which is best for you. IP cameras are designed for security purposes and usually offer better video quality than webcams. They're also more expensive. Comparing Raspberry Pi cameras and webcams will also help you decide which is best for you. Raspberry Pi cameras offer compatibility with Raspberry Pi computers. You may also want to compare webcams vs DSLR cameras. DSLR cameras usually provide better video quality, but they're more expensive and require more setup.
Types Of Webcams
Streaming Cameras For Xbox One
Webcams For Twitch
Webcams For Vlogging
Top Webcam Brands
Razer Webcams
Poly Studio Webcams
Anker Webcams
Owning A Webcam
Connecting A Webcam To A Computer
Connecting a webcam to your computer is often as simple as powering on the webcam. Many webcams come with simple instructions for setting up your webcam. Once you have your webcam plugged in and powered on, open your computer's web browser and follow the instructions for setting up your webcam. In some cases, you may need to install drivers, but that's also very quick and easy.
Changing The Settings On Your Webcam
There are a few different settings that you can adjust on your webcam. The most common setting is the resolution, which you can find in the settings menu of your webcam. You can also change the frame rate, white balance, and exposure. These settings will all affect the quality of your video, so it's important to experiment with them to find the perfect balance.
Should I cover my webcam, and how do I do it? For security's sake, it's always a good idea to cover or disconnect your webcam when you're not using it. While you may think yourself an unlikely target for spying or being hacked, it's not out of the realm of possibility. Hackers often use this kind of vulnerability to launch other attacks on you and your personal data, including extortion. An easy way to cover your webcam is to simply place a piece of tape over it when you're not using it. You can also buy a webcam cover.
Using A Webcam
Before getting started with your webcam, you'll want to review a couple of things. Disabling your webcam when you're not using it helps to protect its battery life and ensure it's not recording anything it shouldn't be. Taking photos using your webcam is another useful way to make the most of your webcam. Just be sure not to use it anywhere you wouldn't want to be photographed. Recording video using your webcam is a great way to capture memories or document something important. Just be sure to respect the privacy of others when recording.
Pick a flattering angle when you're using your webcam. If you don't like how you look, adjust the position and tilt of the camera until you look how you want to!
Testing A Webcam
It's a good idea to test your webcam before using it for the first time. This will help you make sure that it's working properly and that the video quality is up to your standards. To test your webcam, simply open your computer's web browser and follow the instructions for setting up your webcam. Once you have your webcam set up, you can begin testing it by taking pictures and videos. Be sure to review the video and pictures afterward to ensure that they meet your expectations.
Is webcam hacking a common occurrence? Webcam hacking, also known as camfecting, is a very real threat and common enough that you should take precautions. For example, according to Welivesecurity.com, one international policing operation arrested 13 users of malware known as Imminent Monitor Remote Access Trojan (IM-RAT) used for logging keystrokes and stealing personal data. The operation also seized 430 devices. They also noted that IM-RAT had been sold to more than 14,500 users in 124 countries for around $25, which meant the potential threat to the unsuspecting was huge.
Troubleshoot Your Webcam
If you're having problems with your webcam, you may want to update your webcam's drivers. You can usually find drivers on your webcam's manufacturer's website. If you're still having issues, try restarting your computer. This will often fix any minor software glitches that may be causing problems with your webcam. You can also try resetting your webcam to its factory settings. You may also want to troubleshoot webcam light issues.
Can You Use Something Else As A Webcam?
Using a phone as a webcam is a great way to improve the quality of your video calls. Many newer phones have great cameras that can rival even the best webcams. If you're using an iPhone as a webcam, you can use the QuickTime player to turn it into a webcam. For Android users, there are a number of apps that will let you use your phone as a webcam. Using a DSLR as a webcam is another great option if you have one. This will give you the best video quality, but it's important to note that not all DSLRs are compatible with all computers. You'll need to do some research to find out if your DSLR is compatible with your computer.
Helpful Tips For Your Webcam
To improve the functionality of your webcam, you may want to consider making your webcam wireless. This will give you more freedom to move around and will also reduce the risk of tripping over cords. Improving the quality of your webcam's video and audio can be as simple as adjusting its settings. You can also try using a different web browser or even upgrading your computer's operating system. Finally, checking the history on your webcam will give you better control over how it's used.