Intel introduced the category in 2011 to compete with the MacBook Air, the lightweight laptop which was dominating the market at the time. Intel has its own list of specifications for the kinds of laptops that can use the trademarked "ultrabook" branding (including that it must have an Intel Core processor), but in truth the definition of an ultrabook is still fairly fluid in the minds of most consumers. To clear things up for you, GadgetReview went out and researched the top ultrabooks on the market today so you know what to buy for your needs.
After purchasing the top 10 ultrabooks, we pitted them against one another to find out which one would come out on top. After extensive research and plenty of hours playing with these ultra-thin laptops, we're happy to report that the ASUS Zenbook 14 is the cream of the crop due to its nano-edge bezel and dual-function track pad. Keep reading to learn more about the Zenbook 14 and the other ultrabooks on our list.
#1 Pick

ASUS Zenbook 14 Ultrabook
Award: Editor's Choice/Best 14″ Ultrabook
Price: $1,099.00 | Features: Nano-edge bezel, 1920 x 1080 FHD resolution, Exclusive dual-function touchpad | Read Full Review: ASUS Zenbook 14 Review
WHY IT'S A TOP PICK: The ASUS Zenbook 14 combines sexy style with serious performance to top the list of our best ultrabooks for 2023.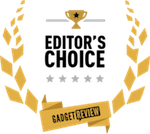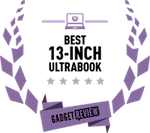 The ASUS Zenbook 14 is one of the best ultrabooks out there for its price. It's super lightweight and offers both a beautiful display and unique dual-function touchpad. For more lightweight laptops, check out our guide to the best portable ultrabook.
Dell claims that the battery can last up to 14 hours, an impressive length of time. The performance of the machines is stellar, with its 4.6GHz Intel Core i7 CPU and 16 gigabytes of RAM. Especially nice is that the cost of the machine is on the lower end, especially for ultrabooks of its caliber.
#2 Pick

Microsoft Surface Laptop 2 Ultrabook
Award: Best Business Ultrabook

Price: $919.99 | Features: 2256 x 1504 resolution, 13.5″ PixelSense display, 8GB RAM | Read Full Review: Microsoft Surface Laptop 2 Review
WHY IT'S A TOP PICK: The Surface Laptop 2 is a workhorse of an ultrabook that transforms into any kind of machine you want it to, right when you need it the most.

The monster in the ultrabook category, the recently released Microsoft Surface Laptop 2 is one of the more affordable options on our list, but still offers an impressive set of features and specs. It's one of the best performers out there with a 3.1GHz Intel Core i7 processor and 8 GB of RAM, all working behind a gorgeous 2256 x 1504 touchscreen display.
Downsides include the shorter battery life and the heavier weight – but if you have cash to spend, this the Microsoft Surface Laptop definitely needs to be one of the first ultrabooks you look at before making your final purchase. And, if you don't have cash to spend, you might want to read our best value ultrabooks guide.
Update: Microsoft Surface Laptop 3 is the latest version of this model with Intel's 10th gen Ice Lake processor, Intel Iris Plus Graphics, up to 1TB SSD, up to 16GB RAM, and it's very stylish with a brilliant and comfortable keyboard, although it lacks Thunderbolt 3.
Read: Best Chromebooks of 2023
#3 Pick

Lenovo Yoga 720 Ultrabook
Price: $785.00 | Features: 15.6-inch IPS touchscreen, quad-core Intel Core i7 processor, 2-in-1 functionality | Read Full Review: Lenovo Yoga 720 Review
WHY IT'S A TOP PICK: The Lenovo Yoga 720 combines a feather-light weight profile with long-lasting battery power.
This Lenovo ultrabook (along with the Lenovo Thinkpad X1) needs to be consider with one thing in particular in mind: its low price. The starting model of a Yoga is a pithy $785. That obviously means, though, that you'll have to sacrifice in performance and many other features.
Its resolution isn't as high as others on our list and its battery life is only up to 8-10 hours… all that shouldn't necessarily discount it, though, given that its a solid machine for its price. If you're on a budget, this might be the best ultrabook you can find. We're giving this our award for best ultrabook for the money.
#4 Pick

Razer Blade Stealth 13 Ultrabook
Award: Best Ultrabook for Gaming
Price: $1099.99 | Features: NVIDIA GeForce graphics, 16GB dual-channel RAM, 256GB SSD storage | Read Full Review: Razer Blade Stealth 13 Review
WHY IT'S A TOP PICK: The Razer Blade Stealth 13 is uber-powerful with an intense graphics card.
If you're looking for an ultrabook that you can also use for gaming, the Razer Blade Stealth 13 is the pick for you. Offering a powerful NVIDIA GeForce MX150 graphics card and a similarly powerful Intel Core i7 quad-core processor, this ultrabook can handle even the most intense of video games.
While we wish the display were a little larger (13 inches isn't a lot for gaming), it still offers a full HD resolution with almost invisible bezels. It also offers 100% sRGB color saturation for the best picture possible.
#5 Pick

HP Spectre x360 Ultrabook
Award: Best 2-in-1 Ultrabook

Price: $1,281.95 | Features: 2-in-1 convertible tablet, 13.3″ 1920 x 1080 screen, 512GB onboard SSD | Read Full Review: HP Spectre X360 Review
WHY IT'S A TOP PICK: The HP Spectre x360 is an ultra-light ultrabook that still manages to pack some serious punch underneath its feather-heavy hood.
If there's anything you should know about the HP Spectre x360 13.3-inch FHD Touchscreen Laptop, first and foremost it should be its distinction as one of the lightest ultrabooks in the world…but it's also a very, very good computer. The screen rocks a beautiful 1920 x 1080 resolution, and it's also a strong performer with a 4GHz CPU Intel Core i7 quad-core processor, 8GB of RAM, and a 512 GB SSD. It's got an Intel Iris Plus graphics card, which is a step up from the Intel UHD Graphics that you'll find with most modern ultrabooks
The Spectre features a super useful touchscreen, which you can operate with the stylish HP Pen. HP has impressed us again with the Spectre x360, which is why it has easily made it onto our list.
Note: Other notable Ultrabooks worth mentioning here that we had not reviewed are the Huawei MateBook X Pro with 10th gen Intel Core i5 or i7 processor, two USB-C ports that include Thunderbolt 3 ports support, and a 1TB storage. There's also the Lenovo Yoga C940 portable laptop that converts into a tablet with a 360-degree hinge and a strong build quality, but a not so long battery life. Lastly, the HP Envy 13 has Intel UHD graphics 620, 256 GB-1 TB storage, weighs 2.8 pounds, with a fingerprint reader, and is good for anyone on a budget, similar to the Apple MacBook Air that is also sleek and weighs 2.8 pounds..
Key Factors To Consider
Weight: Consumers are consistently surprised by how light most ultrabooks are. Ultrabooks are made to be convenient and comfortable in the hand, and if lifting or carrying an ultrabook feels like a burden, that ultrabook is at least a little bit of a letdown in the weight category.
Durable Build: Ultrabooks are meant to last. Their portability should not sacrifice their durability – and if you take care of it properly – a solidly constructed ultrabook should last you a minimum of three years.
Speedy Startup: Ultrabooks are renowned for taking a lot less time to start up than your average laptop. Cold boot times for ultrabooks are around <10 seconds, though that figure can vary depending on the device.
Mistakes or Things to Avoid
There are some common errors people make when purchasing technology that are especially pertinent when buying an ultrabook.
For example, the assumption that the most expensive item is going to be your best-option is a wrong one. Even if you have extra money, the answer isn't always to spend it right away. The cost leader in the ultrabook category is overwhelmingly the Microsoft Surface Book, but it's also heavier than most other ultrabooks and doesn't drastically improve on many other features over the more affordable laptops.
Another misstep is honoring branding above all else. In this case, that can mean two things: One, it can go for caring too much about the official ultrabook label. That shouldn't be a primary concern, since some of the best options in the laptop space aren't necessarily "ultrabooks", but still manage to run light and speedy without Intel's blessing. Second, it can also be obsessing over the prestige of the company that makes the device. While that can definitely be an early indicator of quality, it should not be considered an absolute guarantee (read: Apple).
You also shouldn't let yourself believe that a single factor (except perhaps the price) is an immediate deal breaker. You have to look at all the pros and cons of each spec before making your final choice. Essentially, you should be open-minded and do your due diligence before choosing the ultrabook that will best serve your needs.
Most Important Features
Weight
All ultrabooks are known for being incredibly light, so does the difference in weight really matter? To some, yes.
While a few extra ounces in a messenger bag isn't likely to break anyone's back, it is nice to have a laptop that feels ultra-portable. For that reason, the weight of the ultrabook is an aspect that might be worth considering when making a purchase.
Ideally, the weight should be around or under three pounds in total.
Display
The screen resolution can be important if you want to watch a lot of video on your ultrabook or look at high resolution photos.
If it's important that your pictures are crisp and your videos are high definition, then you should factor in the display when considering the best ultrabook for your needs.
Battery life
Ultrabooks are all known for having long-lasting battery lives, but it's still advantageous to be able to squeeze a few extra hours out of your computer.
Those few hours can make a huge difference on a long flight. The maximum time an ultrabook can go without a charge tells you how dependent you'll be on a power source and where you can take the computer on the go.
In order to earn the ultrabook badge from Intel, a laptop needs to have a minimum rating of at least nine hours of battery life.
Touchscreen
A touchscreen is becoming a more and more common component of ultrabooks. The Microsoft Surface Pro and its more expensive cousin, the Surface Book, are probably the most prominent examples, but the trend has also taken off among the official, Intel ultrabooks as well.
A touchscreen can be a more intuitive way to interact with your machine, giving you the ability to do such things as write on your screen and complete certain functions faster, so the inclusion of one could very well make the difference when deciding on an ultrabook.
Overall Performance
Naturally, you want a product that runs fast, doesn't crash on you often and is in general an enjoyable piece of technology to use. That depends on hardware such as the RAM, processor, disk speed and disk size.
Understand what kind of performance you need based on your personal needs. Some people need every feature available, but you might need a lot less.
Price
In the end, most decisions ultimately come down to dollars and cents. Ultrabooks, and especially ultrabooks with a touchscreen or a detachable tablet, are usually pretty pricey, and the more expensive models can get really expensive. That said; sometimes it might be worth giving up a feature you were coveting, since one sacrifice could potentially save you hundreds of dollars in features that would otherwise go unused.
In general, ultrabooks can cost everywhere from under $700 for a lower-tier model, to more than $3,000 for the top of the line.
Which Ultrabook is Right for You
And now that you've read a summary of what an ultrabook is, seen the tips for picking out the right one, and gotten a look at the ultrabook reviews themselves: now is the time to make a decision on the best ultrabook for you. Understand what factors matter most in your choice, weigh the pros and cons, and figure out what you'll ultimately (pun not intended) be most comfortable with in 2023.