If you're planning on heading out of the country on vacation anytime soon, you're probably wondering how to stay in touch with family and friends back home without having to incur major phone bill fees. The best way to communicate all your travel's adventures is to use a messenger app that'll allow you to message, chat, send photos and videos to friends who are dying to find out how your trip is going. Many also feature more than your traditional SMS services like coupons, offers and more. So depending on how you'd like to communicate, all these apps work via Wi-Fi so you don't have to get any International calling plans.  Otherwise, if you're you looking to meet strangers while on your trips, you might be wondering by now "how does Tinder work?".   Use Tinder, and you'll meet singles any where you travel. For another useful app you can download from your iPhone, you should also read our review of StealthText: self destructing text messages. If you are interested in knowing more about our reviews of the best apps, check out our best software apps guide.
10. LINE
Line was born in Japan and is more than just your average messaging app since it allows you to play games with friends via the app in addition to its regular fetters like text messages, hold group chats, send photos and videos, etc. It's free to download but you can spend money on more in-app content like games, stickers and more if you want. It supports more than 40 apps and is great for those looking for more than a traditional SMS experience. If you want to customize your iPhone 6, you need to try out the best iPhone 6 jailbreak apps.
9. Voxer
The free walkie-talkie app will connect you with family and friends when you're out of the States. Available on the App Store, Google Play and Windows Phone, the app provides push-to-talk messaging live so people can easily listen to you as you talk and more. You can communicate with one friend or a group of pals and they can listen to your message while you talk or check an audio message later. Even if you don't have a international phone plan, you can still use the app when you're near Wi-FI. You can also upgrade to Voxer Pro in the app, which includes features like Live Interrupt Mode when you're not in the app and want to listen to messages as they come in and more. And since listening to music is also such an important part of life, you should invest in any of the best Android apps for music, and the best part is that most of them are free.
8. Skype
Want to video chat with a friend while out backpacking Europe? Skype allows you to make video and voice calls to anyone else on Skype, as well as send instant messages and file sharing. It works on multiple devices like computers, phones, TVs, tablets, and smartphones, making it a great choice for checking in with family while you're away. And if you want to send low-cost SMS messages or call friends on their mobile or landline then you can add Skype Credit to your account. It works with Wi-Fi, so you can hop into a cafe on your travels and catch up with loved ones! If you have a hike or road trip coming up, the best navigation apps you can use are featured in our best navigation apps for iPhone guide.
7. BB Messenger
Now that BB Messenger is not just for BlackBerry phones anymore, it's a great option to communicate with family and friends when you're out globetrotting. Since BBM is always on and always connected (think of it like another Messages app), there's no app to open like you would the others. You can also control your privacy a bit more since it uses PINS instead of phone numbers, email addresses or usernames. You can always control who contacts you. It's also great for group messaging so it'll make it easier to share all your travel news with your closest friends. You can use it over Wi-Fi for Android and iOS devices, but need a BB data plan if you're on a BlackBerry phone it seems.
6. Google+ Hangout
With Google+ hangout, you can do both one-on-one or group conversations, make video calls for free and connect with friends across computer, phones and tablets. You can even message friends when they're not connected, leaving them a nice surprise when they open it up again to see a picture of you and your latest travels. It syncs conversations over multiple devices so you can start on your smartphone while out and about and then share more pictures when you get back to your hotel room. Users can make free international calls between each other, but international calls to a landline or mobile phone are not free and you can't SMS or text using the app, but you can with Google Voice (you can integrate your Google Voice number).
5. Facebook Messenger
Of course, you'll probably already be chronicling your exciting adventures overseas on Facebook and will probably already be using its Messenger feature, but you don't have to log into Facebook when using their Messenger for Mobile app. This allows you to reach friend right on their phones, allowing you to get and send messages faster than waiting them to check their Facebook account to see it. And if any of your friends aren't using a smartphone (maybe they're at a computer), they can still reply to messages sent using Messenger by confirming their mobile number. It's a great way to text friends for free, but it does use your existing data plan when not on Wi-Fi, so be careful if you're using your international data plan if you get one while using the app.
4. Snapchat
Like the other apps, Snapchat lets you snap a picture or video of your outing and then send it to friends. But what makes it different is that you can a caption to it. Even though images might be a bit grainy or you might not look your best, that's what the app tries to capture – in-the-moment adventures that your friends will love. If you want to share a Snap with all of your pals, add it to your Snapchat Story, which is a living narrative where each Snap will live for 24 hours before disappearing and making room for m0re. Think of this app as a more of a photo messenger!
3. KakaoTalk Messenger
Send free messages and enjoy unlimited HD calls with KakaoTalk Messenger. Supporting all kinds of devices, you can make high-quality group calls, create your own group chat, schedule appointments and such, and share multimedia content like videos, notes, photos and more.  Voice Filters and emoticons make calls a bit more fun since you can get creative with your chats. And with the Plus Friend features, you also score coupons and benefits from your favorite brands! Since the app has a lot of users based in Korea it's more Asian-region specific, which might not be for everybody.
2. iMessenger
If all your pals are iOS users, then iMessenger might be what you'll want to use when out of the country. It's pretty similar to BB Messenger and lets you communicate with other iPhone or iPod touch users. It features  a  native User Interface, just like the SMS App that shipped with your device. The app is $1.99 but there's no monthly cost and you can use it to chat with an unlimited quota and it features worldwide coverage so you can stay in touch with pals all over the world. You don't have to keep iMessenger running to receive a message. With Apple's wonderful gateway, we will send you a Push Notification. Like a SMS notification, you will be prompted with a greeting stating that a user is trying to contact you and a short preview of the message, and a Push Notification does not cost as a SMS message.
1. WhatsApp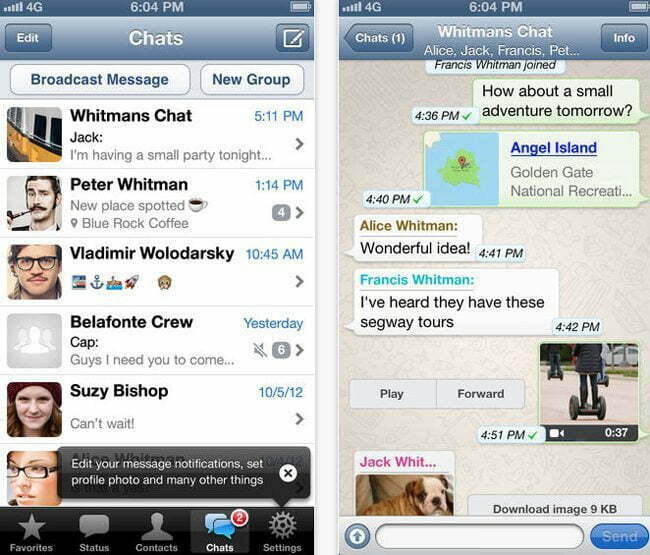 WhatsApp has become a popular messaging app and works great! (I personally used this one to keep in touch with family while trekking around Europe earlier this year.) Like many of the others, it provides easy real time messaging with other users, allows for group chats, sends photos and videos and can share locations (like Facebook Messenger). As long as you can connect to Wi-Fi you're good to go and and is available for iPhone, BlackBerry, Android, Windows Phone and Nokia and yes, those phones can all message each other! It uses the same Internet data plan you use for your email and web browsing so there's not cost to stay in touch with loved ones back one while on your travels. The app is free the first year then $.99/year after that.