To determine the best juicer, we began by significantly narrowing our list using the following criteria: Motor power had to exceed or meet 400 Watts all without being louder than 120 dB (at maximum, dry usage). And because we're trying to get healthy and maintain some sense of fiscal responsibility, we only included juicers that cost below $350. To that end, we didn't even consider those with less than 2,000 reviews on Amazon, and of the ones we did, they had to achieve an average consumer rating of more than 3.5 stars. Want an Instant Pot? Then read our best kitchen appliances guide.
So what is the best juicer? Our #1 pick is the Breville JE98XL Juice Fountain Plus 850-Watt Juice Extractor for $120. At 850 Watts, 105 dB dry, a sharp-bladed stainless steel disk,  and an average consumer rating from over 4,200 consumers of 4.5 stars, this centrifugal juicer beat out all others in our examination.
Best Juicers
| | | | | | |
| --- | --- | --- | --- | --- | --- |
| | Beville JE98XL Juice Fountain Plus | Omega J8006 Nutrition Center Juicer | SKG Anti-Oxidation Slow Masticating Juicer | Nutri-Stahl Juicer | BLACK+DECKER JE2200B Juice Extractor |
| | | | | | |
| Rank | #1 Editor's Choice/Best Home Juicer | #2 Best Masticating Juicer | #3 Best Juicer for Greens | #4 Best Juicer Under $100 | #5 Best Inexpensive Juicer |
| Amazon Rating | | | | | |
| Masticating | | | | | |
| Usability | Perfect | Perfect | Good | Good | Okay |
| Warranty | 1-year Limited | 15-year Limited | 2-year Limited | 1-year Limited | 2-year Limited |
| Noise | Loud | Low Noise | Low Noise | Moderate | Moderate |
| Power | 850 Watts | 500 Watts | 240 Watts (AC Motor) | 700 Watts | 400 Watts |
| Price | $120 | $294 | $297 | $80 | $37 |
| | Buy Now | Buy Now | Buy Now | Buy Now | Buy Now |
How We Choose the Best Juicer
Usability, warranty, power, price, and noise we're the primary variables we used when compiling this list of the best juicers on the market today.
Complexity of use, disassembly for cleaning, and overall ergonomic design helped us rate usability and ease of use during research. Manufacturer warranty periods were considered and compared to industry standards. We found that performance issues and customer complaints increased with both centrifugal and cold-press juicers rated under 400 Watts (DC-driven motors only), so we eliminated those from our initial product review list. If you're interested in a gas stove, then see our best gas range reviews.
Note: Most masticating presses don't convert AC to DC, but rather utilize AC motors that run at lower RPMs (potentially lower than 400 Watts during operation) – these were not excluded from our list.
Cost-to-own was considered and weighed with respect to quality, performance, life expectancy, and noise levels relative to other juicers, and similar household appliances were compared by decibel and factored into our top five best juicer list.
From our findings, the Breville JE98XL Juice Fountain Plus 850-Watt Juice Extractor made our #1 top pick as our Editor's Choice/Best Juicer under $200.
It's super easy to use, does its job QUICK, and is extremely easy to clean. The manufacturer offers a 1-year limited warranty which is industry standard. The Breville JE98XL is rated at 850 Watts, which shows when you're juicing – this thing is crazy fast. Cost of ownership falls right in the middle of consumer-grade juicers which hurts the wallet a lot less than some of the other more commercial options, and the noise level is comparable to most – not too loud, but not super quiet either.
Overall this is the best juicer when it comes to value and performance. Ratings on Amazon reflect the level of consumer satisfaction, and our examination has led to most of us here adding this bad boy to our Christmas list.
Why You Should Buy a Juicer
We all say we want to eat healthier, but very few of us actually take action. Let's face it, nothing worth doing is easy and juicing is no exception to that rule. However, even used as an infrequent dietary supplement, quality juice consumption can facilitate a healthier lifestyle and even help you meet that recommended daily value of fruits and vegetables.
An almost countless number of people have attested online to the benefits of juicing. Some stories are profound including claims of complete cancer remissions, losses of more than 200 pounds, anxiety disorder cures, and more. If you're so inclined we highly recommend you check out the documentaries Fat, Sick, and Nearly Dead, and Crazy Sexy Cancer – they highlight some extreme cases in which consumers have used juicers to completely turn their lives around.
Juicing is like anything else, with consistency and focus great results can be had – if you're eating healthier (through juicing or otherwise) you're going to be healthier, it's common sense.
It's been reported that through juicing, nutrients are more easily absorbed by the body which potentially could lead to a strengthened immune system, however, no scientific evidence has been found to support this claim.  In fact, most medical doctors regard the strict use of juicing over eating whole foods as pseudoscience.  Although juicing may not have any additional benefits over just eating your veggies, a lot of people prefer drinking to eating. Athletes, health enthusiasts, body builders, cyclists, swimmers, and many others prepare pre and post-workout smoothies containing the essential ingredients they require to perform optimally and stay in shape – having a quality juicer only makes that routine more efficient. Remember though, it's recommended that fresh juice is consumed within an hour or two of processing, if not immediately, otherwise degradation and even bacterial growth can occur.
Ultimately, choosing a juicer boils down to a value proposition.
Our top five picks reflect the market's highest, consumer rated juicers (both the best centrifugal juicer and the best cold press juicer) available this year. If you're a super busy person that wants a quick, healthy alternative, we recommend the Breville JE98XL. It's well made, durable, convenient, and extremely powerful. On the other hand, if you're someone that's looking for something a little more industrial, and takes a bit longer to extract juice (preserving more nutrients), we recommend the Omega J8006. It's a fine cold-press machine, and held up very well during our research. It also comes with an outstanding 15-year warranty that's hard to beat.
Buying a juicer is an investment and we want to ensure you get your moneys worth. With all of that out of the way, let's dive right into our top five best juicers this year!
#1 Pick

Breville JE98XL – Best Home Juicer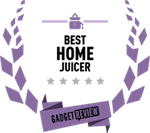 Price: $120 | Warranty: 1 year | Usability: Perfect | Power: 850 Watts | Noise: Moderate
WHY IT'S A TOP PICK: The Breville JE98XL perfectly combines cost, power, and ease of use.
The Breville JE98XL, best rated juicer by GR, doesn't disappoint. It's designed with an extra-wide, 3-inch feeder chute that's capable of churning out an 8 ounce cup of juice in less than six seconds. The manufacturer also claims that its Italian-made, micro mesh filter helps extract more juice and more vitamins than other comparable juicers.
The 850 Watt, dual-speed motor is a monster that drives a stainless cutting blade at 12,000 RPM in high mode (for those harder fruits and leafy greens/veggies), and 6,500 RPMs in low mode for softer organics. Safety features are abundant on this model. The cover works with a safety locking arm to ensure that the unit cannot operate without its lid firmly in place. There is also overload protection built-in to the device to protect from over-heating, or power surges.
Cleanup is a breeze (it even comes with its own cleaning brush), disassembly is easy, and all components of the juicer are dishwasher safe (except for the mesh basket).
The Breville Juice Fountain is the best home juicer you can buy. Breville juicers are engineered to exceed expectations, outperform competitor machines, and last.
Note: Push your leafier items to the bottom (ideally packing heavier organics on top) to avoid having them ejected to the pulp collector before fully extracted.
#2 Pick

Omega J8006 – Best Masticating Juicer
Price: $294 | Warranty: 15 year | Usability: Perfect | Power: 500 Watts | Noise: Low
WHY IT'S A TOP PICK: Warranty, reliability, and performance.
Is it really the best masticating juicer under $300? We think so.
A low speed juicer designed for high-yield extraction, the Omega J8006 lives up to its hype. Running at 80 RPM ensures nutrients and enzymes aren't wasted (it squeezes organics rather than decimating them), and a pulp extraction process further extracts juice that would otherwise go wasted.
The low speed also caters to consumers that want to make more than just juice – nut butter, soy milk, coffees, spices, pasta extrusion, and even mincing herbs and garlic can all be accomplished with the Omega. Another benefit of juicing with this appliance is that due to the slow extraction process, juice can be stored for up to 72 hours without the degradation or separation that typically occurs with juicers operating at higher speeds.
Because it's a low speed unit you also benefit from less noise. A combination of gear reduction and a GE Ultem Auger provides a slow, but very powerful mechanism that's sure to get the job done, and last a very long time (as demonstrated in the manufacturer's insane 15-year warranty). If you're aiming to buy a juicer that's sure to pay for itself over the years, the Omega is backed by an outstanding warranty – you can't really go wrong here.
The J8006 is the best slow juicer for the money.
Note: If you want an excellent concoction, that's well-balanced too, we recommend adding some form of protein to the mix – try peanut butter, or Greek yogurt. 
#3 Pick

SKG Generation – Best Juicer for Greens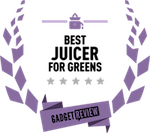 Price: $297 | Warranty: 2 year | Usability: Good | Power: 240 Watts (AC) | Noise: Low
WHY IT'S A TOP PICK: Reliability, and consumer value.
Our preliminary SKG slow juicer review exceeded our initial expectations.
Just like the Omega, the SKG Generation is a low speed juicer that's capable of doing way more than just producing high quality juice.
We especially like that this cold-press is equipped with a 3-inch chute, allowing larger pieces of fruits and vegetables to be processed without the need to cut them up into smaller pieces before hand.
The AC motor is a solid piece of hardware the drives the primary juicing member at 60 RPM, minimizing oxidation and overall quality of taste. This thing is HEAVY, though, weighing in at nearly 24 lbs all told. Components are all made of high-quality, food grade materials, and the juicer itself is one of the only options on this list to actually be certified by the FDA for its outstanding quality and juicing benefits.
Note: The overload protection system on this juicer is a great safety feature, but if engaged can be a nuisance due to a one hour deactivation period. We suggest operating within the guidelines set forth by the manufacturer. If you find your device overheating and shutting off frequently, you'll need to adjust the size of organics you're trying to process, and potentially the running time of each juicing session. 
#4 Pick

Nutri-Stahl – Best Juicer Under $100
Price: $80 | Warranty: 1 year | Usability: Good | Power: 700 Watts | Noise: Moderate
WHY IT'S A TOP PICK: Great value and performance for an entry-level juicer.
The Nutri Stahl juicer is a great entry-level machine. It's a centrifugal juicer that operates at a high speed of 22,000 RPM, which means that you'll hardly have to wait at all for that glass you're craving.
A large feeding chute allows for rapid-fire processing of fruits and veggies, while the unit's 700-Watt motor crushes nearly anything you throw at it with ease. Keep in mind that centrifugal juicers can be louder than slow juicers or masticating ones, so if you're looking for a quiet machine this isn't it, but it isn't "wake the dead" loud either (i.e – quieter than we initially expected for a centrifugal).
It features dual speed settings for leafy foliage and heavier fruits, and sports a large pulp container so you don't have to empty after every glass. Overall this is a super fast juicer that delivers as promised.
Note: The Nutri Stahl is a little more difficult to clean (although detachable parts are dishwasher safe) than other juicers on our list, hence the usability rating we gave it. Overall it's a wonderful piece of hardware for the cost, but convenience does sometimes come with at a price.  
#5 Pick

BLACK+DECKER JE2200B – Best Inexpensive Juicer
Price: $37 | Warranty: 2 year | Usability: Okay | Power: 400 Watts | Noise: Moderate
WHY IT'S A TOP PICK: A great low-cost option for casual users.
Our #5 top pick, the BLACK+DECKER JE2200B is the best affordable juicer for budget conscientious consumers – the best juicer for under $50 that we could find.
The 400 Watt motor will tackle most produce with ease, and electrical component safety features protect the device from irreversible damage.
Cleanup is easy, and an included pitcher makes storing leftovers a breeze. The feeding chute isn't as large as some of our other top picks, so you'll need to cut up larger items before trying to process them.
Made in the USA and backed by a 2-year limited warranty, the JE2200B won't disappoint the casual juicer. It's the cheapest unit that made our top five list, but don't let that price point deceive you – this isn't a "cheap" juicer by any stretch.
Key Factors and Features Considered
Usability: We think ergonomic design is a critical component when buying something that's intended for a lot of hands-on use. If it wasn't easy to operate, easy to clean, or if the overall design of the device failed in some regards with respect to button placement, container design, storage issues, or anything else that would take away from consumer accessibility – we either ranked it lower on our list, or removed it completely from the original list of twenty-five.
Warranty: It's important that manufacturers stand behind their products with at least an industry standard limited warranty. Anything else and we discounted it from our list.
Power: You've gotta have "juice" to make juice. If it wasn't rated at or above our minimum specifications for motor RPM, we tossed it out.
Price: Cost of ownership is always a factor in any of our reviews. Weighted against top-tier, commercial-grade juicers, and those that fell into the budget friendly segment, we weighed the pros and cons respectively and organized our top picks based on the value proposition to the consumer.
Noise: Not all juicers are alike. Some centrifugal juicers are extremely loud while masticating juicers are a lot quieter. As such, if it was louder than a chainsaw in the middle of logging season, we tossed it off the list.
Mistakes to Avoid
Low Power DC Motors: As we stated before, DC motors rated at less than 400-Watts should generally be avoided, as these have consistently been reported by consumers as having performance issues. What's the point in buying a juicer if it can't juice, right?
Overheating: This is important. Without the proper overload protection in place, the motor could reach a level of output that risks permanent damage to the device. Furthermore, if designed improperly, radiant heat (or heat caused by excessive friction on the blades) can be transferred to your organics causing oxidation and loss of essential vitamins and nutrients. None of our picks, needless to say, did or do this.
Cheap Materials: Watch out for materials that tend to break under stress, especially those that are doing all the hard work. Juicers are meant to take a beating and should be made with exceptionally strong operating mechanisms to ensure the most longevity possible between part replacements.
Juicing Cleanse: Don't let marketing hype fool you – juicing is a great way to supplement your diet, but there's no such thing as a healthy juice cleanse. A healthy diet will always be a well-balanced one, ensuring your body receives the daily nutrients it needs to operate at its most efficient levels.
Note: Masticating vs centrifugal juicer comparisons will often highlight nutrient extraction as the primary difference (and more juice is with a doubt had using masticating machines), but another significant difference is the versatility between each of type – masticating juicers offer a broader range of food preparation uses than centrifugal juicers.
Which Juicer is Right For Me
We can't tell you what to buy, that's something you'll need to decide for yourself – but we can tell you that the Breville JE98XL Juice Fountain Plus 850-Watt Juice Extractor is the best juicer for the majority.
In order to know what juicer is right for you, you should at least understand the different types of juicers and their functions. The main types you'll see around are masticating juicers (slow juicers), centrifugal juicers, and citrus juicers. To get the most out of your lemons, oranges, and other citrus fruits, without having to peel or remove seeds, a citrus juicer is perfect. They're the easiest to use, mostly for making lemon/lime and orange juice, and take up minimal counter space, but they can only be used for citrus fruits, so you probably won't use it too much.
If you're planning on using your juicer every day and you want to extract the most from your produce, we recommend going with a quality slow speed, masticating (cold press) juicer. While these types of juicers take longer to produce juice (typically a few minutes for an 8 ounce glass) the resulting product is of a higher quality, and will usually last longer in cold storage. They're great for turning leafy greens like spinach into tasty green juice, and some even have extra accessories such as a smoothie or ice cream strainer.
On the other hand, if you're more of a casual juicer, or you would rather not wait a few minutes for a glass, centrifugal, high speed juicers might be more your cup of tea. They usually have a wide feed chute or feed tube like those on Hamilton Beach juicers, so you can throw in large ingredients without having to cut them up, which does good to reduce your prep time. Our top pick is a great high speed choice, and the manufacturer promises that it's patented extraction process coupled with the strainer helps retain more nutrients than other high speed machines for those looking for the best of both worlds.