When you're hunting down the best gaming laptop under $1,000, it makes sense that you'd want to get the absolute best bang for your budget. Whether it's the size of the hard drive, the amount of RAM, or just how good the graphics card is, we've compiled a list of the laptops that are out there doing it better than the rest. To diversify your laptop options, take some time to also look at our best laptops guide.
But which laptop combines all the features you want with the price you can afford? Read on in our guide on the best gaming laptop under $1,000 to find out!
Best Gaming Laptops Under $1000
| | | | | | |
| --- | --- | --- | --- | --- | --- |
| | ASUS ROG GL752VW-DH71 | MSI GL62 6QF | Acer Aspire V17 Nitro | Lenovo Y700 | Dell Inspiron i759 |
| Rank | #1 – Editor's Choice | #2 Best Keyboard | #3 Best for the Office | #4 Best Speaker System | #5 Best Graphics on a Budget |
| Amazon Rating | | | | | |
| Processor Type/Speed | Intel Core i7-6700HQ 2.6 GHz | Intel Core i7-6700HQ 2.6 GHz | Intel Core i7-6700HQ 2.6 GHz | Intel Core i7-6700HQ 2.6 GHz | Intel Core i5-6300HQ 2.3 GHz |
| Graphics Card | Nvidia GTX 960M 2GB | Nvidia GTX 960M 2GB | Nvidia GTX 960M 4GB | Nvidia GTX 960M 4GB | Nvidia GTX 960M 4GB |
| Available RAM | 16GB DDR4 | 12GB DDR4 | 8GB DDR4 | 8GB DDR3L | 8GB DDR3L |
| Storage (SSD/HDD) | 1TB HDD | 128GB/1TB | 1TB HDD | 256GB/1TB | 256GB/1TB |
| Weight | 6.6 lb | 5.3 lb | 6.8 lb | 5.7 lb | 8.6 lb |
| Screen Size | 17.3″ | 15.6″ | 17.3″ | 15.6″ | 15.6″ |
| Screen Resolution | 1920 x 1080 | 1920 x 1080 | 1920 x 1080 | 1920 x 1080 | 1920 x 1080 |
| Battery Life (avg) | 3:45 | 2:30 | 5:15 | 4:30 | 6:25 |
| Price (as configured) | $999.99 | $999.99 | $998.82 | $962.34 | $799.99 |
| | Buy Now | Buy Now | Buy Now | Buy Now | Buy Now |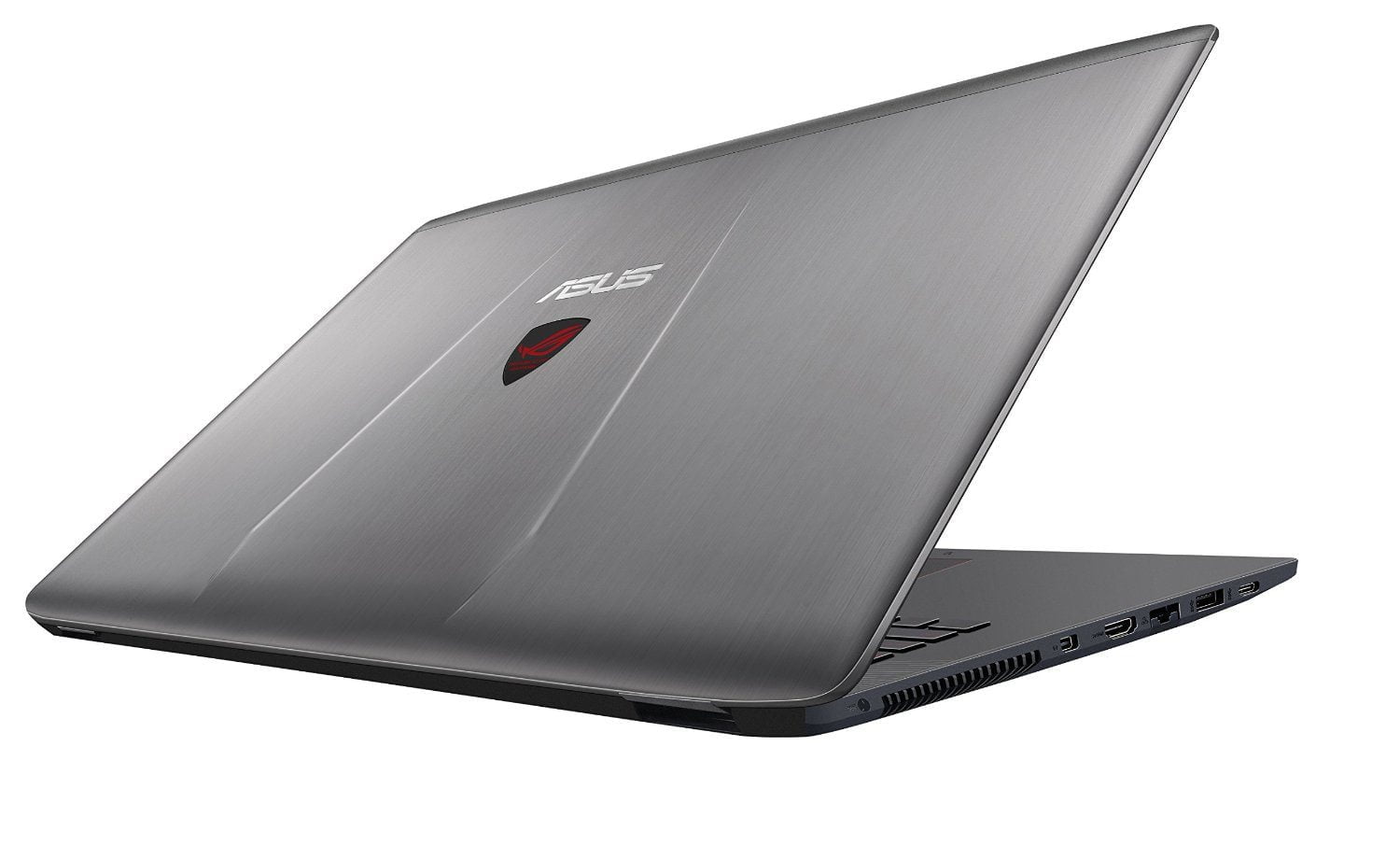 Price: $999.99 | Features: 16GB of DDR4 RAM, Core i7-6700HQ CPU
WHY IT'S A TOP PICK: The ASUS pedigree continues to reign strong in the GL752VW.
The ASUS GL752VW combines everything we love about gaming laptops into a single, sleek package. With a respectable set of specs like an Nvidia GTX 960M 2GB and 16GB of onboard DDR4 RAM the ASUS already has enough power to win our hearts, but where it really shines (and what earned it the top spot) is all in the details of its design.
The GL752VW is arguably the best looking gaming laptop not just in the under $1,000 category, but of all laptops currently on the market. It's anodized brushed aluminum casing and minimalistic interior give the ASUS a solid, business-like air of superiority that doesn't overdo it with red accents or gaudy LEDs. In essence, it's the perfect laptop for professionals and gamers alike, fitting into both worlds with style and grace. You can compare it to the best gaming PC and see which one works best for you.
For an even cheaper Asus model, suitable for League of Legends and the occasional first-person shooter, is the ASUS TUF AMD Ryzen 5 / GTX 1650. The ASUS TUF has a GGDR6 dedicated graphics card and at roughly $100 cheaper than the ASUS ROG, it is a solid option for MOBA games but not ideal for high-end open-world role-playing games. A more expensive option suitable for a wider range of games is the ASUS TUF AMD Ryzen 7 / RTX 2060 6GB.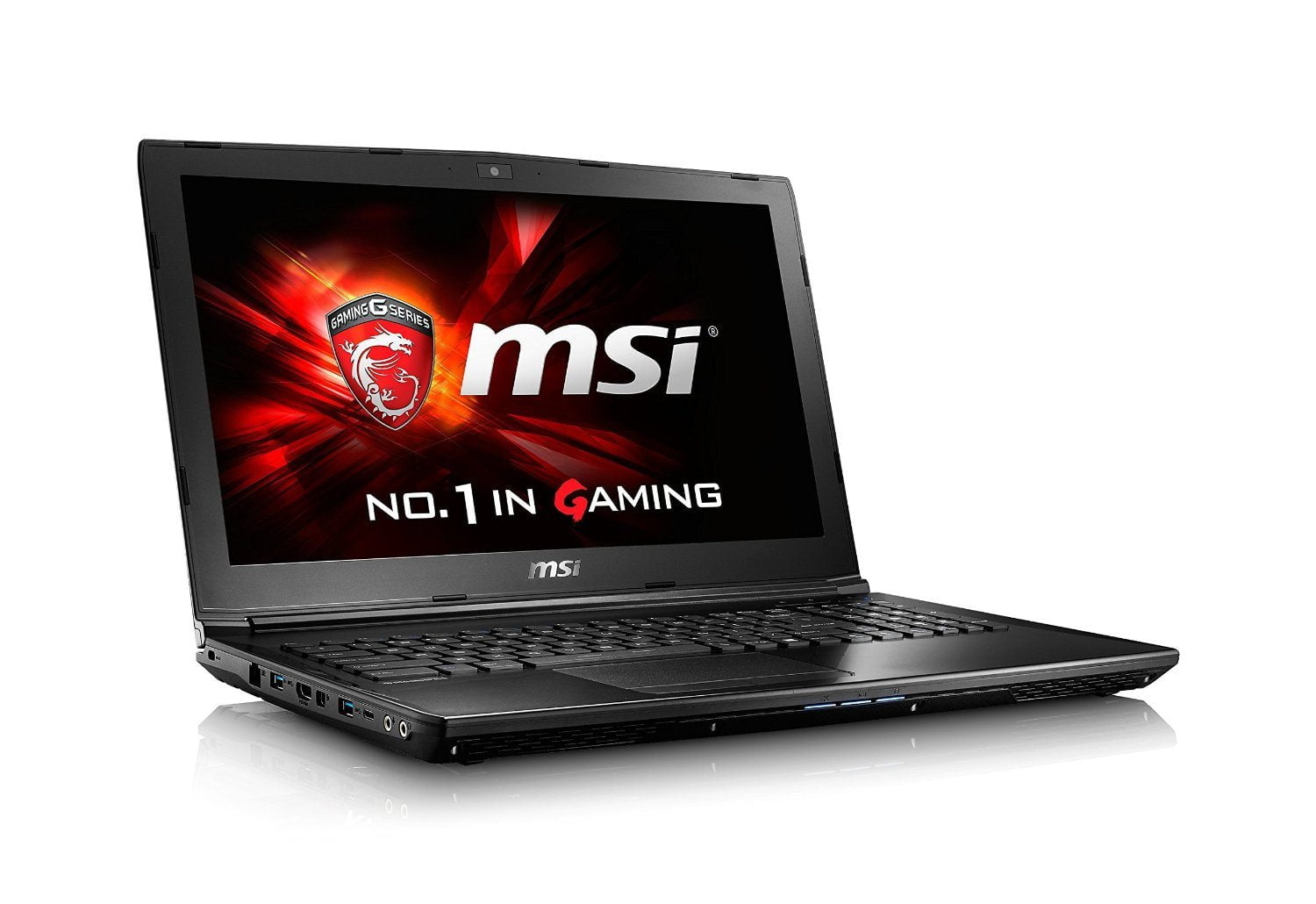 Price: $999.99 | Features: Nahimic virtual surround sound speakers, 12GB DDR4 RAM
WHY IT'S A TOP PICK: The GL62 has the details of gaming down to a science.
Although the MSI GL62 6QF may not be as outwardly sexy as the Asus, it still shares many of the same specs that will make even the best-looking games run like a breeze.
MSI is a company that knows what gamers really want out of their laptops, which is why they've paired up with Steel Series to make a keyboard that is unparalleled in its class. Not only is the keyboard top-notch, but MSI also somehow managed to cram in their Cooler Boost 3 technology in on top of the whole package.
Read More: MSI GT80S 6QE Gaming Laptop Review 
This unique fan system ensures that no matter what position your laptop is in, whether it's on a table, desk, or your lap, that all the internals are kept at their absolute coolest to ensure no framerate slowdowns occur during the heat of your next multiplayer battle.
#3 Pick

Acer Aspire V17 Nitro
Price: $998.82 | Features: 17.3″ FHD screen, GTX 960M 4GB DDR5 VRAM
WHY IT'S A TOP PICK: An extra 2GB of VRAM sets the Aspire V17 apart.
Somehow, Acer has managed to make a laptop that can stand toe-to-toe with the other entries on this list, all without billing itself exclusively as a "gaming machine". The Aspire V17 Nitro is comfortable in any situation, whether you open it at the conference table at work or pop it open for a few quick rounds of fragging back home.
The Aspire V17 is one of the first models released this year to support the newer MU-MIMO router protocol, which means you can game online in freedom without worrying about whether or not you're going to lose connection in the middle of a heated match.
Another cheap gaming option from Acer is the Acer Nitro 5 Core i5-8300H, GTX 1050 Ti. As a cheaper alternative to the Aspire v17, the Nitro 5 has a Core i5 processor, an NVIDIA GeForce GTX 1050 Ti graphics coprocessor, and a 128GB SSD 1TB hard drive size. However, the Nitro 5 has a slower processor speed of 2.3 GHz and a smaller 15-6-inch screen. On the flip side, if you want a laptop that is ideal for Office applications and web browsing, get the best i3 laptop.
Price: $962 | Features: JBL dual-channel stereo speakers with 3W subwoofer, GTX 960M 4GB GDDR5
WHY IT'S A TOP PICK: JBL speakers and a 3W subwoofer create media watching bliss.
The Lenovo Y700 may not look as conventional as some of the other gaming laptops in this roundup, but that doesn't mean it can't stand with the best of them to push out all the gaming power you'll ever need.
Besides the standard Core i7-6700HQ 2.6GHz processor and roomy 256GB SSD, the Y700 also sports a unique pair of JBL 2W speakers with Dolby Home Surround certification, along with a boomy 3W subwoofer hidden underneath. This makes it perfect for anyone who likes to watch movies and TV on their laptop just as much as they like to game, and is the ultimate portable media center no matter where you decide to get set up.
#5 Pick

Dell Inspiron i7559
Price: $799.99 | Features: Nvidia GTX 960M 4GB, 256GB SSD
WHY IT'S A TOP PICK: Best budget option for gamers who need to watch their wallet.
The Dell Inspiron i7-7559 rounds out the end of our list with a beefy Nvidia GTX 960M graphics card, 8GB of RAM, and a 256GB SSD all for nearly $200 less than any other laptop we could find with similar specs making it one of the best cheap gaming laptops on the market.
How is it so much cheaper? Well, the one compromise is the drop from an Intel i7-6700HQ, to the i5-6300HQ 2.3GHz version. Make no mistake however, the i5-6300HQ is still plenty powerful enough to handle all but the most demanding of AAA titles right now (think GTA V), but the savings you get by going that route instead simply can't be denied. Add to this Dell's dedication to reliable build quality and ultimate portability, and it's no wonder how the Inspiron i7559 can be one of the best cheap gaming laptops under $1,000 and still keep in step with the best of them.
If you're happy to spend over $1,000, the Dell G3 Core i7, NVIDIA GeForce GTX 1660 Ti delivers a smooth gaming experience. The Dell G3 has an impressive processor speed of 4.5 GHz, an NVIDIA GeForce GTX 1660 Ti graphics card, an Intel Core i7 processor and 8 GB RAM. When it comes to video cards, learn more by going to our best gaming laptop video card guide.
Key Factors and Features to a Good Gaming Laptop Under $1000
Processor
If you hadn't noticed already, nearly every laptop in this lineup (save for one) is packing the same CPU: Intel's sixth generation Core i7-6700HQ 2,6GHz
Of course this is no mistake – the i7-6700HQ is a workhorse of an processor, one that gets every job done on a budget without complaint
AMD is rumored to be releasing their own mobile-centric line of high powered processors sometime later this year, but for now Intel remains the champion until something better comes along
RAM
RAM is one of the pricier components to include in a gaming laptop under $1,000, which is why you'll see fluctuation between units that include 16GB, while others only have 8GB
Luckily, gaming isn't as heavy on the RAM as multi-tasking is. This means if you're strictly planning to game on your laptop 8GB will handle it, but if you also want to use it at work or for bigger projects, you should opt for a 16GB model instead
Graphics Card
Just like the Intel Core i7-6700HQ CPU, Nvidia has come to dominate laptops in the under $1,000 bracket with its own workhorse: the Nvidia GTX 960M
At this level there are two flavors of 960M – 2GB and 4GB of DDR5 VRAM
If you can, it's always a good idea to have as much VRAM as you can to spare, because this is where the pixels meet the pitch
Storage
All the models we've listed here come with an SSD, though the sizes do vary between manufacturers
256GB is considered the sweet spot for space, as it leaves enough room for your operating system files to breathe with a few games added in on top
Always install the games you play most often (or multiplayer titles) on the SSD if you can, as the drive will drastically reduce loading times between levels over the results you'd see on a traditional HDD
Screen
As far as screens go, there's one main question you have to ask yourself before making a final decision: 15.6″ (15.6-inch) or 17.3″ (17.3-inch)?
If you plan on gaming a lot on the road or don't have a separate monitor you can plug into at home, it's better to go bigger since you want as much space as possible to see what's happening in your game
That said, a bigger screen means more weight and reduced battery life. Striking a balance between both is hard, but most of the laptops on this list manage to pull it off anyway
Build Quality
Last there's the build quality of the gaming laptop, which includes various features like the keyboard, trackpad, and case material under the same umbrella of focus
Stay away from cheaper plastics if possible, because a laptop that's about to fall off the desk or table is only as strong as the case that's protecting it
Similarly, the more you splurge on the keyboard and trackpad, the longer they'll stand up to punishment in the long run. A lot of games will require you to mash the keys with split-second precision, so having a keyboard that can last in those conditions is the key to keeping your gaming laptop going well into the future
Mistakes to Avoid
Worrying About the Screen Size: One of the biggest advantages that the best gaming laptops have over their desktop counterparts is unlike those, when you buy a laptop you get the complete package. That in mind, this doesn't necessarily mean that if you buy a smaller screen that's the one you'll be stuck with forever. You can always spend a bit more on an external monitor, which means you'll still get the best gaming experience even without having the best screen installed on the laptop itself.
Choosing a Cheaper Build Quality: Of all the cardinal sins, this is the one people make most often. Instead of buying a laptop with a nice case and keyboard, they'll save on those parts in order to beef up the CPU or graphics card instead. A laptop is only as good as the shell it lives in, and a cheap plastic will cause it to break a lot easier if it suffers any serious falls. Splurge in this department, if you can.
Which Gaming Laptop Under $1000 is Right For You
If you're looking for a gaming laptop under $1,000 in 2023, that offers great gaming performance, there's never been a better time to find a budget entry-level machine that will get you out of the box and in the game faster. Finding the best gaming laptop deals around can be a laborious task that's why we've put this review together so you don't have to.
The ASUS ROG GL752VW features unparalleled design, while Dell's Inspiron makes a few small compromises to come in as the cheapest of all. The MSI has a gamer-tested keyboard from SteelSeries, while the Aspire Nitro V17 is great for anyone who wants to make sure their gaming and professional lives stay separate, but share the same kit.
If your budget can't go about $1000, that's absolutely fine, have a look at our list above of some of the best cheap gaming laptops under $1,000. But, it's always fun to see what the market has to offer above that mark. The Acer Predator Helios 300, for instance, has an Intel Core i7-9750H processor, NVIDIA GeForce RTX 2060, 8GB RAM, and 144Hz Display. Plus, the Helios 300 has a 3ms Overdrive response time and custom-engineered cooling.
No matter which model you choose there's enough variety out there that you're always sure to get exactly the features you need at a price that won't leave you counting pennies at the checkout counter. At Gadget Review we review and compare thousands of products so our readers can confidently make a well-informed decision. Follow us on Facebook for updates, articles, and links on our site reviewing the latest tech, gadgets, and software.