To find the best front load washing machine, we began by narrowing our list to a set of units that not only operate efficiently with a strong Energy Star rating, but also those that offer the latest automatic features. Plus, for anyone who wants to reduce the number of loads they'll run, we sought out units with tub capacities of five cubic feet or more. We also researched different models and types to come up with our best washing machine list.
After reducing our list to the top three, our #1 pick is the Samsung WF56H9110 ($1440), which has received Energy Star's "Most Efficient award", yielding a projected energy usage of 135 KWh per year. Moreover, this model only uses an average of 13 gallons of water per cycle, which easily outperforms most top load washers, which generally consume about 20 gallons per cycle.
Note: The Samsung WF56H9110 is also our best washing machine.
And with this model you don't have to worry about sacrificing washing power to achieve these efficiency performance levels as it offers a huge 5.6 cubic foot washing capacity, which blows away the rest of the market. Samsung also provides a Super Speed cycle, which cuts the normal wash time by about one-third. With these two features, you'll be able to have your clothes clean fast. To that end, if noise is a concern, the WF56H9110 is exceptionally quiet, offering five different spin speeds, allowing you to choose the best one to meet your needs. Fold all that into its impressive maximum spin speed of 1,300 rpm, and your laundry will dry faster than most models.
Best Front Load Washing Machine
| | | | |
| --- | --- | --- | --- |
| | Samsung WF56H9110AG | Kenmore Elite 41072 | Maytag MHW8200FW |
| Rank | #1 – Editor's Choice/Best Large Capacity Washing Machine | #2 Pick – Best Budget Washing Machine | #3 Pick – Best Small Washing Machine |
| Tub Volume Capacity | 5.6 cu. ft. | 5.2 cu. ft. | 4.5 cu. ft. |
| Tub Material | Stainless steel | Stainless steel | Stainless steel |
| Automatic Temp Control | | | |
| Extra Rinse Cycle | | | |
| Automatic Dispensers | | | |
| End of Cycle Signal | | | |
| Dimensions | 43 x 30 x 33 inches | 41 x 29 x 33 inches | 39 x 27 x 34 inches |
| Stackable with Dryer | | | |
| Avg. Load Time | 65 minutes | 75 minutes | 70 minutes |
| Price | $1,439 | $999.99 | $1,149 |
| | Buy Now | Buy Now | Buy Now |
How We Choose the Best Front Load Washing Machine
Although it sounds like a simple requirement, those washers that made our list need to be Energy Star compliant. To receive the Energy Star designation, a washing machine uses 280 KWh less of electricity and 3,000 gallons less of water versus a non-Energy Star washer each year.
As mentioned above, a large tub capacity is very important, as it allows you to wash more clothes per load, cutting the amount of time you spend doing laundry every week. For a front load washer, a capacity of 4.2 cubic feet or greater is well above average. For example, you'll need about a 3.5 cubic foot tub to wash a queen size bed comforter alone, which shows the importance of a large capacity tub.
Read: Scrubba: Portable, Hand-Operated Washing Machine
Finally, great front load washing machine option needs to include the latest features that will allow successful cleaning of clothing and advanced energy efficiency. A good front load washer will be able to precisely control temperatures, for example, which allows for better energy efficiency than a washer that only allows for selection among cold, warm, and hot. End of cycle signals are handy, alerting you that the clothing is ready to move on to the dryer. And a stainless steel tub is a must have, as it allows for faster spin speeds to remove more water from the clothing in one cycle.
Why You Should Buy a New Front Load Washer
One of the top reasons to choose a front load washer over a top load washer is water efficiency. On average, a front load unit uses about half the water of a top load unit. Not only will you save more money per load by using less water, you'll also save money on the power required to heat that extra water. The design of the top load unit's agitator requires more water to clean the clothes than the spinning design of the front load washer, making the front-load washer more energy efficient.
Additionally, the EPA (which runs the Energy Star program) estimates that a washing machine that's at least 10 years old costs about $180 more on average per year to operate in terms of water and power usage versus a new washer. Using those numbers, you'll be able to recoup the initial cost of the unit within a handful of years, versus continuing to use your old washer … and that's only if that old washer doesn't break down, leaving you with an expensive repair bill.
#1 Pick

Samsung WF56H9110 Washing Machine
Award: Editor's Choice/Best Large Capacity Washing Machine
Price: $1,439 | Tub Volume: 5.6 cu. ft. | Average Load Time: 65 min.
WHY IT'S A TOP PICK: Huge wash tub volume equals fewer loads of laundry.
At 5.6 cubic feet of tub capacity, the Samsung WF56H9110 front load washer is one of the largest on the market. You can expect to wash more than 25 towels in one load with this front-load washing machine, which is an impressive performance level. And the large capacity tub is well built, offering a stainless steel construction. Despite such a large tub, this Samsung unit runs quietly, even when the tub is running a heavy load and spinning at a high speed, another reason why this is our best overall front-load washing machine.
The best front-load washers offer useful features like a good quick wash cycle, and this one doesn't fail. One great feature of the WF56H9110 is its Super Speed washing cycle, which can cut the average load time of 65 minutes in half. You'll also appreciate the precise water temperature control that makes it energy efficient, and the end of cycle signal is also a nice feature. One thing to note is the WF56H9110 front-load washer measures 30 inches in width, so be sure to measure out your space before buying. And, be sure to use the best liquid laundry detergent for the best result.
#2 Pick

Kenmore Elite 41072 Washing Machine
Award: Best Budget Washing Machine
Price: $999.99 | Tub Volume: 5.2 cu. ft. | Average Load Time: 75 min.
WHY IT'S A TOP PICK: Low price makes this a great value among front loaders.
Although it's extremely difficult to find a best front load washing machine under $800, the Kenmore Elite 41072 is the next best thing, offering a starting price just below $1,000. With a stainless steel tub capacity of about 5.2 cubic feet, the Elite 41072 can handle some large loads, but it does perform a bit slower than some of the other units on our list, with an average load time of about 75 minutes. That said, this is still one of the best front-load washers and comes with a Steam Treat option that uses tough steam power for effective stubborn stain removal, and also offers 9 washing cycles for an enhanced cleaning performance including a normal cycle. It is also stackable with a matching dryer.
Being someone who is consistently lazy about taking my clean clothes out of the washer immediately, I really appreciate the Kenmore 41072's Stay Fresh feature, which regularly tumbles the clean laundry after the cycle completes to prevent it from becoming musty over time.
#3 Pick

Maytag MHW8200FW Washing Machine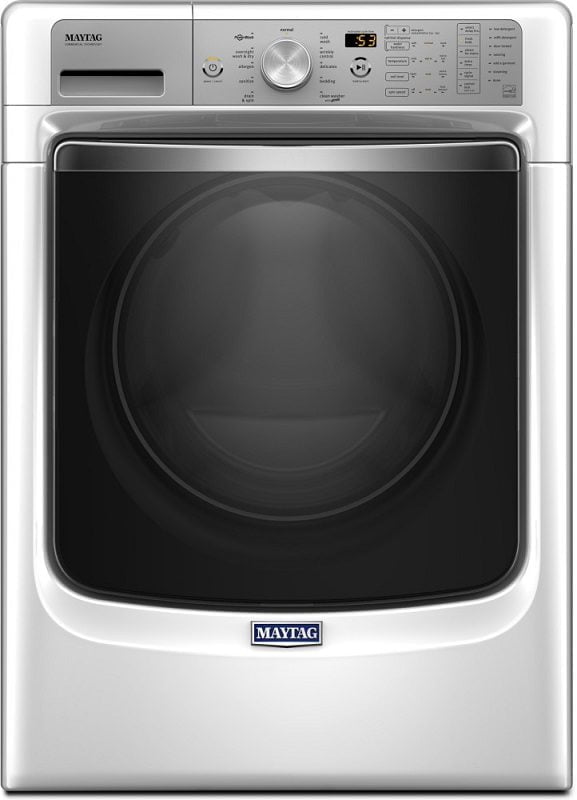 Award: Best Small Washing Machine
Price: $1,149 | Tub Volume: 4.5 cu. ft. | Average Load Time: 70 min.
WHY IT'S A TOP PICK: Small but powerful, this unit includes a steam cleaning option.
At just 27 inches in width, the Maytag MHW8200FW will fit in quite a few tight spaces that many other front load washers won't. It has a smaller tub capacity than the others on our list at 4.5 cubic feet though, so it may not work well for everyone. (Keep in mind that 4.5 cubic feet remains an above average tub size that can handle washing a queen size comforter with ease.)
It offers a decent price point for a front load washing machine with a steam cleaning feature, which makes it a good value versus its peers. It has an easy to use control panel, and it offers other popular features now commonly found on newer and more expensive machines, including automatic temperature control for more precise washing and energy efficiency, end of cycle signal, and an extra rinse cycle option.
What to Look for in the Best Front Load Washing Machine
Capacity of Tub: Washing machine manufacturers list the capacity of the wash tub in cubic feet. A larger tub allows you to wash more clothing and towels in a single load, which can save you a lot of time. You will often pay more for a large capacity wash tub, but if you have a large family, the amount of time you'll save is worth the extra cost.
Setting the Water Temperature: Modern front load machines should allow you to select an exact water temperature for a particular load, rather than selecting from the rather vague Cold, Warm, and Hot. The best washing machines have more precise temperature settings that result in better energy efficiency for the machine.
Mistakes to Avoid
Not Knowing Your Available Space: Front load washers vary quite a bit in physical size, depending on model and manufacturer. You may have a certain space in your home or apartment where the washer will fit, which could limit your choices. The worst feeling when purchasing a washer is to discover it doesn't fit … especially after you've lugged it up three flights of stairs.
Picking a Pair: You may be able to snag a small price break at a retailer like Home Depot or Lowes if you purchase a washer and dryer together from the same manufacturer, versus buying each unit separately. However, if you don't need a new dryer yet, don't feel pressured into buying a pair. Stick with the front load washer alone, and you'll save a lot.
What Else You Should Think About
If you currently own the best top load washing machine, but its water usage frustrates you, it may be time to consider upgrading to the best front load washing machine. Led by our top pick, the Samsung WF56H9110AG, today's front load units are strong appliances that offer water and energy efficiency levels that easily outperform top load washers. If you'd like to do a little more homework, our collection of washing machine reviews will provide plenty of key information.
To pick the best front load washer, think about how you plan to use the machine. Do you need a large tub capacity? Is energy and water efficiency important to you? Or maybe you need a fast wash cycle above all else. Fortunately, the impressive WF56H9110AG can handle all of these washing needs and more!