To find the best French door refrigerators, we compared fresh food and freezer capacities against the average adult's needs, which is based on a standard of four to six cubic feet. We also excluded French door refrigerators with less than twenty cubic feet of total storage capacity. Door storage capable of accommodating gallon-sized containers was a necessity, as was internal water filtration using filters certified by the National Science Foundation. Lastly, we looked to energy consumption and used a baseline of $0.113 cost per kilowatt-hour (kWh) to see which models performed above average in comparison to the total storage capacity. So what is the best French door refrigerator? And, how does it stack up against the best refrigerators?
Our #1 pick and our Editor's Choice as the best French door refrigerator is Samsung's 34.3 cubic foot, four-door flex French door refrigerator. Part of Samsung's Chef Collection, the RF34H9960S4 out delivers in almost every metric we compared. Its ultra-storage capacity is divided between a fresh food storage area of 19.02 cubic feet, and a frozen storage area of 15.28 cubic feet – significantly larger than any other French door refrigerators on our list. The unit's anticipated Energy Star annual electrical consumption is estimated at 855 kWh which translates to approximately $103 USD per annum to operate, and while this is on the higher end of our reviewed units' cost range the larger capacity and superb attention to control and storage features make up for the increased cost of ownership.
Best French Door Refrigerator
| | | | |
| --- | --- | --- | --- |
| | Samsung – Chef Collection 34.3 Cu. Ft. 4-Door Flex French Door Refrigerator | Frigidaire – Gallery 22.6 Cu. Ft. Frost-Free Counter-Depth French Door Refrigerator | GE – Profile Series 22.2 Cu, Ft. French Door Refrigerator |
| Rank | #1 – Editor's Choice for Best French Door Refrigerator | #2 – Best French Door Refrigerator Under 2000 | #3 – Best Counter Depth French Door Refrigerator |
| Consumer Rating | | | |
| Multi-Zone Cooling | | | |
| Depth | 35 3/4″ | 28 1/2″ | 31 1/4″ |
| Height | 72 7/8″ | 68 5/8″ | 69 7/8″ |
| Width | 35 3/4″ | 36″ | 35 3/4″ |
| Capacity | 34.3 Cu Ft | 22.6 Cu Ft | 22.2 Cu Ft |
| Counter-Depth Compatible | | | |
| Price | $5,000 | $1,600 | $2,200 |
| | Buy Now | Buy Now | Buy Now |
How We Choose
Storage Capacity
Our leading metric in reviewing the best refrigerators that made our initial list, storage capacity is a critical variable in both refrigerator versatility and family food accommodation. Too small and you're left fighting to cram groceries in the fridge, too large and you've most likely spent too much on your investment. On average, French door refrigerators capacities should range from 22 to 25 cubic feet in total storage volume to feed a family of three or more comfortably.
Energy Consumption & Cost per Cubic Foot
All the models we've reviewed are Energy Star compliant – having stated that, most consumer refrigerators are – so that certification, without greater examination, is a bit dated in terms of comparing appliances. Instead of hammering on a general Energy Star certification, we've dug a bit deeper to determine annual operating costs versus the North American average.
We've also weighed internal cooling components versus energy consumption – for instance, a French door refrigerator with two compressors and three evaporators is going to consume more energy than a refrigerator with one compressor and one evaporator, so a simple energy consumption comparison (like an Energy Star rating) isn't sufficient for consumer comparison. We want our readers to be informed, not mislead. The initial purchase has also been broken down in to cost per cubic foot of storage.
Consumer Reviews
Verified reviews by owners of these appliances are also something we've considered. You know just as well as we do that consumers truly provide some of the best feedback, and often the best product shortcomings are reflected in dissatisfied customers' reviews. We've done the busy work and read the absolute worst reviews to find consistent problems, or product failures. Products found to have consistent issues reported by buyers were eliminated from our initial list.
Why You Should Buy A New French Door Refrigerator
Our research indicates that most refrigerators, with proper routine maintenance, will last between 13 and 19 years. And because buying a refrigerator is a long-term investment, we want our readers to feel confident in their product knowledge before deciding to purchase. Having said that, you're either on the market because you've moved (or are planning to move), considering replacing a problematic refrigerator with something more reliable, or you're fed up with not having enough space to store your frozen pizza rolls on your top freezer. Whatever the case, we've got you covered with this comprehensive guide of the best french door fridges on the market today.
While the basic thermodynamic principles of refrigeration haven't changed much in the past fifty years, component manufacturing has. Compressor, evaporator, sensor, insulation, and lighting technologies are significantly more advanced than they were just a decade ago, and buying new means you benefit from those advancements. Newer refrigerators cool and freeze more evenly, leaving less temperature differentiation between storage compartments. They're also built with more consumer feedback integrated into the initial product design, which translates to doors which accommodate larger items (such as a gallon of milk), trays specifically designed for cooking preparation, and a load full of other specific-use features meant to accommodate even the pickiest, obsessive-compulsive cook.
You'll also find that as electronics have become more commonplace in household appliances, refrigerators have too incorporated features meant to reduce consumer pains and increase product versatility. Things like temperature zone control, humidity regulation, and maintenance alarms are common among the vast options consumers have to choose from today, however control accuracy increases year after year – ever had that dial on an appliance that just didn't really seem to do much at all? Or perhaps you've noticed that a control function lost its effectiveness after a while? Issues like these are becoming less and less common as more advanced control systems are built into the newer refrigerators released over this past year.
#1 Pick

Samsung Chef Collection 34.3 Cu. Ft. 4-Door Flex French Door Refrigerator
Award: Editor's Choice for Best French Door Refrigerator
View on Best Buy  Price: $5,000 | Storage: 34.3 Cu Ft | Child Lock: Yes | Counter Depth: No
WHY IT'S A TOP PICK: Huge storage capacity and superb features.
The best rated French door refrigerator, the Samsung RF34H9960S4 is a phenomenal fridge that offers outstanding mechanical performance and nearly unparalleled storage space and options. It's a completely customizable, four-door unit with on-demand cooling and freezing options that can chill beverages and freeze cold treats in minutes.
Chilling technologies include stainless steel panels which facilitate a more balanced temperature distribution, and work to decrease the time necessary to adjust to temperature changes regulated by users. This machine also sets itself apart with what Samsung calls a "triple cooling system" inclusive of two compressors and three evaporators that ensure all three controlled compartments maintain temperature set points and food freshness.
Related: If you like this refrigerator, you might be interested in the best upright freezer.
It's important that we point out too that while this unit is significantly pricier than the others on our list, you're ultimately paying for the additional hardware. Considering the additional mechanical components, the Samsung RF34H9960S4 is very competitively priced. Total storage capacity for this unit comes in at 34.3 cubic feet, with a food storage volume of 19.02 cubic feet and a freezer storage volume of 15.28 cubic feet – it's the largest capacity French door refrigerator we've reviewed.
Electrical consumption per annum is estimated at 855 kWh which should run the owner approximately $103 per year in operating costs (exclusive of replacement water filters, or unexpected maintenance). The cost per cubic foot for this unit is $146 – a high among our list, but again we're not comparing apples to apples here. If we account for the additional compressors and evaporators the cost per cubic foot comes down to within the range of the other units we're reviewing.
Noteworthy features in this french-door refrigerator include a sleek external temperature display with LED lighting above the ice dispenser, a water filter light to let you know when it needs replacement, ten-pound ice production per day, a versatile bottom compartment that can be used as either a fridge or freezer compartment, and specialty storage areas for dairy, meal preparation, humidity-controlled crisper drawers for produce, a chef basket for smoked cheese and cured meats, a chilled sparkling water dispenser, and a chef pan for marinating. Our best overall pick, the Samsung truly is the best 4-door French refrigerator on the market today. Your kitchen may also need the best microwaves to match it. The Samsung truly is the best 4-door French refrigerator on the market today and one of the best home appliances.
#2 Pick

Frigidaire Gallery 22.6 Cu. Ft. Frost-Free Counter-Depth French Door Refrigerator
Award: Best French Door Refrigerator Under 2000
View on Best Buy  Price: $1799 | Storage: 22.6 Cu Ft | Child Lock: Yes | Counter Depth: Yes
WHY IT'S A TOP PICK: Great value for outstanding performance.
The Frigidaire Gallery FGHF2366PF, the best value French door refrigerator, comes in second on our list of the best French door refrigerators. An excellent counter-depth refrigerator, the Frigidaire offers the most storage capacity next to the Samsung, is well built, and engineered for the most common family needs and accidents.
Food freshness quality control is supported by a frost-free defrost cycle, which limits freezer burn and the accumulation of moisture. There's also two humidity-controlled spaces for produce storage, and a quick freeze option for expedient freezing.
From a user cost perspective, this is the most economical unit, offering the most storage capacity for the money. The Frigidaire Gallery has a total storage capacity of 22.6 cubic feet which is divided between a fresh food total volume of 15.7 cubic feet and a frozen food storage volume of 6.9 cubic feet. Typical adults within the United States require between four and six cubic feet of total volume, making this refrigerator a good fit for a family of four to five.
Electrical consumption per annum is an estimated 539 kWh which should cost the owner roughly $57 USD a year to run. Calculated cost per cubic foot for this machine is $71 – the lowest cost to own on our list.
Noteworthy features include spill-proof shelving, gallon door storage, child locking mechanism, fingerprint resistance, and a clean user interface for control and settings adjustments.
#3 Pick

GE Profile Series 22.2 Cu. Ft. French Door Counter-Depth Refrigerator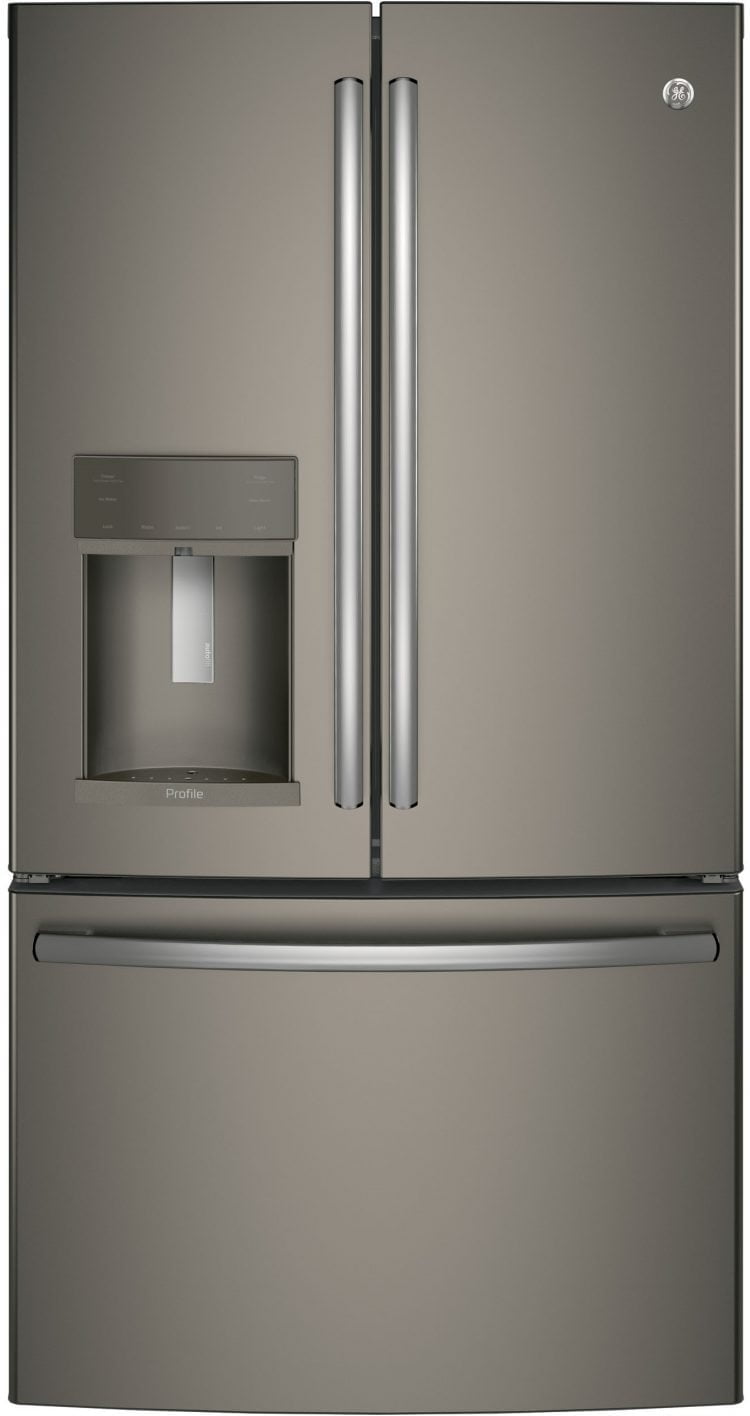 Award: Best Counter Depth French Door Refrigerator
View on Best Buy  Price: $2,200 | Storage: 22.2 Cu Ft | Child Lock: No | Counter Depth: Yes
WHY IT'S A TOP PICK: Superior engineering at a great price.
The GE Profile Series PYE22KMKES is another excellent French door, counter-depth refrigerator that features innovative design elements on the exterior with a stainless steel black stainless steel or black slate finish, and has chilling components meant to last and outperform expectations. With a sleek design inside to boot, this refrigerator is sure to keep groceries fresh with enough storage for a family of four.
GE uses a system on this machine called the "TwinChill" which utilizes separate evaporators for both fresh and frozen storage areas that is intended to prevent odor transfer and frost build-up. A standard adjustable temperature control scheme can be configured from the interface panel on the outside of the machine, and a fast freeze feature allows users to rapidly freeze products that need to be preserved quickly.
Coming in at a total storage volume of 22.2 cubic feet, the GE provides a fresh food storage volume of 15 cubic feet and a frozen volume of 7.2 cubic feet.
Electrical consumption per annum is estimated at 665 kWh which equates to roughly $80 USD per year in electrical operating costs. Cost per cubic foot for this French door refrigerator is $99 which makes it very competitive in its niche.
Features include gallon door storage, adjustable humidity drawers, a door alarm, space-saving ice generation, dual evaporation, frost-free cycling, and fingerprint resistance.
Honorable Mention

LG 24.7 Cu. Ft. French Door Refrigerator
Award: Top Rated French Door Refrigerator
View on Best Buy  Price: $1,980 | Storage: 24.7 Cu Ft | Child Lock: Yes | Counter Depth: No
WHY IT'S A TOP PICK: A truly great value that's a favorite among consumer across the country.
LG's LFX25974ST is an excellent French door refrigerator that offers a decent amount of storage space, features internal spill protection, adjustable gallon-accommodating bins, a full-width prep and/or serving drawer, and two crisper sections to keep produce fresh.  
A linear compressor is utilized in this LG design which claims to operate at a lower decibel than other compressors, LG calls this LoDecibel technology.
Total storage volume comes in at 24.7 cubic feet, with 17.6 of fresh storage space and 7.1 for the freezer. A reasonable amount of space for most families.
LG is one of the best refrigerator brands there is, and this model is energy star certified. Electrical consumption per year is estimated at 547 kWh which equates to roughly $58 USD per year in electrical operating costs. Cost per cubic foot for this French door refrigerator is $80 which makes its price point extremely competitive.
Favorite features include: Refrigerator door alarm, child locking feature, easy to use external controls, spill-proof shelving, and an ice maker that doesn't quit (seriously, it's fantastic).
Note: Other notable refrigerators that may be worth mentioning here are the Kenmore Elite 74013 with simple digital controls for ease of use and a fingerprint-resistant stainless steel black finish, the Electrolux IQ-Touch Series French-Door Refrigerator with glass shelves that slide out, and the Samsung Family Hub French-Door Refrigerator with WiFi, three in-built cameras, among many other unique features that add up to a huge price tag.
Key Factors
Storage Capacity
It's critical that you pick a machine offering enough storage capacity to accommodate your family's needs. The average adult requires between four and six cubic feet of total storage capacity, and if one-third of that is needed for frozen consumables a good balance should look something like 3.35 cubic feet of fresh food per adult, and 1.65 cubic feet of frozen storage volume per adult.
Scale that up for a family of four and a minimum requirement you should shoot for is 13.4 for fresh storage and 6.6 for frozen.
Functional Design
Life happens – and refrigerator manufacturers should know this better than most. Storage compartments for meal preparation, crispers for fruits and vegetables, spill-safe shelving, gallon door storage areas, grated collection areas for water spills, door alarms, fingerprint resistant surfaces, and child locks are just a few of the elements you should keep an eye out for when shopping for a new refrigerator.
Energy Consumption
While nearly every single refrigerator you'll come across is Energy Star compliant, making an informed buying decision with energy consumption in mind isn't always cut and dry. Some machines have more than one cooling loop and because of design difference like this electrical consumption can vary. Always consider mechanical specifications and compare to other machines which have managed to catch your eye.
Features
Refrigerator Depth
Counter depth refrigerators are typically around 28 inches in depth, which is contrary to the popular belief that most of these sit flush with most counters – they'll actually protrude a little past most countertop edges.
Non-counter depth machines vary in depth, but can extend as much as 36 inches from the wall they are installed against. Ensure you understand your specific needs and the exact dimensions of the machine you decide to purchase.
Fingerprint Resistance
Why wouldn't this be a standard option? Aside from kiddos with sticky fingers, us adults leave fingerprints too – and if you own a stainless-steel appliance you know all too well what a pain in the rear it is to have to clean smudges and fingerprints from them. To make your life easier, look for an appliance that offers fingerprint resistant surfaces.
Spill-Safe Shelving
Spills happen, and spill-safe shelving makes clean up a lot easier. Our preference is to look for refrigerators which offer solutions to common problems as part of their design – it demonstrates that the manufacturer has focus on the consumer's needs and truly wants to provide a quality product.
Gallon-Sized Door Storage
Another preference of ours, gallon-sized door storage makes life just a little easier and offers a bit more versatility when it comes to storing those hard to fit items.
Open Door Alarm
We're busy people, and sometimes in our hectic lives we miss things. A door alarm is a simple control element that's low-cost to implement and ensures our food stays even if we aren't paying attention.
Child Locks
Control locks ensure that ice and water aren't spilled all over your clean floors, and that internal temperatures aren't changed by accident resulting in spoiled food. A great feature.
Mistakes to Avoid
Read Reviews First: Look out for machines that have a significant amount of negative reviews from consumers – often this indicates a design flaw, or a poorly sourced component that is prone to failure.
Double Check Your Storage Needs: If you're like most Americans, you'll hang on to your refrigerator for nearly ten years. Shop with extra space in mind and consider family growth. Our recommendation is at least 3.35 cubic feet for fresh food and 1.65 cubic feet for frozen food per adult – but shooting a bit higher (maybe 20%) will ensure you never have to fight to squeeze a frozen pizza into your freezer.
Energy Consumption: Annual electrical operating cost is a good number to consider when comparing efficiency, but even the most electrically demanding appliance is going to cost you around $150 per year…and that's negligible even if you're only making $40,000 a year.
Cost Per Cubic Foot of Storage: A competitive range per cooling loop (one compressor and one evaporator) is $70 to $115. To calculate the cost per cubic foot just take the refrigerator's total cost and divide that number by the total storage volume (Ex. $3,000/24 Cu Ft = $125 per Cu Ft).
What Else You Should Think About
If you're a regular host to guests, you might consider investing in a quality wine fridge to compliment your new refrigerator. Wine can be stored in a conventional refrigerator, but regulating the proper serving temperature for wine may be challenging, even with one of the most advanced French door refrigerators on the market.
Our top pick, the Samsung RF34H9960S4 is truly a fantastic French door refrigerator that offers superior performance and a nearly unmatched set of user features and functions with outstanding value. At the end of the day though, the right French door refrigerator for you really comes down to your specific needs. Pay attention to storage volume, easy clean up features, and room for growth.