Finding the best external hard drive for your Mac can breathe new life into your workflow. Especially if you have a MacBook, iMac, or Mac Mini, you may have limited internal upgrade options. Adding an external hard drive can increase your storage by orders of magnitude, giving you ample room for backups, movie collections, music libraries, ongoing projects, and more. You might also be interested in the best external hard drives for Xbox One. And, if you need more space, then you need to read our top-rated external hard drives guide.
Regardless of whether you will be storing personal memories or files from work, choosing the right Mac external hard drive is vital to protecting your digital valuables. With that in mind, what features are most important in an external hard drive? What are some of the hard drives currently available for your Mac?
Top 6 External Hard Drives for Mac
| | | | | | |
| --- | --- | --- | --- | --- | --- |
| | WD My Book 3TB | Seagate 2TB USB 3.0 Backup Plus Slim Portable | LaCie Porsche Design P'9233 3TB | WD My Book Thunderbolt Duo 8TB | Silicon Power Armor A60 |
| Rank | #1 – Editor's Choice | #2 | #3 | #4 | #5 |
| Amazon Rating | | | | | |
| Capacity | 3 TB | 2 TB | 3 TB | 8 TB | 1 TB |
| Architecture | Magnetic hard drive | Magnetic Hard Drive | Magnetic Hard Drive | Magnetic Hard Drive | Magnetic Hard Drive |
| Filesystem | HFS+ | HFS+ | HFS+ | HFS+ | Unformatted |
| Connectivity | USB 3.0 | USB 3.0 | USB 3.0 | Thunderbolt | USB 3.0 |
| Weight | 2.23 lb | 4.8 oz | 2.3 lb | 5.1 lb | 8 oz |
| Time Machine Support | | | | | |
| Special Features | Hardware encryption | Free 200GB OneDrive Storage | Automatic Eco Mode | RAID Support | Shockproof and Waterproof |
| Price | $109 | $119 | $139 | $576 | $58 |
| | Buy Now | Buy Now | Buy Now | Buy Now | Buy Now |
#1 Pick

WD My Book 3TB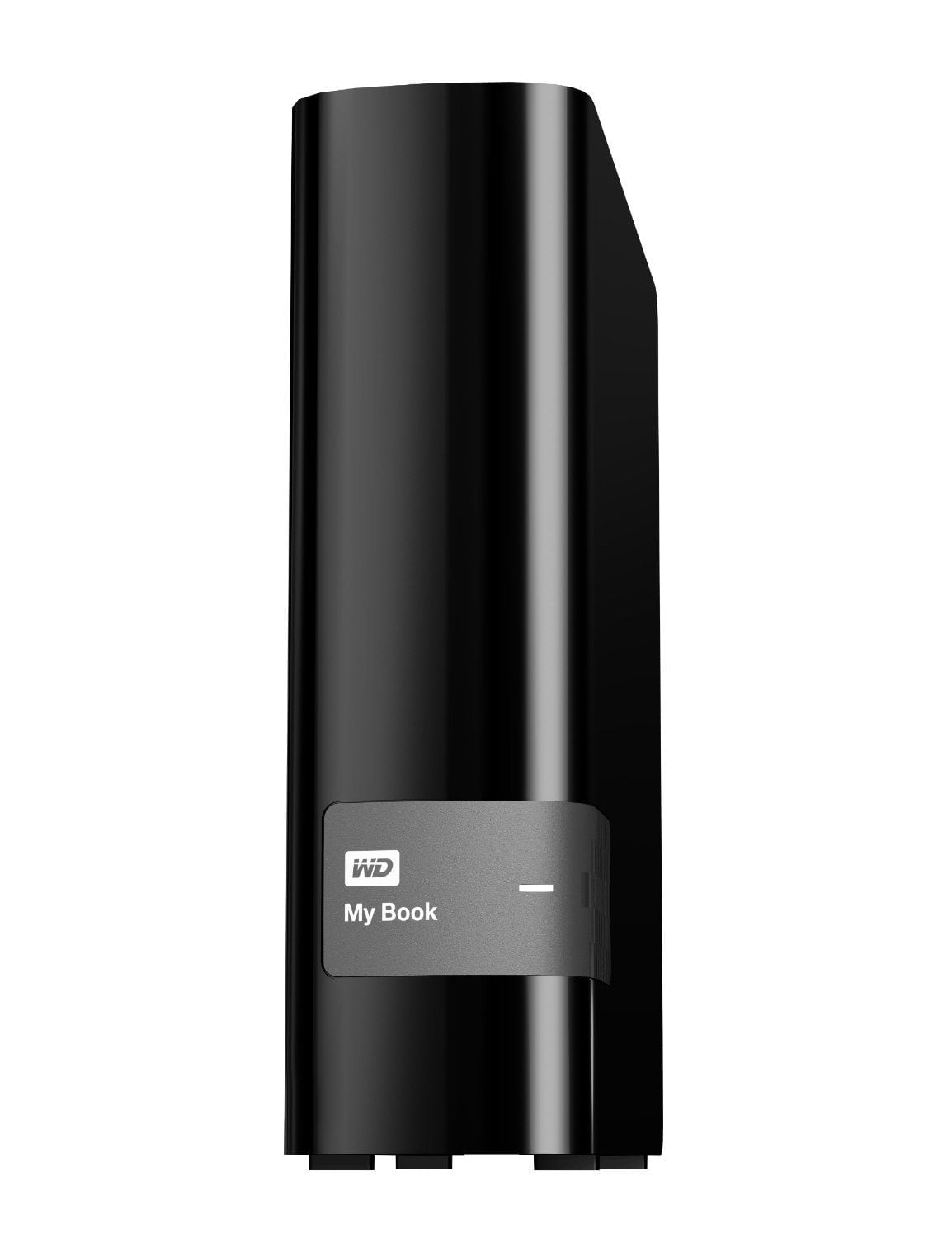 The Western Digital My Book (model: WDBFJK0030HBK) for Mac 3TB hard drive offers a good balance of storage, features and speed. With 3TB of storage, the drive is HFS+ formatted out-of-the-box, ensuring compatibility with OS X. We wish that all storage devices came out of the box this way. It is fully compatible with Time Machine and uses USB 3.0 for its connectivity, ensuring fairly fast I/O. Unfortunately, Western Digital does not advertise the speed at which the drive spins. It can be found as cheap as $109.
Related: Check out our best external hard drive USB C.
#2 Pick

Seagate 2TB  USB 3.0 Backup Plus Slim Portable Hard Drive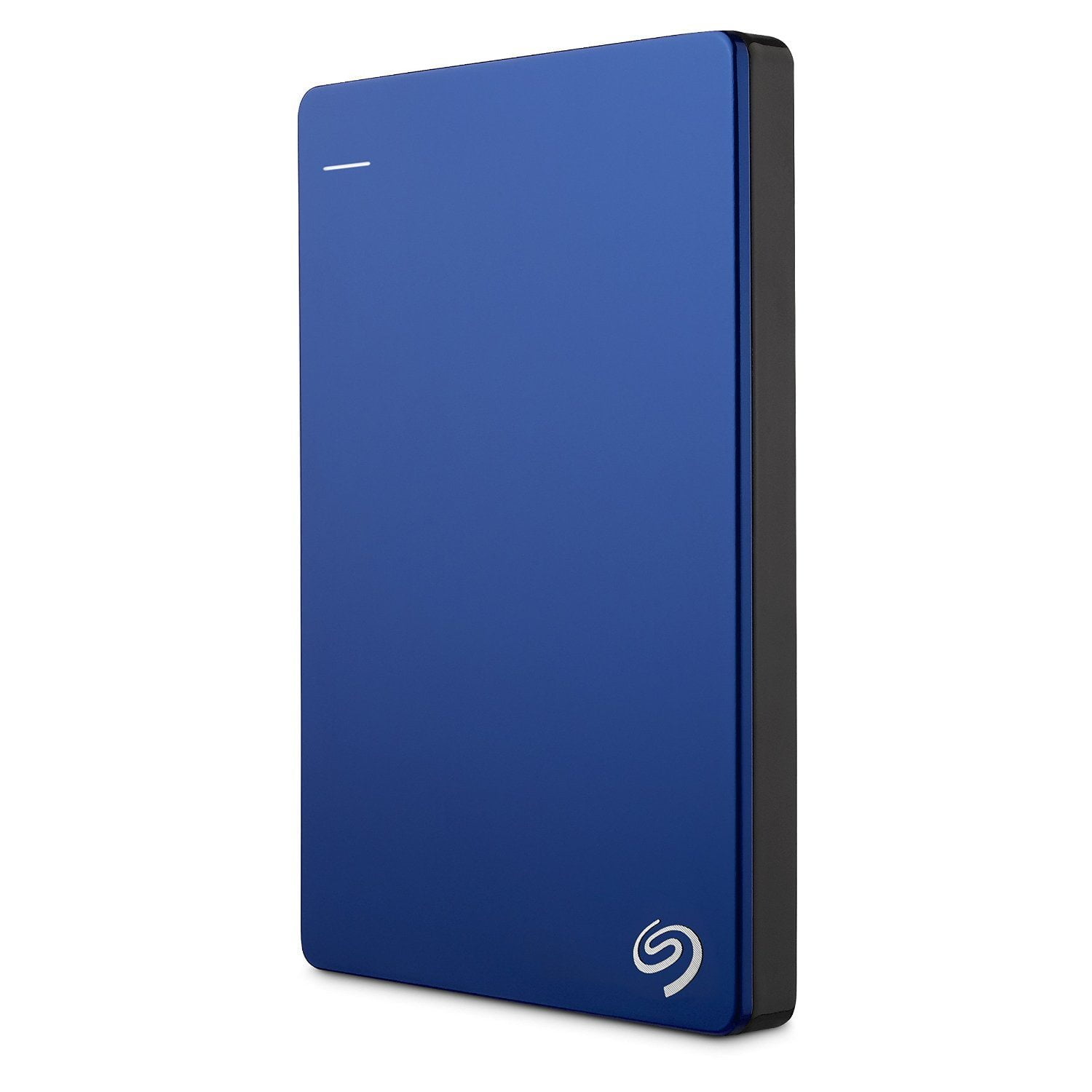 The Seagate Backup Plus Slim (model: STDR2000102) is designed for users on the go. Its slim profile can easily fit in virtually any computer bag. Like the My Book, the Backup Plus Slim uses USB 3.0, but also has wireless syncing for mobile devices. iOS and Android devices can sync via WiFi with the accompanying backup app. Users even receive 200GB of free Microsoft OneDrive storage for two years. In spite of having 2TB, rather than the My Book's 3TB, the Backup Plus Slim retails for $119. Users will need to determine if the extra features are worth the reduced storage and higher price. You can always get the best usb flash drive for cheaper.
Related: Visit our best external hard drive PS4 guide to learn how to get more space for your PS4.
#3 Pick

LaCie Porsche Design P'9233 3TB Hard Drive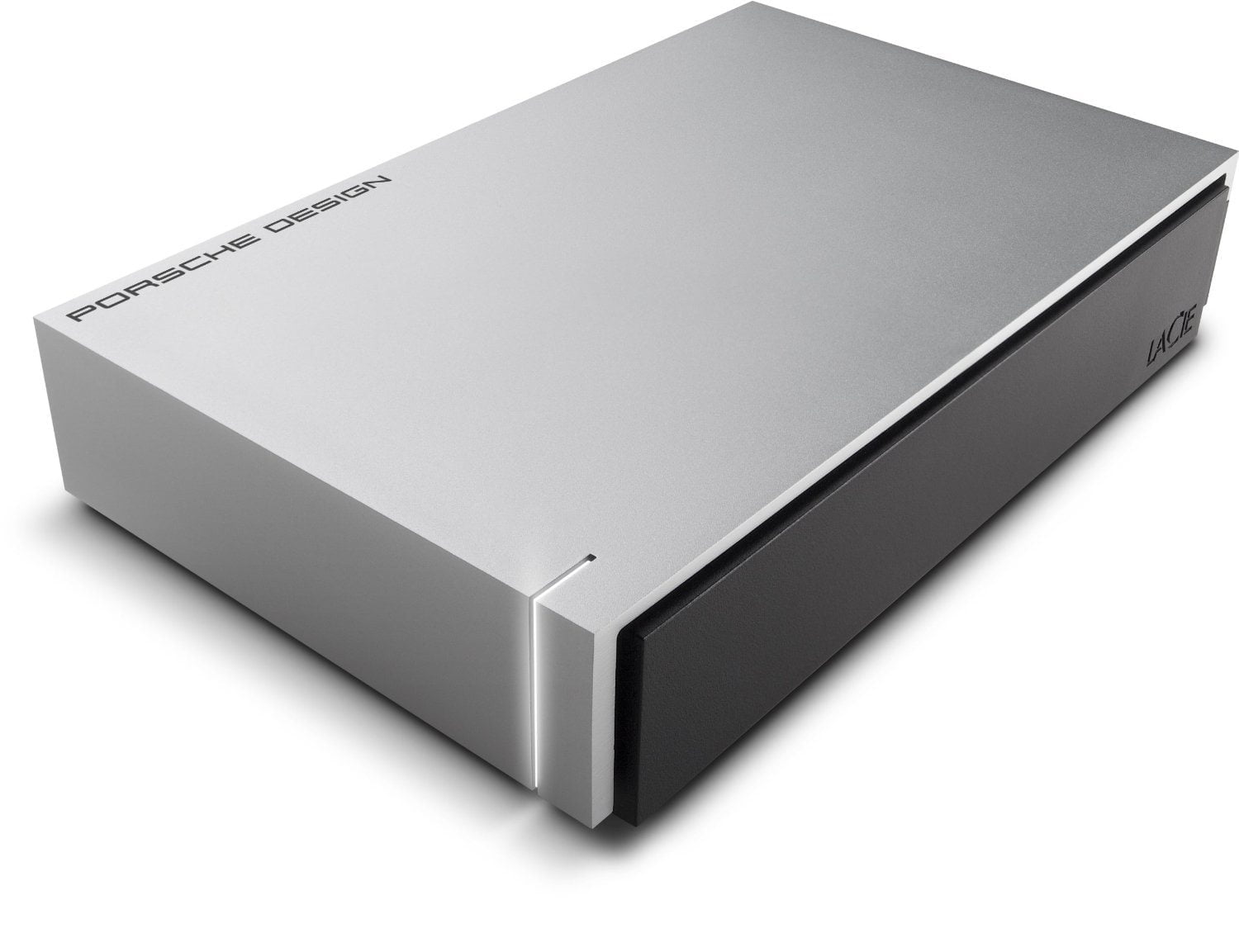 In 2003 LaCie and Porsche teamed up to create a hard drive. The P'9233 (model: 9000302) continues that tradition, offering a combination of performance, portability, and sleek looks. The case is made from sleek, rugged aluminum, ensuring it matches with your MacBook or MacBook Pro. Like the other top contenders, the P'9233 comes formatted for OS X and is fully compatible with Time Machine. The 3TB model is available for $139, with more expensive models reaching up to 8TB of storage. You can compare what you get with these to the best SSD.
#4 Pick

WD My Book Thunderbolt Duo w/TB Cable 8TB Hard Drive
When it comes to top-of-the-line performance and storage, it's hard to beat the WD My Book Thunderbolt Duo. Unlike the other drives, this external drive relies on Thunderbolt to handle I/O. While this restricts its usage to the last couple of generations of Macs, those machines that have Thunderbolt ports will see significant speed improvements over USB 3 or competing technologies. The Thunderbolt interface also allows the drive to be daisy-chained with other devices, while the 8TB of storage should satisfy even the most data-hungry user. All this comes at a price, however, with the My Book Thunderbolt Duo coming in at $576. If you want a different option, compare it with the best external SSD card too.
#5 Pick

Silicon Power Armor A60 External Hard Drive
The Silicon Power Armor A60 is an extremely rugged external hard drive that offers military-grade shockproof and waterproof performance. This USB 3.0 hard drive is ideal for on-the-go and outdoor use, and is available in both 1TB and 2TB configurations. The drive can be found for $58 and $97, respectively. We think this is one of the best portable external hard drives for macs.
#6 Pick

Transcend 1TB Thunderbolt SSD
The Transcend 1TB Thunderbolt offers the very best in performance, combining an SSD with Thunderbolt connectivity. It also includes USB 3.0 for machines that may not have Thunderbolt, and comes pre-formatted for HFS+. The performance comes at a premium, however, with the Transcend 1TB listed at $1,199, although it can be found for $590.
Things to Look for in Top Hard Drive
When you're shopping for the best external hard drive for a Mac, your options aren't as limited as they were ten years ago. Many external hard drives are compatible with Mac computers, but you still need to find the one that fits your individual needs.
Ruggedness is less important for a hard drive that will stay on your desk and rarely if ever, leave the home or office. If, on the other hand, your hard drive will accompany you wherever you go, then ruggedness becomes a critical factor in your decision.
Speed is another factor to consider. The speed you require will depend largely on what you will be using the hard drive for. If you'll be using it primarily for backups, a slower 5,400RPM drive should suffice. If you will be using it for more intensive tasks, such as editing video or audio files, a 7,200RPM or solid-state drive (SSD) would be a better choice.
Warranty: While virtually all hard drive manufacturers offer a warranty, not all warranties are created equal. Lengths, terms, and what is covered vary from one manufacturer to another. Hopefully, you will not have any issues with your new drive. If you do, however, a longer, more comprehensive warranty may be worth an additional upfront cost.
Features to Look For
Connectivity
The most important part of any external hard drive is the mechanism by which it connects to your computer. Without the right I/O, the best hard drive in the world is little more than a paperweight.

If you have the Retina MacBook, Apple's newest portable that only has one USB-C port, you'll need a hard drive that supports USB-C, or a USB-C adapter.
Other Macs ship with a combination of USB, Thunderbolt, and FireWire ports, giving you the option to choose the interface that's best for you.
For example, Thunderbolt offers transfer speeds in the neighborhood of 10Gbps, while USB 3.0 and FireWire 800 offer speeds of 5Gbps and 800 Mbps, respectively. This makes Thunderbolt the obvious choice for data-intensive operations where speed is of paramount importance, while USB 3.0 is more widely used with a greater variety of available devices.
Network Support
Many modern external hard drives offer built-in wireless support.
This can be a convenient alternative to the various I/O methods, allowing you to access the drive and transfer files over WiFi.
Still other external hard drives go a step further by providing the ability to create a mobile hotspot, making it easy for connected devices to access files and stream data and videos from the external drive.
Portability
Another significant factor when considering an external hard drive is the portability of the unit. By their nature, all external hard drives offer a degree of portability. The degree, however, depends on the model.
Some models offer sleek, slim lines that, while visually appealing, may not offer the rugged mobility you may require. Others, while bulkier, may offer greater padding and shock absorption.
Will you be using the drive primarily at your desk? Or will the drive travel with you outside of the home or office? Another consideration is whether you need power. How long will you be using the drive on the go? If you plan on using it for an extended period, one with an internal battery may be your best option.
Time Machine Compatibility
Time Machine is Apple's automatic backup solution, keeping multiple revisions of your files. It "makes hourly backups for the past 24 hours, daily backups for the past month, and weekly backups for all previous months. The oldest backups are deleted when your backup drive is full."
To get the most out of any external hard drive, it needs to be one that supports Time Machine.
Drive Architecture
The architecture of the drive is another important consideration, one which will have a direct bearing on performance, ruggedness, and cost.
For decades the default hard drive mechanism was a spinning, magnetic platter, or disk. As hard drive capacities increased over time, limitations in the capacity of a single platter led to multiple platters being paired together to act as a single drive.

While this allows hard drives to offer terabytes worth of storage, the more platters a hard drive contains, the more complicated they become, and the greater the theoretical risk of corruption or failure.

In recent years, SSDs have come into wider use. Unlike traditional drives, SSDs are based on flash memory, giving them faster performance. Because they have no moving parts, they are more rugged, less prone to shock damage, and are generally more reliable.

The cost of manufacturing SSDs, however, makes them a more expensive option than traditional hard drives, and they currently do not offer the same capacity.
Drive Performance
Traditional hard drives offer a range of performance, measured in RPMs.
The most common options are 5,400RPM and 7,200RPM.

Drives spinning at 7,200 RPM will be faster at both read and write operations, but may come at a premium price compared to their 5,400RPM counterparts. The higher speed may also come at the cost of power consumption, making 5,400RPM drives a more appealing option for mobile drives that have their own battery power supply.
Which External Mac Hard Drive Should You Choose
As with many tech decisions, the choice of hard drive ultimately comes down to your needs.  That and information.  That's why we've done the hard work and Mac external hard drive reviews. For home and home office users, the WD My Book for Mac 3TB offers one of the best balances of performance, storage, and price. Given that current iMacs are shipping with 1TB drives, this option provides plenty of room for backups and future growth.
The most demanding of users will be best served by the WD My Book Thunderbolt Duo. With its Thunderbolt connectivity, 8TB of storage, and ability to be daisy-chained with other drives or devices, this external hard drive is ideal for professionals, such as videographers, whose livelihood depends on being able to work with large files as quickly as possible.
Those who work in rugged environments, or who simply don't want to worry about their external hard drive, would do well to consider the Silicon Power Armor A60.