The best Cannondale electric bikes offer one of the most premium e-bike experiences available today. If you're looking to get the best electric bike, then a Cannondale should be one of your top considerations. With innovative designs, durable components, and high performance, these options make for excellent adventure bikes or commuter bikes, depending on your preferences.
These premium e-bikes come with a premium price tag, of course, which makes them a harder sell for e-bike beginners. However, the added performance and quality of Cannondale models are well worth the extra cost.
Keep reading to learn more about the best Cannondale electric bikes and how they compare to leading competitors.
Top Cannondale Electric Bikes
#1 Cannondale Topstone Neo Carbon Lefty One Electric Bike
Award: TOP PICK
WHY WE LIKE IT: It has a long 78-mile range and is also very well designed. Its battery is removable, and its display shows all the relevant information that riders may need.
Pros
Long 78-mile range
Well designed
Removable battery
Cons
No stand
No luggage carrier
The Topstone Neo Carbon Lefty 1 Electric Bike is an all-terrain model that is powered by a 500Wh battery. The battery lasts long enough for users to ride for up to 78 miles, and with a Kingpin suspension on its rear, users will also be able to ride through bumpy terrain without going through extreme discomfort. The bike's front also looks quite unique since it is left-sided, and this could be why they opted to name it Lefty. Also worth mentioning is that this bike won Cannondale the Design and Innovation Award in 2021. Still, some might not appreciate its lack of a stand or luggage carrier.
The bike is excellent for getting through gravel roads and has a Bosch Kiox display on its handlebar. The display keeps riders aware of pertinent information such as riding distance and current speed, as well as remaining battery life. Speaking of which, its battery is also removable, so owners have the option of charging it separately if they so wish.
#2 Cannondale Topstone Neo Carbon Lefty 3 Electric Bike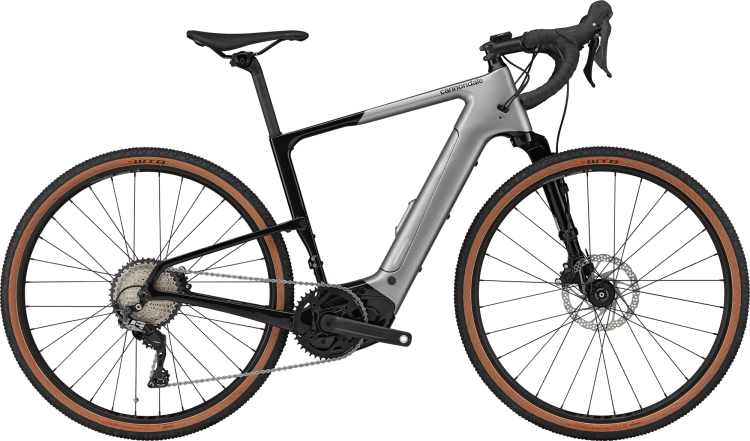 Award: HONORABLE MENTION
WHY WE LIKE IT: It is pretty similar to the Lefty 1 in terms of its battery capacity and range. It handles pretty well even at high speeds and is of a tough aluminum build.
Pros
Very stable ride
78-mile range
Top speed of 26.9km/h
The Topstone Neo Carbon Lefty 3 is another e-gravel bike that also has a 500 Watt-hour battery and a 78-mile range, just like the Lefty 1. It offers 30mm of suspension on the front and rear for comfortable riding, and its tires are designed to handle off-road biking. The bike is of an aluminum build, and it also comes with internal cable routing so that there aren't too many wires all over the place. Still, it does not have a luggage carrier on its rear.
The Lefty 3 comes with fittings to carry around two water bottles and has a motor system that provides up to 75 Nm of torque. Riders have four riding modes to choose from, and its highest allows it to rapidly accelerate to a top speed of 26.9km/h. The bike's ride quality has been commended by most experts, as they felt pretty safe and stable even when moving at very high speeds.
#3 Cannondale SuperSix Evo Neo 1 Electric Bike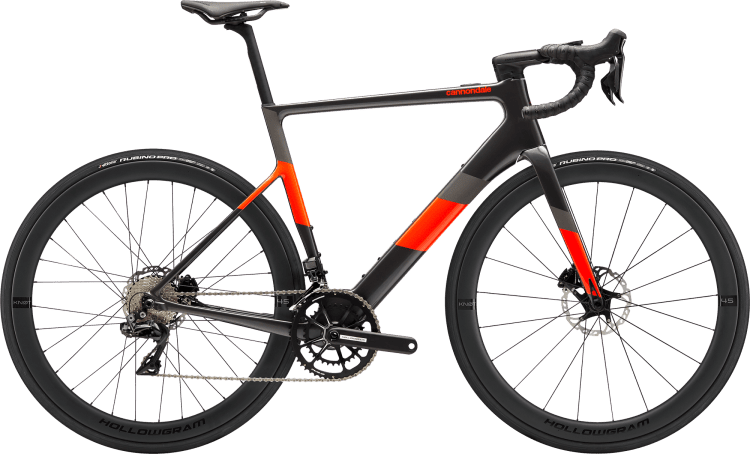 Award: BEST FOR EASY HANDLING
WHY WE LIKE IT: It is very easy to handle and has a sporty design. Its tires have a good grip on the road, and its 62-mile range is also pretty decent.
Pros
Slim, sporty design
62-mile range
Grippy tires
Cons
Limited power when climbing steep inclines
Weighing around 26 pounds, the Cannondale SuperSix EVO Neo is a great-looking e-bike that is aimed at sporty riders. It comes with a Garmin hub speed sensor that riders are free to connect to their phones to access riding information such as speed, calories burnt, and length of riding, and is powered by a rear-hub-based motor that offers up to 250 W of power. The motor is powered by a 250 Wh battery, though if owners wish to, they can also purchase an additional battery for extra power. However, previous owners have complained that its motor has limited capacity, especially when climbing steep inclines.
The bike has an essentially slim silhouette. It is very easy to handle, and its tires have a pretty good grip. It also has excellent vibration damping, and its motor has also been praised for being very quiet. The bike can go for up to 62 miles, and when doing so, owners have the chance to choose between five levels of pedal assist.
#4 Cannondale Moterra Neo 4 Electric Bike
Award: BEST FOR ROCKY TERRAIN
WHY WE LIKE IT: It is powered by a high-capacity battery and has good brakes that provide complete control when riding. It also has big tires for handling rocky terrain and is pretty lightweight.
Pros
Great for rocky terrains
Low center of gravity for good stability
Max speed of 28mph
The Moterra Neo is an e-mountain bike that is great for users with an affinity for rocky terrain. It weighs around 40 pounds and is powered by a 504Wh Lithium-Ion battery that keeps it going for up to 60 miles. The bike can hit a max speed of 28 miles per hour, and its aluminum build keeps it sturdy yet lightweight for it to remain fun to ride. Its center of gravity is pretty low for good stability, and since its top tube slants downwards, it is pretty easy to get on or off. Unfortunately, it does not come with front and rear lights.
The bike's internal cable routing keeps everything nice and neat, and its Shimano motor provides up to 75Nm of torque to get up challenging climbs. It has a display on its handlebar that furnishes the rider with information such as speed, mode, and battery level, which after flattening out, will need 6.5 hours of charging to get back to full capacity. The bike's brakes have great stopping power, making it relatively easy to maneuver, especially when going down downhill paths.
#5 Cannondale Tesero Neo X 2 Electric Bike
Award: BEST FOR LONG RANGE
WHY WE LIKE IT: It has an impressive range of up to 80 miles and is pretty powerful. It comes with a carry seat for extra luggage capacity, and its battery is removable for convenient charging.
Pros
Has impressive 80-mile great range
Has a powerful 500Wh battery
Comes with a carry seat
Cons
Only has front suspension
The Tesoro Neo X 2 is a typical-looking mountain bike, but with a weight of about 53 pounds, it means serious business. The bike has an aluminum frame and a beefy downtube that houses its Bosch battery. The battery has a capacity of 500 Wh, and because it is removable, users have the added convenience of being able to charge it separately from the bike. It'll take about 4.5 hours to charge, and this will yield a range of up to 80 miles. Unfortunately, the bike only has a front suspension.
When riding the Neo X 2, users will have up to 11 gears to choose from, and its internal wiring keeps everything looking good and well organized. The bike has two water bottle holders, and since it comes with both head and tail lights, owners won't have to make any additional buys. The bike has a torque of 85Nm, making it ideal for anyone who would want to get through rough terrain. It also comes with a carry seat that can handle up to 40 pounds.
#6 Cannondale Adventure Neo 2 EQ Electric Bike
Award: BEST FOR URBAN RIDING
WHY WE LIKE IT: It is great for city riding and comes with both front and rear lights for visibility at night. Its 80-mile range is excellent for long rides, and it also comes with a carry seat for luggage.
Pros
Has a long 80-mile range
Can be connected to an app
Comes with front and rear lights
Cons
Not enough torque produced for scaling steep inclines
The Adventure Neo 2 EQ is an electric bike designed for city riding. It is powered by a 500Wh Bosch battery and has an impressive range of up to 80 miles on a single charge. The bike is great for daily use and is ideal for getting through open roads and city streets. It's got fenders on its front and rear to prevent any instances of splashback and front and rear lights for night riding. Its motor provides pedal assistance for up to 20 mph and 50 Nm of torque. Unfortunately, this is not enough force to get through hills and inclines.
The bike also comes with a front suspension for good bump absorption and an integrated wheel sensor that allows users to track their riding activity. They'll be able to get all their riding details and insights through the Cannondale app, and since its frame has a wide step-through design, getting on and off the bike is relatively easy to do.
Introduction to Cannondale Electric Bikes
In 1971, two men started Cannondale as a company to manufacture and sell precast concrete housing. As the company continued in these efforts, it attracted the attention of a talented inventor who had the idea to create a combustible engine that ran on ammonia fuel. However, to pursue this idea, the company needed to raise more capital.
The core team at Cannondale started recruiting more talented inventors and industrial designers to work on creating products such as an air conditioner with no moving parts to raise more money. However, a breakthrough occurred when one of the original founders invented the world's first bicycle-towed trailer, known as the Bugger bicycle trailer. The Bugger's unique design didn't add any weight to the bike and quickly became one of the most popular bicycle accessories available on the market.
At this point, Cannondale was fully invested in the bicycle industry and began creating aluminum bicycle frames. The company continued to grow in popularity because of the high-quality nature of its product.
In 2008, a Canadian company called Dorel bought Cannondale. They quickly moved Cannondale's product out of the United States and into Taiwan in 2009.
Today, Cannondale specializes in producing carbon fiber and aluminum bicycle frames, as well as entire bicycles. The company produces a wide variety of bikes, including road bikes, mountain bikes, kids' bikes, and electric bikes. It also sells a variety of bike gear, including helmets, bike parts, and bike pumps. For a look at one of their products, read our Cannondale Synapse Neo SE review.
How Cannondale Electric Bikes Compare to Other Brands
(Pro 1): Premium Materials and Components: Cannondale e-bikes beat the competition in premium materials and components. Everything from the hydraulic disc brakes to the high-capacity batteries is made with a high level of attention to detail. But, have a look at a couple of competitors first, like the Addmotor Motan electric bike and the Boardman ADV 8.9E.
However, the area where Cannondale truly shines is its frame material. Many Cannondale e-bikes are made with carbon frames, making them one of the most durable and lightest electric bike options available today. A carbon frame is generally more durable than the alloy frame designs you can find among Cannondale's competitors.
(Con 1): More Expensive than Most Other E-Bikes: Since Cannondale focuses on premium quality, you can expect to pay more for their bikes than you would for a competitor's bike. All in all, other competitors, like the best Luna Cycle electric bikes, offer a more affordable entry point for newcomers to the e-bike world.
(Pro 2): Innovative Designs Perform Well on Most Surfaces: Whether you're planning on riding gravel roads or paved surfaces, you will find a Cannondale frame that works for you. The company's innovative designs give you a high level of performance that's hard to beat compared to the competition.
Plus, with different power modes like turbo mode and eco mode, you'll be able to customize your e-bike's power delivery to match your specific riding preferences. For more products with similar features, check out our roundup of the top-rated gravel e-bikes and the finest ebike with the longest range.
(Con 2): Better Suited for Mid-Sized Riders: Even though Cannondale offers a broad range of frame sizes, their e-bikes are better for mid-sized riders over any other body type. If you find yourself on the petite or tall and large side of the size range, you may have better luck with competitors in finding a frame that fits. Bike safety is crucial though, so make sure you opt for an e-bike that is comfortable, efficient, and safe to side.
(Pro 3): Powerful Motors and Long-Lasting Batteries: Cannondale electric bikes are known for offering a lot of power in their motors, making them perfect for fast speeds and rough terrain. They also carry a lot of battery life in a single charge for a smoother bike riding experience. These factors significantly improve the overall user experience that Cannondale e-bikes offer. But for a look at another model and brand, read our Nakto 26 review.
(Con 3): Noisier than the Competition: With bigger and more powerful motors, some Cannondale e-bikes can be noisier than the competition while riding. Fortunately, this downfall doesn't negatively affect the overall performance or user experience.
Why You Should Buy a Cannondale Electric Bike
Whether you're looking to break into the electric bike world or you're replacing an outdated electric bike, you can't go wrong with a Cannondale e-bike. Whether you're looking for electric road bikes, electric gravel bikes, electric mountain bikes, or recreational electric bikes, you can find an option with Cannondale. Although, if you'd like a look at another brand, check out our Gunai electric review.
Of course, you'll need to pay a pretty penny to get into a Cannondale e-bike, but you'll get a high level of performance, a wide range of premium features, a powerful motor, high battery capacity, and a comfortable ride with any model you purchase. If you can afford it, we highly recommend Cannondale e-bikes.
How Long Will a Cannondale Electric Bike Last?
According to e-bike manufacturers like Story Bikes, a high-quality electric bike should last you an average of ten years. However, taking excellent care of your Cannondale e-bike can help it last well beyond that. Of course, wear and tear is expected with bicycles, especially the more you ride them.
All the various components of electric bikes have different lifespans. Let's take a closer look:
Battery: Most e-bike batteries last for an average of 45 miles before needing to be recharged. That alone makes them great long distance ebikes. You'll get an average of 1,000 charges before needing to replace the battery, equating to about three to five years of life. If you don't mind double the battery charges, you can get another battery pack to bring along as an extra. If the sounds of battery maintenance of removable and integrated battery packs doesn't please you, a normal bike might be a better option than an electric bike model.
Motor: The motor on your Cannondale e-bike should last you as long as the bike itself. The rear hub motors you can find on most e-bikes are sealed from the elements to prevent corrosion and damage.
Mechanical components: Most other mechanical components on e-bikes last nearly as long as the bike itself. However, this ultimately depends on the amount of use your e-bike experiences. The more you ride, the quicker these components will wear out. Fortunately, they can always be maintained, repaired, and replaced as needed.
Cannondale Electric Bike Warranties
Cannondale offers a multi-faceted warranty depending on the type of bike you're considering. The details are as follows:
Lifetime limited warranty for frames except for ATSM Category 5 frames, which carry a three-year warranty.
Five-year limited warranty on shock links, chainstays, seat stays, and swing arms.
A lifetime frame warranty applies to the suspension fork on Headshok frames, as well as on Lefty forks.
One-year warranty on paint and decals.
One-year warranty on Cannondale branded components.
It's important to note that this warranty only applies to the original owner of the e-bike. You cannot benefit from the warranty if you purchase a used Cannondale e-bike.
If you need to make a warranty claim, Cannondale requires you to bring the e-bike to an authorized Cannondale retailer with an original, dated sales receipt.
Although, if you'd like a look at a competitor, check out our guide to the best Rad power bike.