If you buy a large home appliance, you want it to be both reliable and durable – it's the top concern for buyers considering refrigerators, dishwashers, washers/washing machines, air conditioners, microwaves, and any other bulky, pricey home appliances. If you want more of the best prices on appliances, then check out our in-depth guides.
So let's tackle the big question! What are the best appliance brands and when is the perfect time to buy them? Which are the top-rated for their quality, their performance, and their overall user reviews? And, which brands ensure you're purchasing a reliable appliance?  We took a look, and here's what we found.
When it comes to reliability, fewer service calls, and customer opinion, Whirlpool appliances tend to score the highest out of available brands. That makes Whirlpool an excellent place to start your appliance hunt! However, the data also has several other brands performing extremely well, including LG, KitchenAid, and more. Let's take a look!
Best Appliance Brands
#1 

 Whirlpool
When looking for large kitchen appliances, Whirlpool is one of the most reliable brands on the market, excellent for those who want durable models that are easy to use and won't unexpectedly break down right after you buy them. Whirlpool came out as the topmost reliable brands in the Plus survey, but trailed LG in a consumer reports study, 2019. LG and Whirlpool both rank at the top of reliability ratings and customer satisfaction. Whirlpool Corporation sells a number of other products under a wide variety of brand names such KitchenAid, Maytag, Amana, Jenn-Air, and Consul. If you need a watercooler in your home, then you need to read our best electric water cooler guide.
According to Yale Appliance statistics, Whirlpool is the most reliable brand in their affordable lines (typically smaller models at prices well-fitted for those on a budget), with the lowest percentage of service calls. Whirlpool also comes in the top 3 on Ranker's survey of the best large kitchen appliance brands.
They have also received high marks for their customer service, which is always reassuring from the consumer point of view! (Repair service marks for Whirlpool are significantly lower, so it's a good thing their products don't break down very easily.)
Whirlpool products tend to slant toward laundry appliances, followed by basic oven ranges and refrigerators. They don't make many kitchen gadgets that I'm aware of. Their products don't always have a lot of bells and whistles, but provide long-term durability instead…which is usually exactly what homeowners want. However, if you are looking for particularly large or spacious appliances, you may want to consider other brands.
#2 

 LG
While LG is typically associated with electronics, the company has won numerous accolades for its appliances: according to a J.D. Power report, LG ranks highest in appliance ratings for these 6 major appliances; washers, dryers, dishwashers, oven ranges, French door refrigerators, and top-mount freezer-fridge setups. Yeah, that's a lot of appliance options!
Specifically, LG won seven JD awards (2017), and the brand performed particularly well in performance, reliability, ease of use, and styling/appearance (with high marks in customer satisfaction as well).
It's easy to see how LG does so well. The company has hit a sweet spot of including just enough high-end tech to make their appliances top performers, without making them too fragile or difficult to use. The LG/SKS brand, in particular, is a high-end option for luxury kitchen spaces. However, this popularity comes with a price – high prices, to be exact. You may have to pay more for an LG model. LG and Samsung boast the highest-ranking luxury appliance brands.
Note: As Yale Appliances and others mention, the "techy" brands like Samsung and LG tend to have a lot of bad reviews floating around online, with an important caveat. This might discourage consumers from looking into their appliances, but take a closer look and you see that most of these reviews have to do with something other than product.
The appliances themselves performed excellently (and these brands have the awards to prove it). However, these bad reviews occur typically because something went wrong in the delivery process (which is often out of the hands of the brand) or a tech support question that the buyer didn't feel was answered correctly. These issues are more likely to happen with these large electronics companies that have many different divisions and logistics concerns, as opposed to a much more focused brand like Whirlpool.
To prevent problems along this line, we suggest you find a trusted local retailer to supply LG products (or appliances from other large companies) to reduce any delivery issues you may experience.
#3 

 Samsung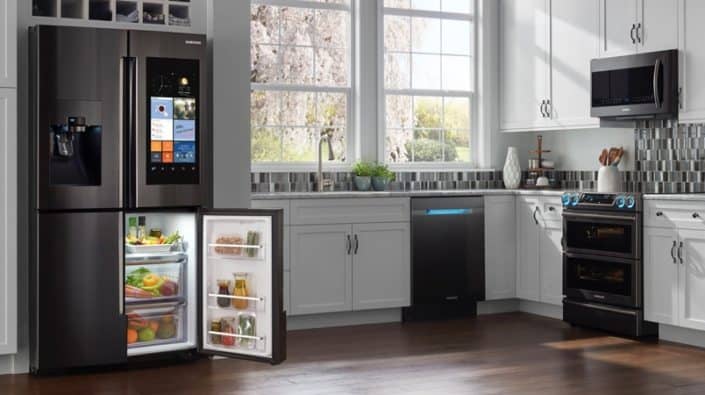 Yale lists Samsung as one of the top luxury appliance brands available, excellent for when you are willing to spend a bit extra to invest in high-tech features, large appliances, and the latest designs. There's a reason they are the top selling brand in the United States.
Samsung also has excellent compatibility benefits with other devices. Their TVs are just as durable as their kitchen appliances. If all your Samsung electronics have smart features, you can operate them on the same Samsung platform, including your appliances. So, if you are already a Samsung fan, you get extra synergy from incorporating Samsung appliances into your ecosystem.
Samsung refrigerators, in particular, get a lot of praise for design, especially with larger washers and refrigeration units. However, they are also known for producing top-notch oven ranges and stovetops.
#4 

 Frigidaire
When Ranker has people to talk about the best kitchen appliance brands, the most-voted brand was Frigidaire by a sizable number. Consumer Reports also ranks it as a refrigerator brand that won't let you down, especially when it comes to side-by-sides.
The key here is specialization and simplicity. Frigidaire is a dependable middle-of-the-road choice, not too expensive and not too complicated, making it a common choice for homeowners replacing older appliances with newer models that don't ask too much.
Of course, specialization also limits Frigidaire's reach: the company has a good, long-standing reputation for coolant systems, making it an ideal choice for refrigerators and air conditioner units. Outside of this, however, other brands tend to become much more competitive, and Frigidaire falls down the list.
#5 

 KitchenAid
KitchenAid is an interesting case study. The brand has a long history of providing solid products, but had started to fall behind more aggressive competitors entering the modern market. In return, KitchenAid revamped its appliance design entirely, focusing on high-end models with a sharp industrial look.
As a result, KitchenAid is one of the best brands available today for high-end dishwashers, refrigerators, and oven ranges. If you are thinking about a serious kitchen remodel, looking into KitchenAid products and see if their recent offerings appeal to you.
This being said, it is still KitchenAid, and they are primarily interested in durability, performance, and traditional-style controls. This is not the best place to look for advanced smart features or fun touchscreens.
#6 

 Bosch
While LG may have gotten most of the J.D. Power Ratings awards in the recent study, Bosch the German manufacturer came in second place for these esteemed ratings. The Bosch brand did particularly well in cooktops and wall ovens, plus performing well for over the range microwaves – basically, if it needs to be heated, Bosch is worth looking into. However, according to the Plus survey, Bosch ranked least in the washing machines category.
The company's strengths tend to be useful features, good warranties, and low prices compared to other brands. This makes them a good choice for buyers who want budget appliances that still perform well.
#7 

 Miele
Do you want an alternative brand compared to the usual suspects, but one that consistently gets praise for appliance quality and performance? Miele is exactly the sort of brand you should look into when making your decisions. This German manufacturer has amassed multiple best brand awards over the years, and is known for its top of the line products.
We're sorry, this product is temporarily out of stock
However, there are two important notes about Miele worth knowing. First, they are largely focused on European sectors, so it will probably be more difficult to products compatibility with American outlets and voltage – always check to be sure (don't worry, Miele does have U.S. centers of operation, too, but you need to be careful when buying online).
Second, Miele products tend to be high-end in terms of construction, which means they also tend to cost more. Prices will be higher for these products, so watch for deals.
Note: Other brands worth mentioning that we have not included on our list are such as Viking Granite that makes kitchen appliances for home and industrial use, and Thermador that produces countertop ovens, microwaves, coffee machines, refrigerators, and dishwashers. Then there's Speed Queen, a manufacturer of washers and dryers, with their dryer ranked excellent according to consumer reports.