Purifying the air in your home leads to a cleaner environment and a healthier lifestyle for heating and cooling. So naturally, we purchased 14 of the best air purifiers and tested them extensively to see what they were made of. Our independent study to determine the top air purifiers found that mechanical air filtering was the most efficient, and within that, air purifiers achieved a Clean Air Delivery Rate (CADR) of 200 or higher.
After purchasing 14 of the best air purifiers on the market today, we've determined that the #1 Pick is the ​Honeywell True HEPA Allergen Remover HPA300. This model is a purely mechanical filtering system which is preferred to hybrid and electronic units, has a CADR rating of 300, can filter a space of up to 465 square feet, self-monitors filter performance, weighs less than 25 lbs, comes with a 5-year limited warranty, and costs less than $200. Learn more about your best air purifier under 100 that can help with allergy prevention.
Top Air Purifiers Compared
#1 Pick

Honeywell True Allergen Remover HPA300 Air Purifier
CADR: 300 | Area: 465 sq ft | Warranty: 5 Years
WHY IT'S A TOP PICK: Doesn't ionize air, lightweight, and low cost.
Pros
Affordable
Effective at removing dust
4 Speeds
Cons
Not many setting or control options
Only fit for one average room
No bull, no fuss, just straight air purification.
The purifier uses a two-stage, mechanical filtration process, first pulling air through activated carbon pre – filters, then through a HEPA filter. It's powerful enough to handle rooms up to 465 sq ft without a problem, and it also features an auto setting (auto-off) that is convenient if you intend to use this unit passively as a multi-room appliance.
Honeywell claims that this unit can handle approximately 280 cubic feet of air per minute in a 465 sq ft room, or rather that the unit "Circulates room air up to 5 times an hour based on AHAM smoke CADR [of 300] in [a 465 sq ft room]." A self-monitoring function alerts the owner when it's time to change filters, and the front panel is removable, allowing for simple filter replacements. The unit itself is also super lightweight (only 21 lbs), which is very refreshing, considering many purifiers at this same level are significantly heavier. The sleek design is great for conserving space in your room, and though it's most effective in small rooms, it still performs well with multiple speed settings. Anywhere from the low to the high setting, this purifier will distribute clean, fresh air into any sized space and help reduce asthma symptoms. Though it lessens the number of pollutants in the air, keep in mind that this is not specifically designed to be a medical device. If you want a budget model, read our best air purifier under $100 list.
Note: Honeywell makes the claim that it's the #1 Allergist recommended brand, but we couldn't find an endorsement by the Asthma and Allergy Foundation of America (even though we were able to find a few independent allergists that recommended Honeywell purifiers).
#2 Pick

Austin Air HealthMate Standard HM-400 Air Purifier
CADR: 220 | Area: 341 sq ft | Warranty: 5 Years
WHY IT'S A TOP PICK: Doesn't ionize air, and has a MASSIVE 15-pound carbon filter. This is the best for smoke.
Pros
Filters don't need to be replaced often
Has decent area coverage
4 stage filter
Cons
Not cheap
Little bit noisy on high-speed
No filter change indicator lights
We would marry the HealthMate if it was legal. It's the best-rated air purifier with respect to performance.
The HealthMate's filtration process is top-notch, nearly industrial-grade. It's a four-stage, mechanical purification system that first stops larger particles like those from pet dander and dust, then medium-sized particles like pollen before passing air through the fifteen-pound, activated carbon and zeolite filter (it's a beast), and then finally removing the smallest contaminants with its HEPA filter. Through mechanical filters and stage filtration, you can finally rid your living space of dust particles and pollen with this appliance. This purifier's powerful air filtration will catch particles of all sizes before they can contaminate a smaller room or large space and trigger health issues such as asthma or allergy symptoms.
While Austin Air claims this unit is capable of handling interior spaces as large as 1500 sq ft, we recommend spaces no larger than 341 sq ft based on the smoke CADR rating of 220. Consider larger models if you need an air purifier for a larger space.
From a controls perspective, this is about as simple as it gets. Much like the best air conditioners, it is easy to use. The unit features a four-position, three-speed control switch on its front cover. The filter can be replaced by removing the bottom plate with four screws and pulling the pre-filters and primary filter assembly out of the HealthMate. Also, the purifier sits on a set of swivel caster wheels which helps a lot when moving the not-so-light 45-pound air cleaner.
Note: This unit is all about the quality of the filtration process – it doesn't play around. Keep that in mind when it's time to replace that filter assembly; they're not cheap.
#3 Pick

Coway AP-1512HH Air Purifier
CADR: 233 | Area: 361 sq ft | Warranty: 3 Years
WHY IT'S A TOP PICK: Quality performance, modern design, and price.
Pros
High tech
Very quiet
Plenty of operation options
Cons
May struggle with thick dust
Doesn't cover a lot of space
The Coway AP-1512HH doesn't disappoint. It is the best HEPA air purifier on our list. It performs exceptionally well despite employing an ionization step in its filtration process. It uses a four-stage process to filter air, beginning with simple pre-filters that capture larger particulate matter, then an activated carbon filter for gases and odors, followed by HEPA filtration, and finally, passing air through Coways' proprietary Vital Ionizer. This product may have difficulties dealing with thick dust particles, but its performance and features are top-notch overall.
If you've read our "How We Choose" section, then you'll know how we feel about air purifiers that use ionization techniques, but even so, the Coway outperformed other purifiers through our extensive weighted testing. We recommend using this unit in well-ventilated areas larger than 200 sq ft, and away from walls and furniture due to the ozone byproduct created.
The AP-1512HH can handle spaces up to 361 sq ft, and has a plethora of control features, including self-monitoring, air quality indication, an Eco mode which automatically turns the fan off if pollutants fall below a predefined level, and conventional speed settings to name a few. If you have to remove smoke from a room, check out the best air purifier for smoke.
#4 Pick

Alen BreatheSmart Air Purifier
CADR: 300 | Area: 465 sq ft | Warranty: Lifetime
WHY IT'S A TOP PICK: There are many customization options, a modern design, and a very positive consumer rating. It is rated as the best home air purifier.
Pros
Customizable color options
Very quiet
Large room coverage
Cons
No True HEPA for the price
High air filter replacement cost
Unlike most other portable air cleaners on the market, the Alen BreatheSmart offers a ton of customization options. If you're not thrilled about putting a bulky box in your bedroom, or living room, this unit may be the answer you've been looking for. Alen offers interchangeable front face plates in fourteen color options, allowing buyers to match their home's decor (they even have a cover that can be painted).
On the technical side, the BreatheSmart uses a three-stage process to filter pollutants. Air is pulled into the unit through the back, passes over a pre-filter that encases the primary HEPA filter, and then exits the unit after passing through an optional ionization field activated at the control panel on the top of the system. Alen also lets customers pick from four different HEPA/carbon combination filters, including the "HEPA-PURE, HEPA-SILVER, HEPA-FreshPlus, and HEPA-OdorCell" filters. While specifications aren't readily available on the Alen website, the main distinction between its "PURE" and "SILVER" options is the particulate size capabilities. Where the "PURE" is meant for larger particles, the "SILVER" filters smaller matter like pollen more effectively. Alen's "FreshPlus" and "OdorCell" filters use activated carbon as a means to filter gases and odors – our assumption is that the "OdorCell" has a higher concentration of carbon. Also, even on the highest setting, we found this purifier did well at remaining fairly quiet.
We advise you to use the ionization feature in a well-ventilated room of at least 200 sq ft. As with the Coway, try to place this unit away from furniture and walls to avoid soiling from the ozone that's created. Contrary to its name, this product doesn't have the commonly known "smart features" that can interact with smartphones or a virtual assistant. Also, it doesn't have a permanent filter or reusable filters, and the filter has to be replaced at the end of its filter life for a high price. Alen advertises this unit as being capable of treating areas up to 1100 sq ft in size, but using the smoke CADR rating of 300, we don't recommend areas larger than 465 sq ft. Those with breathing problems should look at the best air purifier for asthma.
#5 Pick

Dyson Pure Cool Link Air Purifier
Read Full Review: Dyson Pure Cool Link Review | CADR: N/A | Area: 200 sq ft | Warranty: 2 Years
WHY IT'S A TOP PICK: Design, smart features, and weight. It is our "best for dust" top pick.
Pros
Dyson good looks
Three products in one
Easy to use and intuitive app
Cons
Connecting to your home's WiFi can be a laborious process
Fairly tall making it difficult to hide
Our favorite when it comes to smart features and connectivity, the Dyson Pure Cool Link is part air purifier and part fan. It comes with a remote, but it can also be controlled via a Google Play app and iOS app. From the smart device application, users can also schedule operation times, and review indoor air quality reports. With the convenience of a remote control and mobile device functionality, you won't have to move an inch while using this appliance and switching from the lowest to the highest speed.
While operational specifics aren't published on Dyson's site, from what we've found, about 1/15th of the device's airflow is filtered through the HEPA and activated carbon filter at the base of the unit. The Pure Cool Link uses Dyson's two-stage filter, passing air through its glass HEPA filter, and then through an activated carbon layer for odor control. There are ten speed settings on the Link, and it even has a self-monitoring mode that will variate the unit's speed based on the air quality it detects.
We recommend using the Cool Link in areas no larger than 200 sq ft to maximize its filtration potential. Two flow pattern options can be selected from the physical remote, or smart phone app, and for efficient cleaning, our research indicates that the "diffused" mode performs better compared to the "personal" mode.
Note: This machine was the loudest out of all of the top five reviewed (max setting was 81 dB). Having said that, it wasn't so loud that it interfered with much of anything with headphones or light music on in the background.
Beginner's Guide To Air Purifiers
Air purifiers are a fantastic option if you are seeking freedom from home pollutants and allergens. Due to their ability to capture even the smallest particle sizes and using an air quality monitor to vastly improve the air in your home, air purifiers can enhance your breathing capabilities. Even with the cheapest models on the lowest settings and lowest speeds, air purifiers are perfect for reducing airborne allergens, and mold spores.
While some people may be skeptical about air purifiers, they are a proven tool for a cleaner home. Air purifiers come in multiple form factors and specialize in different filtration styles. You can choose from various filters, but most air purifiers use as many as four additional filters to keep your air clean. So for cleaner air and increased home airflow, you should pick up an air purifier. That said, if you're confused about where to begin with air purifiers, we're here to help.
What Exactly Is An Air Purifier, Anyway?
Good air purifiers excel at removing dust, allergens, pollen, bacteria, mold particles, and related unhealthy airborne pollutants, and other airborne particles. Effective air purifiers also help reduce unsavory odors and decrease symptoms related to many health ailments.
Should You Use An Air Purifier?
An air purifier can be useful in a number of scenarios, as they excel at removing allergens and pollutants from larger spaces such as living rooms. Additionally, an average air purifier can reduce foul odors and decrease the severity of symptoms related to illness.
What Are HEPA Air Purifiers?
A HEPA air purifier utilizes HEPA air filters which cleanse the air of allergens and pollutants. There are many different types of HEPA air purifiers but be sure they have true HEPA filters. Carefully inspect any filter that calls itself "HEPA" – true HEPA filters will filter 99.97% of dust, pollen, bacteria and mold particles, as well as any other airborne particle 0.3 microns in size or greater. On average, HEPA filters will last two to three years in an air purifier before they have to be replaced, assuming regular maintenance and cleaning.
Air purifiers are a useful way of adding extra protection from airborne diseases to your home. They're not complete solutions, but they are still a useful tool in your back pocket.
What Exactly Do Air Purifiers Do?
If you're wondering how air purifiers work, it pulls in air from its immediate surroundings, filtering it, and then releasing it back into the atmosphere. No matter what type you choose, they all excel at reducing airborne irritants, such as dust mites or pollen. If indoor air pollutants are a concern, an air purifier is exactly the appliance to look for.
Stat – Air pollution contributes to 200,000 early deaths.
How Much Should You Expect To Pay For An Air Purifier?
A quality air purifier should cost between $200 and $900. Still, the cost of the unit itself isn't the only one to consider. Most air purifiers rely on removable filters that need to be replaced on a regular schedule. These filters alone can cost between $50 and $200.
How Long Does An Air Purifier Last? While you know that you should replace air filters every so often, you should eventually replace air purifiers. An air purifier should last around five years if adequately maintained.
Choosing An Air Purifier
Although not everyone needs an air purifier, they're an effective appliance that can improve indoor air quality by removing harmful particles that are only microns in diameter from the air. They're especially useful for people with respiratory conditions, those living in regions with consistently poor air quality, and those suffering from allergic reactions to particles in the air. The most reliable air purifiers feature mechanical filters, with HEPA filters being the top option. However, keep in mind that the filters must be replaced regularly. The cost of the replacement filters, how frequently they must be replaced, and how that fits into your budget, are all factors to consider when buying an air purifier.
Step 1. What Is Your Air Purifier Primarily For?
Airborne particles cause more issues than most people are generally aware of. From pet dander to soot from an indoor fireplace, there is a bunch of stuff in the air that can affect our breathing, such as VOCs (volatile organic compounds.) Air purifiers can offer cleaner breathing in the home and less dust overall, but are they right for you? If you have allergies, you might want to look into air purifiers that specifically work to help get allergens out of the air. Alternatively, if you're just trying to get the smell of dinner out of the air once you're done eating, an air purifier could help you with that.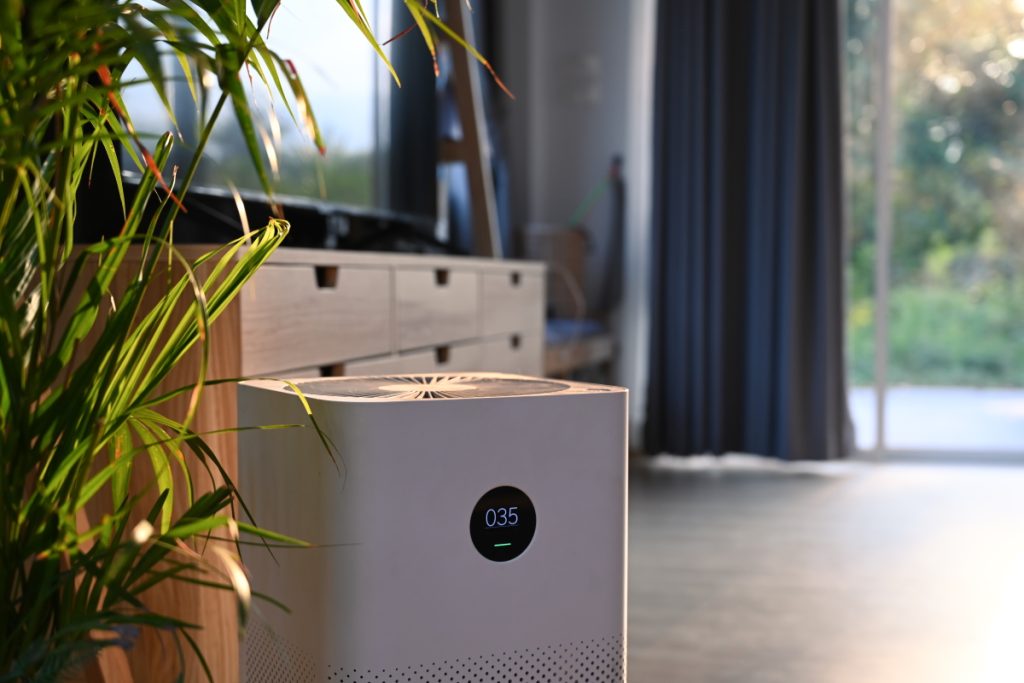 Step 2. How Big Of An Air Purifier Do You Need?
Picking the right size air purifier can seem a bit complex. That said, it isn't as confusing as it looks. If you determine the size of the room being filtered, the rest is easy to figure out. Measure the room you plan to put the air purifier in; you really only need a tape measure and some patience as you measure the walls. From there, some simple math gives you the overall volume of the room, which you can use to determine what size air purifier you need for sufficient airflow within indoor spaces. If you are filtering the air in rather small spaces, portable air purifiers may be effective, especially if you travel frequently and are concerned about indoor air pollution. So for small spaces, you might want to take a look at our Levoit Vista 200 review, which is perfect for small spaces.
Step 3. What Kind Of Filtering Are You Looking For?
There are a variety of filter types to consider when buying an air purifier. Still, for most cases, a proper HEPA filter is the best choice, especially for allergy sufferers, as it can help with allergens, pet hair and volatile organic compounds. That said, you may have heard about other filters that say they are better than HEPA filters such as comparisons between HEPA filters and PM2.5 filters. One type of filter you're likely to see are Honeywell's IFD (intense field dielectric) filters compared to HEPA filters. IFD filters are washable and reusable but cost more from the outset compared to HEPA filters. Similarly, you might see mention of Molekule's PECO (photoelectrochemical oxidation) filters compared with HEPA filters. PECO filters supposedly use UV light to break apart pollutants but have come under scrutiny for false advertising.
Make sure you get a True HEPA filter or H13 HEPA filter air purifier, which have a 99.97% and 99.95% filtration rate respectively, as opposed to regular HEPA which only hits 99%.
Step 4. Do You Need A More Specialized Or Quiet Air Purifier?
There are a few specific features to pay attention to when shopping for an air purifier. You'll need to look for a good CADR rating on the air purifier, as well as fan speed, and the type of filters used. Clean Air Delivery Rating (CADR) rating in particular is worth paying attention to, because you need to compare it to the CFM rating of the air purifier – CARD should be at least two-thirds the CFM rating. In addition, there are also factors to consider like noise level and power consumption. Air purifiers can have noticeable noise output as they get larger, particularly if you're putting them in rooms that are normally very quiet, though you may personally find the white noise of an air purifier on its quietest setting or on night mode soothing.
Step 5. Where Do You Plan On Putting The Air Purifier?
Deciding where to put an air purifier might seem simple, but there are some things to keep in mind for optimal air filtration. First, if you are dealing with pollutants, place the air purifier close to the source, such as near where your pets often are if you're trying to reduce pet hair. Next, place the air purifier 3 to 5 feet off the ground and in the area with the most natural indoor airflow, like a hallway. If you're putting an air purifier in your car, mount it according to the instructions, otherwise place it somewhere with good airflow as you would a regular air purifier. Alternatively, if you want to purify air around you anywhere you go, you've only got personal air purifiers or a straight up gas mask to choose from.
Air Purifiers For Health Concerns
Air Purifiers For Common Household Use
Air Purifiers By Location
Avoid ozone air purifiers; little evidence exists that shows they're helpful, and the gas they produce, ozone, is known to actively be harmful.
Special Feature Air Purifiers
Top Air Purifier Brands
Depending on what you're looking for in an air purifier, there are several brands to choose from. That said, there are only a few brands to consider if you're looking for the best quality possible. However, each brand has a variety of models, so it can get confusing. However, don't worry because this article will walk you through the top air purifier brands and what they offer.
Molekule is currently dealing with a class action lawsuit that says their filtration technology doesn't work at all. Buyer beware!
Owning An Air Purifier
Whether you're looking to buy an air purifier or already own one, there are a few tips to keep in mind for the best experience once you have it in your home. For example, simply knowing what to do with an old unit can be just as important as knowing how to set up a new one. You should also know what your warranty covers and how to get it repaired, if needed. So, keep scrolling, and we'll walk you through what you need to know about owning an air purifier.
Using An Air Purifier
Using an air purifier is fairly self-explanatory, though there are some best use practices to employ to increase effectiveness. Try to keep these machines away from walls and other objects, keep windows and doors shut during use, and regularly clean and maintain the pre-filters, carbon filter, HEPA filter, dust sensor, and related components.
Are warranties on air purifiers worth it? The manufacturer warranty on your air purifier should cover it for long enough to take care of any defects out of the box. Buying extra protection might feel safer but might not be worth the cost.
Cleaning Air Purifiers
You will need to replace your air purifier's filters every 3-6 months, depending on the model. To clean your air purifier, remove all exterior filters and the air filter cover. Then, remove your old air filter and replace it with the new one. Put everything back together and plug in your air purifier to test it out.
Troubleshooting Common Issues With Air Purifiers
Air purifiers are one of the few appliances that usually run without much intervention. That said, some common issues can occur with air purifiers. So, whether you're currently dealing with a faulty air purifier, or you just want to know some warning signs, we're here to help with some useful tips on how to test your air purifier.
Repairing Air Purifiers
If your air purifier is having issues and you think it may be in need of repairs, the first thing you should do is check on the filters, cleaning or replacing them as necessary. Next, make sure that the unit is powering on and that it has plenty of clearance for airflow. If all else fails, contact the manufacturer.
Regular Air Purifier Maintenance
Most people think of air purifiers as a "set it and forget it" type of appliance. While they're pretty low maintenance in general, some upkeep is required to keep your air purifier running at peak effectiveness, so pay attention to the filter indicators. That said, regularly changing air purifier filters as part of a standard maintenance schedule is usually very simple. Remember that air purifiers may have multiple filters to replace, such as charcoal filters, electrostatic filters, and more. If your air purifier is regularly clearing the air of human hair or tobacco smoke, you'll want to frequently clean it to avoid problems with air flow.