Several years ago, the idea of having a printer that could create intricately detailed models in 3D seemed like something more appropriate in a sci-fi movie or a high-tech industrial lab than in your home office. Even now, for many searching for the best 3D printer, it might still seem kind of strange. Fortunately, though, dozens of these machines are on the market, and many resin printers are aimed at consumers, hobbyists, educators, and designers.
Entry-level printers that produce quality prints are becoming increasingly commonplace, meaning you can find a budget 3D printer that produces for a reasonable price. And the uses for these cool devices are almost limitless. A resin-based printer is great for both fun and work, ensuring you'll create interesting objects that may spark unique ideas or provide you with a whole new way of performing a task.
Of course, no matter how awesome 3D printers are, they can't handle the basic tasks of printing project specs or order confirmations. As such, you might also need the best printers for your 2D printing projects. A top-quality home printer or a great office printer can ensure your paperwork gets done on time, while an all-in-one printer gives you additional fax, copy, and scan functionality. Having both a 3D and 2D printer in your creative work area ensures you have all your bases covered.
Top 3D Printers for 2023
| | | | | | |
| --- | --- | --- | --- | --- | --- |
| | Zortrax M200 | LulzBot Mini 3D Printer | XYZprinting Nobel 1.0 | Ultimaker 2 | Printrbot Simple Metal |
| Rank | #1 – Editor's Choice/Best Home 3D Printer | #2 Pick – Best 3D Printer for the Money | #3 Pick – Best Affordable 3D Printer | #4 Pick – Best 3D Printer Under $2000 | #5 Pick – Best 3D Printer Under $1000 |
| Amazon Rating | | | | | |
| Build Area | 7.9 x 7.9 x 7.1 inches | 6 x 6 x 6.2 inches | 7.9 x 5 x 5 inches | 8.8 x 8 x 9 inches | 5.9 x 5.9 x 5.9 inches |
| Printing Technology | FFF | FFF | Stereolithography | FFF | FFF |
| Best Resolution | 90 microns | 50 microns | 25 microns | 20 microns | 50 microns |
| Material Options | ABS, HIPS, ULTRAT | ABS, HIPS, Nylon, PLA | Resin | ABS, PLA | PLA |
| Port Options | USB 2.0, SD memory card | USB 2.0 | USB 2.0, USB A | SD memory card slot | micro USB, microSD memory card |
| Display Screen | | | | | |
| Type of Frame | Open (can close with optional panels) | Open | Closed | Closed | Open |
| Printing Speed | 100 mm per second | 275 mm per second | NA | 30 mm per second | 80 mm per second |
| Dimensions | 13.6 x 14 x 17 inches | 15.2 x 17.1 x 13.4 inches | 23.2 x 11 x 13.2 inches | 15.3 x 13.9 x 13.3 inches | 18 x 17 x 13 inches |
| Weight | 28.7 pounds | 18.8 pounds | 21 pounds | 23 pounds | 20 pounds |
| Price | $1,990 | $1,250 | $1,145 | $1,999 | $599 |
| | Buy Now | Buy Now | Buy Now | Buy Now | Buy Now |
#1 Pick

Zortrax M200 3D Printer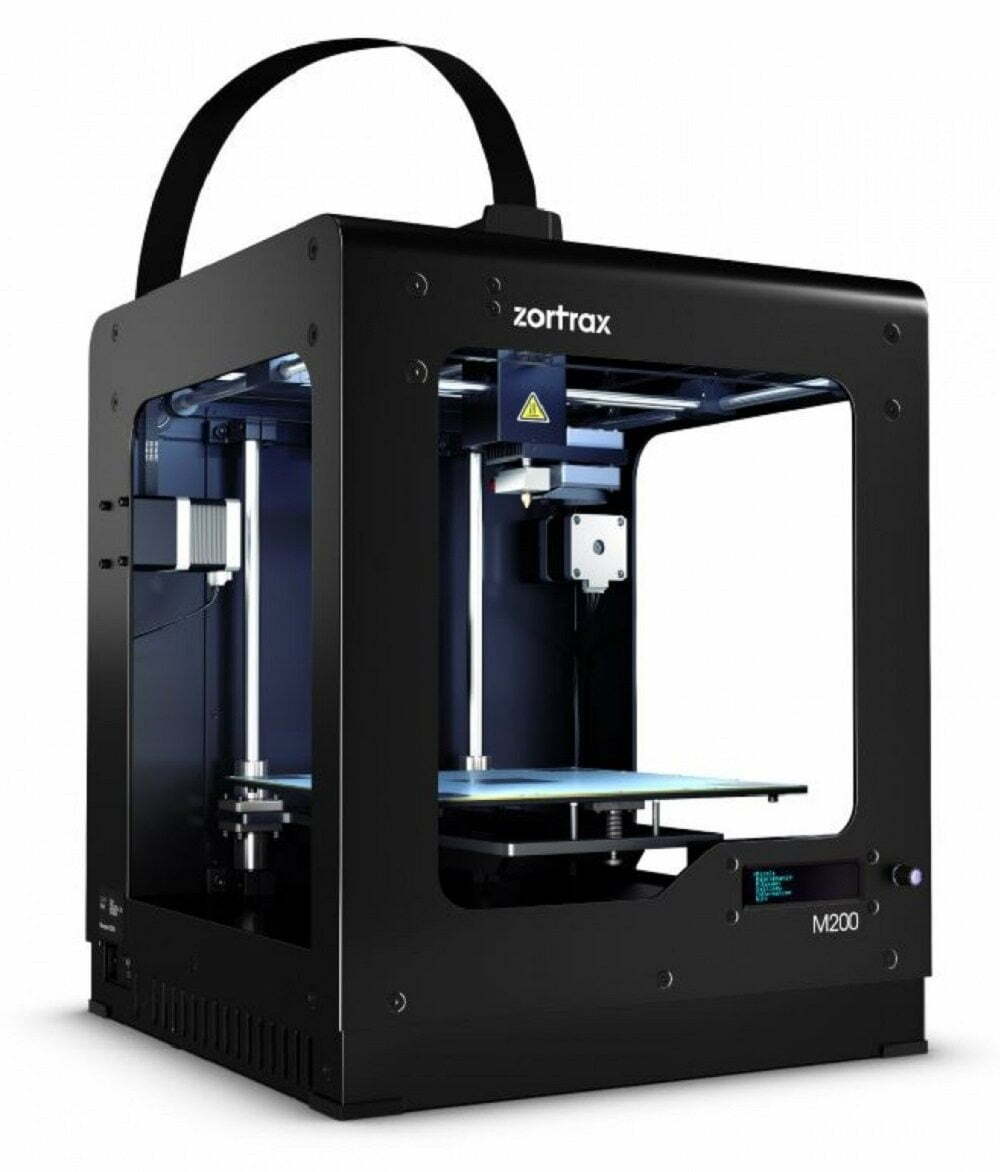 Award: Editor's Choice/Best Home 3D Printer
Price: $1,990 | Best Resolution: 90 microns | Type of Frame: Open/Closed | Read Full Review: Zortrax M200
WHY IT'S A TOP PICK: Provides impressive versatility as an open or closed frame unit.
The Zortrax M200 3D printer is a very reliable unit, offering a sturdy build quality in a heavy unit, weighing nearly 30 pounds. It offers a large printing area of nearly an eight-inch cube, which is one of the largest print areas in the consumer market. Zortrax started its company with a Kickstarter campaign a few years ago, promising the reliability of a professional/industrial 3D printer with the ease of use of a consumer-level 3D printer. However, Zortrax's unit is not an open-source device, meaning you won't be able to make changes to its operational process, as some hobbyists like to do with 3D printers. Check out our best duplex printer if you need printing done on both sides of the paper.
The accuracy of the M200 is very good, and it offers above-average printing speeds. It's a unit that can be used as an open-frame 3D printer, but you also can purchase panels that will turn the M200 into a closed-frame printer. Having this type of flexibility as a consumer-level printer is nice. It also can use a few different types of plastic material for printing, but it works best with ABS. This is our editor's pick for the best 3D printer.
#2 Pick

LulzBot Mini 3D Printer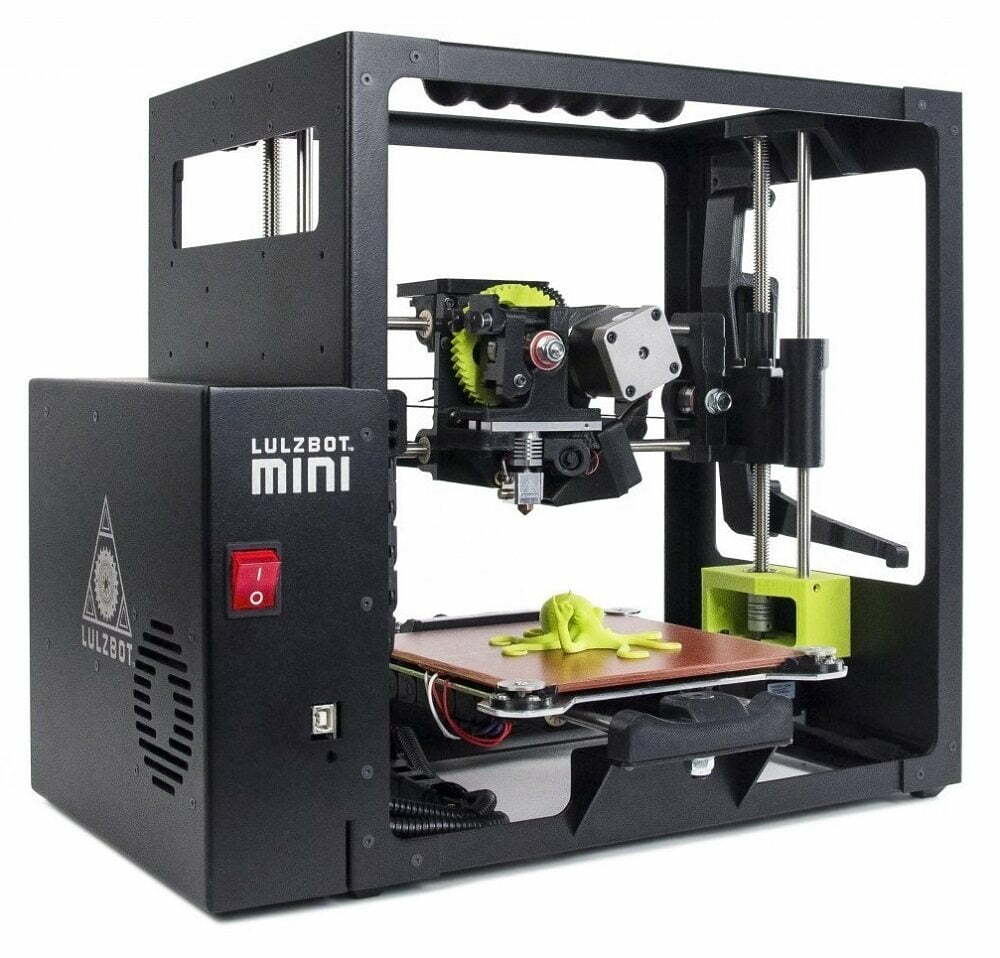 Award: Best 3D Printer for the Money
Price: $1,250 | Best Resolution: 50 microns | Type of Frame: Open | Read Full Review: Lulzbot Mini 3D Printer
WHY IT'S A TOP PICK: Consumer-level 3D printers are very easy to use.
Aleph Objects manufactures the LulzBot Mini, which is a 3D printer aimed more at hobbyists than those seeking professional-level performance. Still, among these types of consumer-level printers, the LulzBot Mini is a strong unit, offering good accuracy in its 3D print jobs at a reasonable price. It's also extremely easy to use, requiring very little maintenance, thanks to a self-cleaning nozzle and a print bed that automatically levels itself. It's an open-source unit, so you can make tweaks to its operation as desired. You'll need to connect to the LulzBot Mini with a computer throughout the print job, which is a bit of a downside.
#3 Pick

XYZprinting Nobel 1.0 3D Printer
Award: Best Affordable 3D Printer
Price: $1,145 | Best Resolution: 25 microns | Type of Frame: Closed | Read Full Review: XYZprinting Nobel 3D
WHY IT'S A TOP PICK: Rarely found stereolithographic printing option highlights this unit's feature set.
The print quality of the XYZprinting Nobel 1.0 is extremely high for a consumer-level 3D printer. It has a smaller footprint than many of the units on our best 3D printer for the home list, but it is nearly two feet tall, which can cause some problems with storing this unit on a desk if you have overhanging shelves. The Nobel 1.0 is a stereolithographic 3D printer, which is a different print type than the others on this list of the best 3D printers. While stereolithographic printing is more precise than some other options, it also will cost a bit more for materials to run the XYZprinting Nobel 1.0 than some other 3D printers. This is our pick for best 3d printer for your home.
#4 Pick

Ultimaker 2 3D Printer
Award: Best 3D Printer Under $2000
Price: $1,999 | Read Full Review: Ultimaker 2 Review | Best Resolution: 20 microns | Type of Frame: Closed
WHY IT'S A TOP PICK: Sharp design and interior lighting set this 3D printer apart.
Ultimaker has been one of the strongest 3D printer manufacturers in the short time this industry has been around, and its Ultimaker 2 continues that trend. This is a sharp-looking closed-frame 3D printer that is well-lit on the interior, making it easy to see your print job in progress. While the Ultimaker 2 is one of the more expensive units aimed at hobbyists and designers, it's extremely accurate, offering tolerances of up to 20 microns, which is very impressive. It has a large print bed, too, measuring almost a nine-inch cube. The Ultimaker 2 is easy to use, and it will work well for both those new to 3D printing, as well as more advanced users.
#5 Pick

Printrbot Simple Metal 3D Printer
Award: Best 3D Printer Under $1000
Price: $599 | Best Resolution: 50 microns | Type of Frame: Open | Read Full Review: Pinrtrbot Simple Metal
WHY IT'S A TOP PICK: Industrial look gives this 3D printer a cool design edge.
The Printrbot Simple Metal 3D printer is a simple-looking device, but it's far from a toy. It's sturdily built with a steel frame, yet it's small enough to be easily moved from location to location. The wide open frame printer bed might not appeal to hobbyists that have small children or curious pets in the home, but it gives the Printrbot Simple Metal an industrial look and feel. You will be limited in the types of materials you can use with this unit, and it runs noisy, but it offers strong reliability, reasonably good print quality, and a great overall value. This Printrbot model easily would make any best 3D printer for under $1,000 list and is our pick for best 3D printer under $1000.
Beginner's Guide to 3D Printers and 3D Printing
Understanding What a 3D Printer Is
A 3D printer is a specialized type of printer that can create three-dimensional objects based on digital blueprints. These devices utilize a variety of different materials to create high-quality prints, ranging from plastic to metal to even food items. If you're wondering what exactly is a resin 3D printer or what exactly is an LCD 3D printer, it's important to first understand that there is a wide variety of different types of 3D printers available today. These types differ based on materials and 3D printing technologies.
How Are 3D Printers Made?
Like any other electronic device, 3D printers are made up of a variety of different components, including both hardware and software. These components are typically made from various materials like glass, metal, and plastic. Certain pieces, like the build platform and extruders, are typically manufactured in-house, while electronic components are typically outsourced and assembled on-site. Software can be developed in-house as well, but that all takes place on a computer.
Understanding How a 3D Printer Functions
In the simplest terms possible, 3D printers build high-quality prints layer by layer. First, you create a new or download an existing digital model in a software program. The printer interprets this digital file and slices it into numerous cross-sectional layers. The printer then heats up the printing materials and extrudes them onto the build platform until the model is complete. Of course, different types of printers perform this process in different ways. Let's take a look:
What does "FDM" mean for 3D printing? Fused deposition modeling, or FDM, is a type of 3D printing that melts plastic materials and extrudes them to create the model.
How exactly does a 3D resin printer work? 3D resin-based printers use a vat of liquid resin below the build platform. While printing, the build platform dips into the vat, and then a light source cures the resin layer by layer to create a solid model.
What exactly is SLA printing? Stereolithography, or SLA, printing is a process that uses a light source to cure layers of liquid resin until they become a solid 3D model.
What Is the Purpose of an Extruder in a 3D Printer?
The extruder is one of the most critical components of an FDM printer because it is the piece that heats, melts, and extrudes the plastic filament that makes up the final 3D objects. The quality of the extruder is also very critical. Premium extruders create more accurate and detailed models. You can also buy printers with dual extruders, which allow you to print in multiple colors or with two different materials for a more versatile printing experience overall.
STAT: Almost 70% of 3D printer users agree that the biggest barrier to entry in getting started is the cost and the reliability of the actual tech. 3D Printing is basically a new market, which means growing pains are going to be common and frequent. (source)
What Do You Need Before You Start 3D Printing?
If you want to get into 3D printing, you'll need a few things before starting. The most obvious of these is the printer. After you've purchased one of these devices, you may be wondering what kinds of materials 3D printers use. That ultimately depends on the type of printer you purchase. Most commonly, beginners use FDM printers, meaning you'll need to buy a plastic filament compatible with your printer. If you choose a resin printer, you'll need to purchase resin instead of filament. You may also wonder, what is the resin of a 3D printer made of? Put simply, the resin is made up of molecules called monomers and oligomers, which combine into long-chain polymers after being blasted by ultraviolet light.
On top of physical materials, you'll also need to consider the software and printing 3D files necessary to create an actual print. All printers for 3D printing come with built-in software, but you'll need to either create your own models using CAD software or purchase pre-made files online. What types of files do 3D printers use, you may ask? There are many different file options, but the most common types include STL, OBJ, AMF, and 3MF.
What Are the Use Cases for 3D Printing?
There are virtually limitless applications for 3D printing. Plus, since it's still a relatively new technology, those use cases are growing more and more every day. With a high-quality 3D printer, you can create mini-figures for tabletop RPGs, manufacture end-use parts for commercial industries, and even produce prosthetics for the medical industry, to name a few.
Should You Buy a 3D Printer?
A 3D printer can be a fun and incredibly useful device to have on hand. However, the decision to buy one ultimately lies on your shoulders and depends on your budget and your willingness to learn how to use it. These devices may come with a steep learning curve, but if you're willing to learn, they can propel your hobby or business to the next level.
How Long Can You Expect a 3D Printer to Last?
Since 3D printing is such a new field of technology, it can be difficult to determine exactly how long a printer will last. Oftentimes, technology advances so quickly to the point that it's better to replace a perfectly functional printer in order to get the latest and greatest option. All in all, most of these printers last around three to five years before they need to be repaired or replaced. You may also wonder, how long can you expect 3D printer filament to last? With average use, you should expect a spool of filament to last around a month before it needs to be replaced.
Choosing a 3D Printer
Step 1. What Are You Trying to Make with Your Printer?
The type of models you want to print is one of the biggest influences on which printer you buy. First, consider whether you need a resin or filament 3D printer, which are also called SLA and FDM printers, respectively. When comparing FDM and SLA printers, you'll find that FDM (filament) printers are better for larger models like cosplay accessories, while SLA (resin) printers are better for small, detailed projects like figurines. When comparing FFF and FDM printers, you'll find that FFF options are more affordable and better for home use, while FDM options are better for commercial use thanks to stronger final products. When comparing MSLA and SLA printers, you'll find that MSLA printers are faster and more accurate in the final product, making them perfect for hobbyists.
If you're printing figures and little models, you probably want a resin printer, which means you also probably will want a curing chamber to accelerate the hardening process of your model so it doesn't get damaged after you print it.
Step 2. How Detailed Are the Things You Want to Print?
The level of detail you want out of your final products is another impactful consideration. The feature that affects detail is called resolution, which is measured in microns for filament printers and pixel density for resin printers. When comparing 100-micron and 200-micron resolution on filament printers, you'll find that 100-micron resolution will give you better details, especially on smaller pieces. When comparing 2K and 4K resolution resin printers, you'll find that 4K options provide more overall detail.
You should also consider the type of filament when looking at fine details. When comparing 1.75mm and 3mm filament, you'll find that the 1.75mm option works much better for a higher level of detail.
Step 3. How Big of a 3D Printer Do You Need?
The printer size you choose depends on several different factors. First and foremost, the size of items you want to print can determine how big of a printer you need. For example, if you're a hobbyist printing minifigs, then a small printer will work. It's important to keep in mind that you get more print volume with a larger printer, but you will also use more materials and will need more space to store the device.
Step 4. What Additional Features Do You Want on a 3D Printer?
Not all 3D printers are made equal. There is a wide range of additional premium features to consider. Ask yourself some questions, like do you want auto-leveling? Do you want a heated bed? How many fans do you want on the printer? These options can increase efficiency and print quality but will cost you more upfront. You may also want to compare glass beds and magnetic beds.
Step 5. How Much Should You Expect to Spend on a 3D Printer?
On the low end, entry-level printers reside in the price range of $100 to $400. On the high end, expensive 3d printers for experienced users can cost upwards of $10,000. You may also wonder, what makes 3D printing so expensive? One aspect of that is the cost of the device itself. However, materials are also a factor. If you're wondering how much it costs to 3D print stuff, you need to consider the cost of the resin or filament and how large the final print will be. Your print could cost as little as a couple of dollars, but it could also quickly reach upwards of thousands of dollars for larger projects.
Types of 3D Printers
3D Printers for Hobbies
3D Printers for Specific Materials
3D Printers by Feature
3D Printer Parts
3D Printers for Business Use
Types of 3D Printer Filament
Materials for 3D Printers
Top 3D Printer Brands
Owning a 3D Printer
How to Properly Use a 3D Printer
Before you learn all about the cool stuff you can make with your 3D printer, you first need to learn how to properly use it. Every 3D printer is different, so it's essential that you read the instructions and watch any videos the printer manufacturer provides. We recommend learning everything you can about your printer before you even turn it on. Some common starting topics to learn include:
Properly Calibrating Your 3D Printer
One of the most important things to do before printing your first 3D model is to calibrate your device. This can be a complicated process, so you'll need to consult your owner's manual extensively until you become a pro. In general, make sure you perform these calibration steps while also completing anything else the manufacturer recommends:
Properly Cleaning Your 3D Printer
It's critical to regularly clean and maintain your printer. This will prevent clogs and other problems from ruining your printer and its individual components. To clean the nozzle on your printer, simply wipe it down with a damp cloth while it is hot. This can clear it of any clinging material. You may also use a small wire brush to remove any stubborn materials. The best time to clean your 3D printer's bed is immediately after a print. Simply wipe it down with a damp cloth or some acetone for the best results. You can follow many of these same steps when cleaning your resin printer, as well.
Troubleshooting Issues with Your 3D Printer
Occasionally, you may need to troubleshoot certain issues that can commonly happen with 3D printers. If you know how to take care of these problems, you can save yourself from costly repairs in the long run. Consult your owner's manual to learn how to troubleshoot these issues with your specific printer:
Common Maintenance for 3D Printers
Regular maintenance for your 3D printer can drastically improve its overall lifespan. Consult your owner's manual to learn how to perform these common maintenance tasks for your printer:
Fixing a 3D Printer
Sometimes, things can happen during a print that can actually damage your printer and its components. Knowing how to perform common fixes for yourself can save you time, money, and frustration in the long run. We recommend knowing how to perform fixes like fixing stringing on a 3D printer, fixing a warped 3D printer's bed, and fixing thermal runaway on a 3D printer.
Making Your Own 3D Printer
While making an entire printer yourself is next to impossible for the average consumer, there are a variety of other things you can do to save yourself some money or get more creative results. Creating your own files for your 3D printer using CAD software allows you to get more creative with your prints, especially if you can't find what you're looking for online. Making your own 3D printer filament gives you more flexibility in color and rigidity. Building an enclosure for your 3D printer can help keep your workspace cleaner and free of filament dust.
Properly Storing Your 3D Printer Filament
There are various ways to store your 3D printer filament, but the most important thing to remember is that you should always store your filament in a low-humidity environment. Moisture can cause your filament to get brittle and bubbly. So, whether you keep your filament in your room where there's hardly any humidity or sealed away in plastic containers, you'll be fine as long as it stays dry.
Useful Tips for Your 3D Printer
As you start to learn how to use your printer, check out some of these helpful tips to improve your overall experience: