The BenQ P-Series PV3200PT is an unapologetic monitor built for a very select, specific number of functions to help film editors, animators, and CAD/CAM designers get their job done in glorious 4K resolution. But with a desk-crunching weight of 33lbs and 32″ of screen real estate, is the BenQ PV3200PT too big for its britches (and your cubicle at the office)?
Read on in my BenQ P-Series PV3200PT review to find out. Also, take a look at our list of the best computer monitors.
Overview
Price: $1,299 from BenQ direct 
Available: Now
Model: PV3200-B
Summary: The BenQ PV3200PT is a utility monitor made to match a slim set of specifications for professionals working in 3D modeling, animation, or the film industry. If you work in any of those fields and want to upgrade your office setup to support 4K, then this is the monitor for you. If you decide to get two monitors to help improve your productivity at work, check out the best dual monitor stand as well.
What We Liked
Rec. 709 color spec for film professionals
Color accuracy was good
Intuitive settings menu/remote control
What We Didn't
Gaming performance wasn't great
Design is uninspired
Very heavy
BenQ PV3200PT UltraSharp Specs
| | |
| --- | --- |
| Size | 34″ |
| Resolution | 3840 x 2160 |
| Aspect Ratio | 16:9 |
| Contrast Ratio | 1,000:1 (20M:1 dynamic) |
| Refresh Rate | 60Hz |
| Response Time | 5ms |
| Weight | 33.1lbs |
| Device Dimensions | 25.2 x 29.1 x 9.1 inches |
| Technology | IPS |
| Ports | 1 HDMI 1.4, 1DP 1.2, 1 mini-DP 1.2, 2 USB 3.0, SD card reader |
| Onboard Speakers | |
| Price | $1,299.00 |
|   | Buy Now |
Design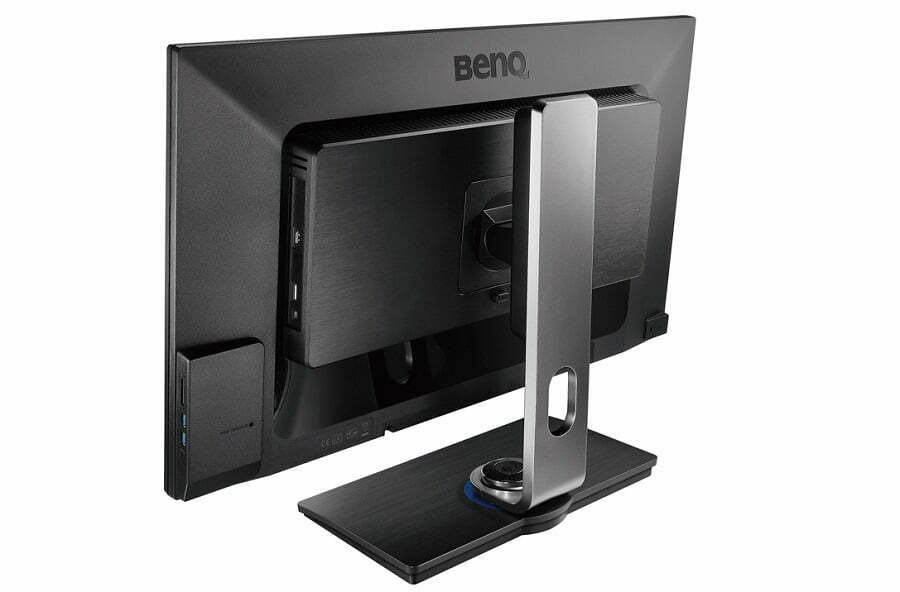 Look, we'll just come out and say it: the BenQ PV3200PT is pretty damn boring to look at. With its utilitarian, almost industrial black-on-black shell and oh-so-standard base, it would be nearly impossible to pick this monitor out from a lineup save for its slightly (barely) sleek silver stand.
This isn't surprising, though, when you remember this is a monitor for creative professionals first and foremost, and has its sights set on video editors in particular. The base does give you plenty of leeway to rotate left and right in case you need to share something with a co-worker. And flipping into portrait mode was quick and simple thanks to the spring-loaded rotation mechanism.
Related: Also check out our BENQ GW2765HT review.
Hardware
The BenQ PV3200PT is a 32″ IPS LED screen that runs at a resolution of 3840 x 2160, with an advertised response time of 5ms and a 60Hz refresh rate. The PV3200PT features a contrast ratio that's fine for video work, but might be a little low for photo-editing at just 1,000:1 native, and 20,000,000:1 dynamic.
Viewing angles are standard for an IPS screen with a rating of 178° horizontal/178° vertical, and on the back of the unit we found one mini-DP, one USB port, while the right side housed one HDMI 1.4 port, one DisplayPort 1.2, DP-out, and one mini-DP 1.2 alongside two USB 3.0 ports an SD card reader.
Related: Also take a look at our BENQ PD2700Q review.
Settings
Given that this is a monitor for professionals who work in various fields including (but not limited to): film, 3D design, CAD/CAM, and animation, it's not shocking to see an extensive number of settings available that let you customize the BenQ PV3200PT to your exact specifications.
Handled by four capacitive buttons on the front (or the included external remote control if you want to go that route instead), you can switch between several pre-configured profiles including sRGB, Rec. 709, and Standard depending on what kind of work you're doing at the time.
Color Accuracy
In our tests with Datacolor's Spyder5Elite Pro calibration tool, we were able to achieve a full 100% reading on the sRGB stats, with a more mediocre result of only 79% on when it came down to testing the AdobeRGB gamut.
Of course, this is by intention, not accident. The BenQ isn't made for AdobeRGB accuracy because it's focused on catering to video editors and 3D VFX artists, not photo editors or graphic designers. If you actually need a monitor for those specific professions, we have a guide on the best photography monitor. This specific subset of professionals are much more concerned with it reaching Rec. 709 spec than AdobeRGB, which it already does (if you'll forgive the pun) with flying colors.
Performance
And while video and 4K footage tests all came back positive, the same can't really be said for gaming. The BenQ PV3200PT isn't a top rated gaming monitor obviously – with its 60Hz refresh rate and no G-Sync or FreeSync capability to speak of – so it wasn't a huge ding to find a lot of screen tearing and stuttering when we booted up a game of Overwatch to see how it fared when we put the pedal to the medal. This can cause an impact on movie watching too, so if you're looking for quality models that can satisfy your cravings for films, consider reading our guide to the best monitors for movies.
Read: Best G-Sync Monitors
It would have been nice to see it at least be able to keep up with minor games, which it did, but at its heart, this is a monitor that you're going to be using at the office, and it acts as such. Sure, it can handle slower games and won't leave you lagging in single-player, but if you need something with serious horsepower there are about a dozen other top computer monitors out there where your money would be much better spent.
Wrap Up
For all intents and purposes, the BenQ PV3200PT is a monitor that was built to handle a very specific number of jobs better than any other 4K monitor on the market right now, and in that limited scope, it succeeds handily.
If you want a monitor for gaming or just general movie watching you're much better off going with something like the Acer Predator XB271HU or LG 34UM88. But if you work in any of the fields we've mentioned above and need to upgrade to 4K, you'd be hard-pressed to find another monitor with a more accurate color wheel made just for film editors and animators thanks to its Rec. 709 spec.