Smartwatches don't always have the most atheistically pleasing design, often foregoing traditional watch atheistic for a more "techie" design. Although the technology that's featured in smartwatches is cool, there's something about the look of a traditional mechanical watch that's just timeless. Kairos feels the same way, too, and decided to combine the best of both worlds into one innovative and sophisticated smart watch hybrid. As the world's first and only mechanical smartwatch hybrid, those who want the convince that regular smartwatch offer in a timeless mechanical watch can now have both! Here's what you need to know about the smart timepieces:
1. One Minute It's a Mechanical Watch….
Sam Yang, founder of Kairos Watch, is aiming to be a Hublot smartwatch made with quality parts and the mechanical beauty of traditional watches. It's available in two models: the MSW 115 that boasts a Miyota Japanese Movement and the SSW 158 that's equipped with a certified SWISS movement from SOPROD (a highly reputable SWISS movement manufacturer).
2. Then Next It's A Smartwatch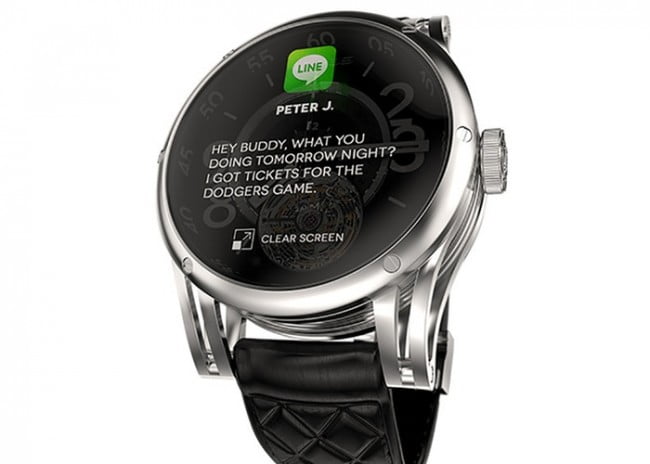 Whenever the smartwatch hybrid receives a notification, the OLED transparent screen lights up with a message. The Kairos Watch will keep you informed whether it's an email, incoming call or text message. It also pushes out notifications from favorite apps like Facebook, Twitter, Whatsapp and more. It also boasts special features like a stop watch, elapsed time counter and a GPS-enabled automatic world time display function that's perfect for globetrotters.
3. Stylish Options
Both of the models are also available with a case that's either stainless metal, black or gold, with both featuring a 42-hour power reserve. All three are sleek and stylish, meant for proper watch enthusiasts and style conscious aficionados.
4. It Tracks Your Fitness
You'll be able to track how many steps you've taken in a day, how many calories you've burned and how long your fitness activities lasted while wearing the watch. But because it looks so nice, you might want to skip the gym with it on.
5. It Controls Other Devices
You can use the Kairos Watch as your remote control for your smartphone or tablet PC, which means you can control your music while on a walk, send pre-set text message while driving and more.
6. Meant To Last
Kairos wants their watches to last and will provide customers the option of sending in their watch for an upgrade of all electronically components, including the battery for a small price ($99 to be exact). They'll even service the mechanical movement for you!
7. Discounted Pre-order Prices
For a limited time (now until July 1, 2014), you can pre-order the Kairos smartwach at a 50% discount from MSRP. The cheapest is the MSW 114 Metal going for $499 (MSRP will be $1,199), with the most expensive selling SSW 158 gold going for $1,199 (MSRP is $2,149). Estimated delivery for the MSW 115 models is December 2014, while the SSW 158 ones have an estimated delivery of March 2015.