Looking for the best portable phone charger? We have some great choices below. If you've ever been in a situation where you really need your phone and find it's running on the last few drops of battery juice, a portable power charger is a handy gadget to have. Most of these portable chargers will easily fit in your backpack or purse, and can be charged up before long trips where you may not have access to an AC outlet.
For this list we're focusing on portable chargers with high mAh (milliampere-hour) capacity. The mAh specification is a number that represents the amount of power the external charger can hold, therefore determining the amount of charges your phone or tablet can get from a fully charged external battery pack.
Although there are plenty of smaller battery packs that carry a lesser charge but can get you out of a jam such as the Anker Lipstick-sized charger with 3000mAh capacity or the Poweradd Ultra Slim 2600mAh with Flashlight function, we're trying to focus on the larger capacity chargers that can handle multiple charges on one phone or full single charges on more energy-consuming devices like tablets.
Finally, although the MSRP is mentioned for each portable charger below, most of them are available for much less than the list price. In fact, many of the chargers below are selling for well below half of the MSRP. Amazon, Best Buy, and other retailers carrying mobile electronics products usually have several portable phone chargers in stock to choose from.
Unless indicated, the chargers below do not include Apple 30 pin or lightning adapters.
12. ibattz Battstation Optimus 20400mAh Battery Pack
iBattz makes several 'Battstation' branded portable phone and tablet chargers, but we're most interested in the Battstation Optimus 20400mAh Battery Pack with dual USB output. The pack utilizes a high-capacity battery that's the same cell Panasonic uses to power electric cars. The Battstation Optimus features both a 2.1A and 1A USB port allowing simultaneous charging of two devices at the same time and allows up to eight full charges on most cell phones, or two full charges for tablets. The Optimus also features an emergency LED flashlight. The box contains a Micro-USB Charge Cable, 30-pin Apple Connector, and Samsung Galaxy Tab Connector. The portable Battstation Optimus 20400mAh Battery Pack carries an MSRP of $129.95. You can compare this model to the best portable chargers to find out what works best for you.
11. Jackery Giant+ High-capacity 12000mAh Aluminum Portable Charger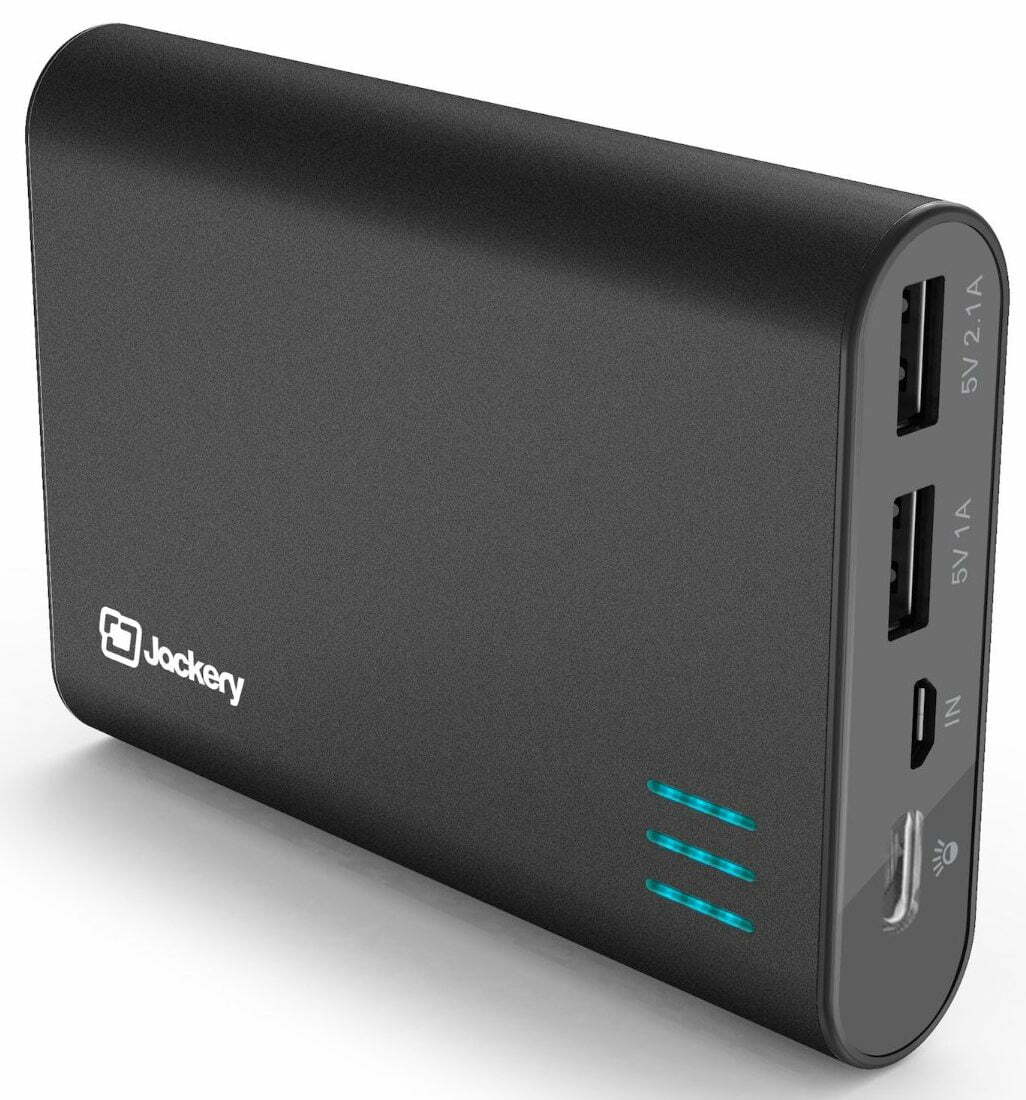 The Jackery Giant+ High-capacity 12000mAh Aluminum Portable Charger includes dual output ports of 2.1A and 1A for quickly charging your phone (5V/3A total) and is rated to add 500%-600% battery life for most phones and 100% battery life for the iPad. The Giant+ includes three LED charge status indicators, an LED flashlight that provides illumination up to 700 hours (activated by pressing the power button twice), and advanced lock technology to keep the charger on standby for up to 6 months. The Giant+ is compatible with Apple, Samsung, HTC, Motorola, LG, Nokia and most Android Phones and tablets. The device runs on a Samsung Grade A cell and premium microchips. The Jackery Giant+ Portable Charger is selling for about $49.95 (List: $79.95) on Amazon and comes with a premium Micro USB to USB 2.0 cable and 18-month warranty. (AC adapter not included.) Jackery makes several other portable charging packs including the Giant 10400mAh external battery, Jackery Bar Premium 5600mAh battery, and compact Jackery Mini Premium Ultra-compact 2600mAh external battery. For your larger battery needs, take a look at the best battery box too.
10. Lepow Moonstone 6000mAh External Battery
One of the prettier looking portable external phone chargers, the Lepow Moonstone 6000mAh External Battery looks a somewhat like a Roku 3 streaming player and comes in three choices of colors: Apple Green, Glossy Black, or Rose Red. The charger works with most cell phone and tablet models, and the manufacturer claims the Moonstone has "Superior Energy Conversion" with more than 90% conversion rate. The Moonstone comes with instruction manual, travel pouch, Micro USB cable, and eight small gifts (although we'd rather see the box include a wall charger instead). The Lepow Moonstone 6000mAh weighs 9.6 ounces, measures 3.2 x 3.2 x 0.8 inches, and is list-priced at $59.99.
9. Anker Astro E5 15000mAh Dual USB Portable Charger
Currently with 4.6 out of 5 stars from 1,600 reviews on Amazon, the Anker Astro E5 15000mAh Dual USB Portable Charger is the best in the Anker mobile line. The charger packs ultra-high density cells and is one of the most compact 15000mAh battery packs at 4.9 x 3 x 0.9 inches. The Anker Astro is rated to charge an iPhone almost 7 times, a Galaxy S4 in full 4 times, or an iPad 3/4 of a full charge. The charger supports iPhone 5S, 5C, 5, 4S, 4, iPad Air, 5, 4, 3, 2, Retina Mini 2, Samsung Galaxy S4, S3, Note 2, 3, Tab 3, Google Nexus 4, 5, 7, 10, HTC One, Motorola Droid, MOTO X, and LG Optimus. The box includes a Micro USB cable, but you'll need to purchase Apple 30 pin and lightning adapters separately. The Anker Astro 15000mAh carries a list price of $99 but we spotted it on Amazon for half that price.
8. RAVPower Element 10400mAh Portable Charger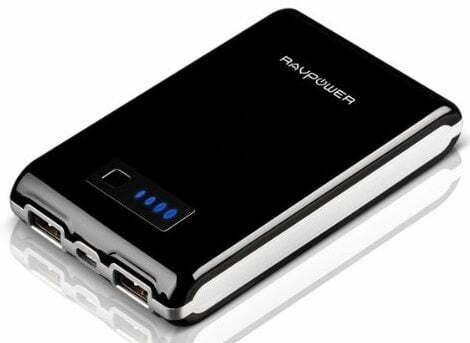 RAVPower's Element 10400mAh Portable Charger includes dual USB outputs (5V/3A max) and will charge two devices simultaneously at 3 amps total. RAVPower says the Element 10400mAh will charge any iPhone 4 to 5 times, a Galaxy S3 in full 3 times, or an iPad/iPad 2 one time. The charger supports iPhone 5, 5S, 5C, 4S, 4, iPad Air, 4, 3, 2, Mini 2, Samsung Galaxy S4, S3, S2, Note 3, Note 2; HTC One, EVO, Thunderbolt, Incredible, Droid DNA, Motorola ATRIX, Droid, Moto X, Google Glass, Nexus 4, Nexus 5, Nexus 7, Nexus 10, LG Optimus, PS Vita, and GoPro. Unfortunately, the RAVPower Element will not work with Samsung or Asus tablets. The RAVPower Element 10400mAh is available for about $30 (List: $99) and contains two USB to Micro USB charging cables.
7. EasyAcc 10000mAh Brilliant Portable Power Bank
This portable charger (also called a "power bank") from EasyAcc provides 10000mAh battery capacity to charge phones or tablets via dual USB outputs (Output 1: 5V 1.5A, Output 2: 5V 2.1A). The EasyAcc 10000mAh Brilliant, according to the product specs, can charge an iPhone 5-6 times, or Galaxy S4/S3 2.5-3.5 times. Phones and tablets supported include iPhone 5, 5S, 4S, iPod, iPad, Samsung Galaxy S3, S4, Note3, HTC One Mini, Google Nexus 5, 7, 10, Nokia Lumia 1020, 520, and Bluetooth speakers. EasyAcc claims six months of standby time on a full charge with the product's advanced power lock technology. The EasyAcc 10000mAh Brilliant is available in either purple or orange highlight colors, and is selling for $28.99 on Amazon (List: $49.99).
6. Lenmar Helix 11000 mAh USB Portable Power Pack
The Lenmar Helix features three USB ports with 4.4A total charging output. The amps can be broken down into Output 1 (5V2.4A) for tablet, and Outputs 2 & 3 (5V1A) for mobile phones. With an iPad 2.1A charger the Helix can be fully charged in 8 hours. And, the charger includes an LED indicator that shows the amount of battery life remaining. With the Lenmar Helix, you can charge fully an iPhone up to four times and iPad one time. The charger also supports Android and other USB-powered devices. The Lenmar Helix 11000 mAh portable battery pack sells for about $65 at Amazon (List: $129.990. The package also contains a Micro USB cable.
5. Monoprice 8000mAh Dual-Port Battery Pack and Charger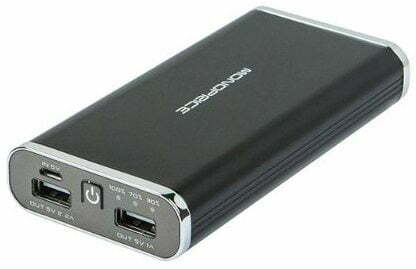 The Monoprice Dual Port battery pack is an 8000mAh capacity charger that provides up to 2.2 amps of charging one output and up to 1 amp from the other. If both ports are used, a total of 2.2 amps can only be output via each USB port. Three LED lights on the Monoprice battery pack display how much charge is left in the unit. The charger is list priced at $69 but currently priced at Amazon for about 40% off that amount.
4. D-Link DIR-510L Wi-Fi AC750 Portable Router and Charger
The D-Link DIR-510L Wi-Fi AC750 Portable Router and Charger is a bit more expensive than the other portable battery chargers listed here, but with good reason: the device is a portable Wi-Fi router and charger combined. The simultaneous dual-band 11AC Wi-Fi provides wireless speeds of up to 300 + 433Mbps via 3G/4G LTE network. The battery charging feature of the device has a capacity of 4000 mAh, which isn't as powerful as the others chargers listed here, but the practicality of having a dual-function device may make up for the lack of capacity. And, while the D-Link DIR-510L has two USB 2.0 Type A ports, only one can be used to charge phones and tablets at 1 amp output. The DIR-510L Portable Router and Charger carries a list price of $99 and is available at D-Link's website.
3. ARK 12000mAh Portable Power Battery Charger
Finally, a battery with some value-add. The ARK 12000mAh Portable Power Bank battery charger comes with a conversion cable and 4 adapters: iPhone dock connector, Micro 5-pin USB connector, Mini 5-pin USB connector, Nokia DC 2.0 connector Compatibility. (Although, you'll still need a 30-pin adapter for Apple devices.) The 12000mAh-capacity ARK supports these Apple products: iPod Nano 1-5 generations, iPod Video 30/ 60/ 80GB, iPod Touch 1st-3rd generations, iPod Classic 1st & 2nd generation 160GB, iPod Classic 80GB, 120GB iPhone, iPhone 1st generation 2G, iPhone 3G/ 3GS, iPhone 4G, iPhone 4S iPad 1st & 2nd generation. And, LED indicators also let you know the status of the battery capacity. The ARK is priced at about $36 on Amazon.
2. myCharge Hub 6000mAh Power Bank
myCharge's Hub 6000 boasts over 27 hours of additional chat time for your phone, and is called the "Swiss Army Knife of portable power devices" due to its multiple ports. As such, the charger has a built-in Apple Lightning and Micro-USB connectors, three USB ports, and wall prongs for ultra-fast recharging. The 6000mAh Lithium Ion battery provides a combined maximum output of 3.6A, weighs 9.3 ounces, and measures 2.5 x 1.1 x 4.5 inches. myCharge Hub 6000 mAh Power Bank carries a list price of $99 is available at myCharge.com and Amazon among other retailers.
1. Mophie powerstation XL 12000mAh External Battery
Mophie's catch phrase for the powerstation XL is "Go Big or Go Home." And, with a 12,000mAh battery the charger pack is right up there with the highest capacity batteries mentioned above. The powerStation XL is built to support phones, tablets, and USB devices, and includes an LED status indicator. Mophie claims the device will recharge your smartphone up to 8 times, and can charge up to two devices (even two tablets) simultaneously. The charger weighs 15.49 ounces and measures 2.80 x 4.50 x 0.91 inches. The powerstation XL external battery sells for $129.95 and comes with a micro USB cable.
Related Articles: