Gadget Review Daily Deals: Washable Keyboard $20, Monster Headphones $60, 80-inch HDTV with $1,000 discount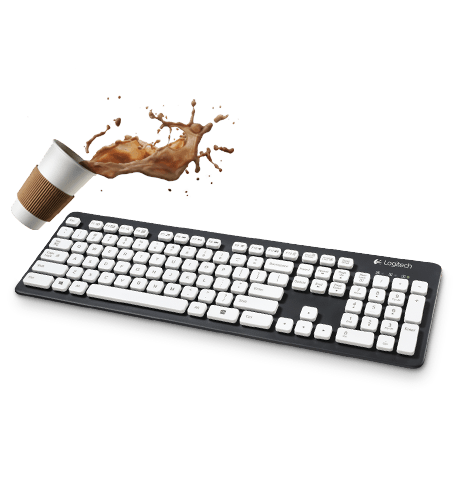 If you – like many – have spilled a beverage on your keyboard and subsequently flipped out, avoid the panic and check out the top deal in today's post. The Logitech K310 is a washable keyboard, meaning you can mess with your friends and dump a glass of water nonchalantly on there. Granted, you'll have to let it dry afterward, but the effect's still the same, and you'll have peace of mind if you do spill unintentionally.
For HDTVs, the phrase "go big or go home" doesn't apply if you grab the massive 80-inch Sharp Aquos LED HDTV from Sears for your media room. Once you add to cart, you pay $4,000 and get free shipping; granted, that's not pocket change for most, but it's a solid $500 less than you'll find it anywhere else right now.
Finally, if you're looking to pay a fraction of list for a product endorsed by a celebrity fallen from grace, the Monster iSport LiveStrong earbuds are only $60 direct from the manufacturer today. This represents a massive $90 price drop from the lowest we saw two weeks ago, and regardless of how you feel about Lance at this point, you're now paying a very reasonable price for a good pair of exercise buds.
LAPTOP DEALS
First discounts on new Windows 8 laptops and a couple 2012 Windows 7 laptop discounts are worth mentioning in today's laptop category. Released only a week and a half ago, HP dropped the price today on their new 14-inch Envy 4 Touchsmart Ultrabook by $50. Last week's release of the 12.5-inch ThinkPad Twist Multitouch Ultrabook is also discounted $50 after coupon. Dell's most recent 15.6-inch Inspiron 15R with the newest 3rd Gen Core i7 CPU and Windows 8 has a first ever $247 coupon code. The giant 17.3-inch Toshiba Qosmio X875-Q7291 with Windows 7 is cheapest ever by $200 at the Microsoft Store. Finally there's a discount on a sleek looking Samsung Series 7 laptop at the MS Store, only $800 which is over $200 off the next best price online.
| | |
| --- | --- |
| | HP Envy 4 TouchSmart Ultrabook Ivy Bridge Core i3-3217U, 500GB HDD + 32GB mSSD, Windows 8 for $750 (normally $800). |
| | Lenovo ThinkPad Twist Multitouch Ultrabook Core i5-3317U, 4GB RAM, 500GB 7200RPM HDD + 24GB SSD, Windows 8 for $849 with free shipping (normally $899 – use coupon code THINKSALE). |
| | Dell Inspiron 15R Ivy Bridge Core i7-3632QM, 8GB RAM, Windows 8 for $742 with free shipping (normally $989 – use coupon code ?$QNC1?HSKNR9F). |
| | Toshiba Qosmio X875-Q7291 Ivy Bridge Core i7-3610QM 3rd Gen, 16GB RAM, 750GB 7200RPM HDD + 1TB HDD, 3GB GeForce GTX 670M, Blu-ray, 1080p 3D Display for $1,499 with free shipping (normally $1,899). |
| | Samsung Series 7 NP700Z3A-S05 Core i5-2430M, 6GB RAM, Radeon HD 6490M for $800 with free shipping (next best is $1,008). |
GAMING DEALS
Halo 4 pre-order offer and several other deals in today's gaming section. Tomorrow's release of Halo 4 still has it's best ever pre-order offer running at the Microsoft Store. You have to pay the full $60 list price but get free shipping and a $25 discount off your next MS Store purchase. Tigerdirect.com has a $20 gaming headset worth checking out. Green Man Gaming deal of the day Binary Domain is only $7.50 after 75% off instant savings and stacking coupon code. Amazon's "The Harry Batman Pack" for PC Download gets you LEGO Batman 2: DC Super Heroes, LEGO Harry Potter: Years 1-4, and LEGO Harry Potter: Years 5-7 at a reasonable discount.
GRAPHIC DEALS
If you're looking to upgrade the video card on your gaming rig, you've got three great deals to choose from today ranging from the high-end to the entry-level. For the former, the EVGA GeForce GTX 680 features an impressive 4GB of memory. Unsurprisingly, anything out you'd want to play will play at highest settings with this card. If you're not ready to drop half a grand, the Sapphire Radeon HD 7870 is half the price with half the memory but will do more than adequately for most gaming needs. Last, you can pick up an HD 6570 for only $40 – an easy way to take the CPU / RAM load off an integrated setup for casual use.
HDTV DEALS
If you don't want to be completely dwarfed by your screen or spend several grand to watch the last season of Jersey Shore, we found three smaller and equally appealing options. A 60-inch LG Plasma runs you just over $800 and would work great for movie buffs with the lights low to minimize glare. Also notable are a 42-inch Sony BRAVIA LED set for under $500 and a slightly smaller 40-inch Seiki for under $300.
MISCELLANEOUS DEALS
For those anxious to avoid implicitly endorsing steroid use – or just looking to get something functional and cheap – the JVC Riptidz earbuds are only $4. Classic cinema buffs will enjoy the Coppola Restoration of The Godfather on Blu-ray for 50% off the next best price. And anyone interested in making a good impression on the out-of-town relatives coming for the holidays would be amiss to miss a Craftsman hedge trimmer for only $44 after shipping.
Powered by
Viet works at Dealzon.com, a deal site for techies and gamers. Run by geeks across the U.S. with an unhealthy obsession for pizza and coffee. Dealzon tracks daily prices on laptops, video games, and HDTVs. At Dealzon, we find the deals so you don't have to.
Homepage
»
Article Type
»
Deals
»
Gadget Review Daily Deals: Washable Keyboard $20, Monster Headphones $60, 80-inch HDTV with $1,000 discount