Gadget Review Daily Deals: 50-inch 1080p HDTV only $429! Hitman Absolution $29, Hard Drive Hybrid $50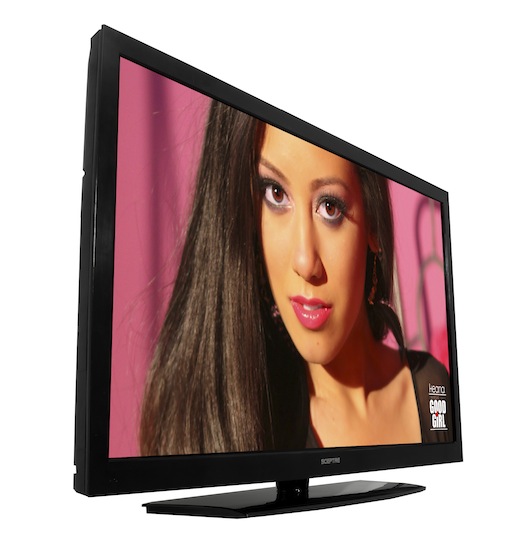 For those of you who scoff at mere 40-inch HDTV sets, we've got a deal to set you straight. Right now you can grab a 50-inch Sceptre 1080p LCD set for $429. This is the cheapest we've ever seen the X505BV-FHD by $100, plus 88% of reviewers would recommend it to a friend.
PC gamers should know next week's release of Hitman Absolution is only $29.25 at Green Man Gaming after coupon. The last game in the Hitman series to come out was Blood Money back in 2006. Other download sites are $45.
Finally, if you've been eyeing SSD prices for months but still can't justify spending so much for so little space compared to a traditional platter drive, the 500GB famous Seagate Momentus XT hybrid drive is only $50. That's about a fifth of what a heavily discounted same-size SSD would cost today, and thanks to the automatic optimization methods employed, you'll experience near-SSD load times on your most-used applications.
PC DEALS
Vizio has made its foray into the PC world with considerable aplomb, and the sleek CA27-A0 All-in-One is no exception. Monitor is of course included, and the setup is at the lowest price we've seen by $150. Lenovo's Z500 laptop with Ivy Bridge Core i5 CPU, 8GB RAM and Windows 8 is cheapest ever by $200 after today's new coupon code. Finally, get the most out of Windows 8's with HP's new 15.6-inch TouchSmart Ultrabook, now $50 off and free shipping.
GAMING DEALS
Several noteworthy gaming deals today. The Nintendo 3DS console is $15 off and comes with a $30 Gift Card at Kmart. Gamefly has a 20% PC download discount on Assassin's Creed 3 Deluxe Edition. Game releases Tuesday, Nov. 20th. NewEgg has the lowest price ever on 4 Xbox 360 and PC video games, which are listed below. For those who want get just a little more out of the old school Nintendo Wii, Best Buy offers Epic Mickey for $8. That's the lowest ever by $10. Finally, Star Wars the Old Republic is now a free to play game.
HDTV DEALS
If you didn't jump for the 50-inch $429 monster, there's a slightly smaller but far more outfitted 46-inch Samsung set. Granted, the UN46ES8000 costs more than three times as much, but it offers 3D, 240Hz refresh rate, surfs and streams from the Internet, and comes with 4 3D glasses. Oh. It also features face recognition and gesture controls, so taking advantage of the included functionality should be incredibly easy and intuitive. If you're looking for more of an all-in-one solution for a kid's room or kitchen, we found a smaller 23-inch Sceptre set with a built-in DVD player for $165.
MISCELLANEOUS DEALS
History buffs will appreciate WWII in Hi Def for only $11. There's a cheap camera and camcorder to preserve memories, and you can get free Standard (or better) shipping at Kmart and Sears for $40 – great if you're getting large appliances for the holidays.
Powered by
Viet works at Dealzon.com, a deal site for techies and gamers. Run by geeks across the U.S. with an unhealthy obsession for pizza and coffee. Dealzon tracks daily prices on laptops, video games, and HDTVs. At Dealzon, we find the deals so you don't have to.
Homepage
»
Article Type
»
Deals
»
Gadget Review Daily Deals: 50-inch 1080p HDTV only $429! Hitman Absolution $29, Hard Drive Hybrid $50